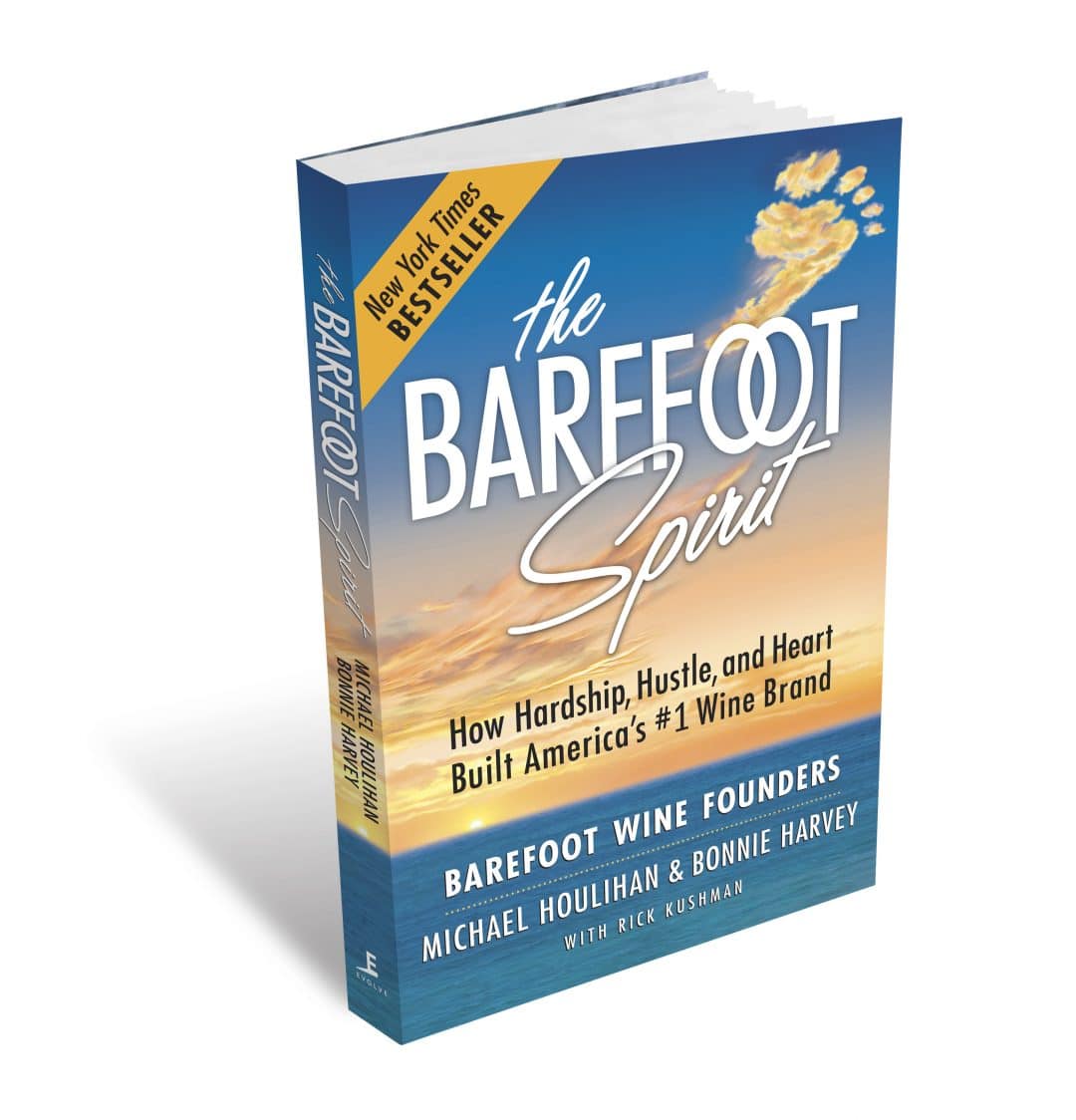 When we first drafted the Barefoot Wine label on a chalkboard in our Sonoma County farmhouse, we knew it was going to be a big success. The label was so simple to understand – a foot – and easy to pronounce – "Barefoot." It was uncomplicated, basic, and natural.
The footprint could have been made by a man or a woman, white or black, Christian or Jew, gay or straight. It was just a footprint, the universal impression of humanity, friendly, non-confounding, and fun. When people saw it, it touched their spirits, and immediately made them smile. It really was wine for the people in flavor, label, and community involvement.
The "spirit" grew out of our beliefs and our experiences. The success of the project was due in no small part to expanding our lifestyle choices to the workplace. These included tenacity, fortitude, and integrity, along with our love of nature. Our lack of wine industry knowledge was balanced by the advice given to us by the pros.
We found resources in our family, friends, an empty laundry room (Barefoot's first "office"), and, yes, even our lack of funds. We used our love of nature, hospitality, egalitarianism and just plain fun to guide us in our approach to marketing. We got the word out through donations to non-profits, a win-win answer to no advertising money.
We found solutions to obstacles because we believed the answers were out there. We did everything within our power to make it a product valued by our distributors, retail buyers, and their surrounding communities.
The barefoot spirit is the elevated level of positive attitudes and business principles that created a best selling brand. It's "barefoot" because it started with less than bootstraps. It started in debt, somebody else's debt at that. We assumed and traded that debt for wine and bottling services. It's "spirit" because you have to have a certain spirit to believe that the solutions are there waiting to be discovered. Those solutions and the ways we discovered them are the essence of our book, "The Barefoot Spirit."
It is our hope that the lessons we learned will encourage and inspire others to gain the spirit necessary to stick to it and see it through. There is no shortage of good ideas, but building a top brand takes more than money and a great product. It takes tenacity, positive expectations, and attracting the right people. You must believe that your good ideas are worthy of support. Spirit is contagious, self-sustaining, and exciting! The results are confidence and success.