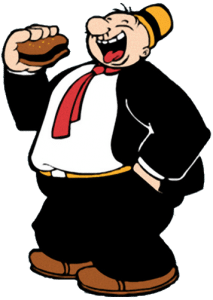 When you start a business, it seems like the hype-type descend on you like the plague. You file for a license, a domain, or even a DBA, and bam! They are at your door!
We went to a conference recently and one speaker actually advised the audience, "Ya wanna get rich? Find the next gold rush!" He was obviously alluding to the old saying that the only people who got rich in the California Gold Rush were selling shovels. Today there are so many people "selling shovels" it makes you wonder what they would all do without those miners.
The real entrepreneurs are producing products and services that improve our lives. These are the miners, and they comprise most of our audience. Surrounding them is an ever increasing rabble of so called service providers who could not exist without the true entrepreneurs who are actually doing the heavy lifting. Each is promising instant success. Each is promising a big short cut. And each is promising big savings. The advent and growth of the internet have only exploded their numbers. Their pitches are polished. Their presentations are formulaic. And their campaigns are ruthless. What most all have in common is 3 types of hype:
False or Unproven Premise. "If we had ham, we could have ham and eggs… if we had eggs." This tactic usually tries to get you to buy in to the results when you don't have the ingredients. Once you have this (their product or service), they say, then you can have that (what you really need). In this way they sell you services that you don't need or are premature for your business. This has happened to us and it can happen to you as soon as you open your doors. Listen closely to the pitch. See if it includes attractive numbers like hits, time on pages, shares, and likes, but not actual sales of your products.
Good Money After Bad. We actually had a customer in the early days of our business who said, "If you don't sell me more goods on credit today, I won't pay you what I already owe you!" He knew that we were depending on him for a certain volume and he basically used that against us. This can happen in various forms. We have had service providers quote us a price for their service but they conveniently left out all the other necessary monthly services we had to buy just to get a return on our investment with them.
Everybody's Doing It. Especially when you are new in an industry, you are preyed upon by all manner of advisors, each extolling the practice of the majority of players in that industry. If they are right, so much for disruption. If they are wrong, how would you know? All you know is they are implying that because so many people are doing it, it must be right. But have these advisors actually done it themselves? And will they be saying the same thing next year? Probably not. Meanwhile you paid them and they got what they wanted. Some industries are changing so fast that by the time you "learn" it, it's obsolete and you have to buy more consulting. We understand the lemmings all jump over the cliff at the same time, too.
These are just a few of the hypes that new business owners have to be wary of. But wait! There's more! If you buy right now, we will send you this lovely set of steak knives!
Who We Are
Michael Houlihan and Bonnie Harvey co-authored the New York Times bestselling business book, The Barefoot Spirit: How Hardship, Hustle, and Heart Built America's #1 Wine Brand. The book has been selected as recommended reading in the CEO Library for CEO Forum, the C-Suite Book Club, and numerous university classes on business and entrepreneurship. It chronicles their humble beginnings from the laundry room of a rented Sonoma County farmhouse to the board room of E&J Gallo, who ultimately acquired their brand and engaged them as brand consultants. Barefoot is now the world's largest wine brand.
Beginning with virtually no money and no wine industry experience, they employed innovative ideas to overcome obstacles, create new markets and forge strategic alliances. They pioneered Worthy Cause Marketing and performance-based compensation. They built an internationally bestselling brand and received their industry's "Hot Brand" award for several consecutive years.
They offer their Guiding Principles for Success (GPS) to help entrepreneurs become successful. Their book, The Entrepreneurial Culture: 23 Ways To Engage and Empower Your People, helps corporations maximize the value of their human resources.
Currently they travel the world leading workshops, trainings, & keynoting at business schools, corporations, conferences. They are regular media guests and contributors to international publications and professional journals. They are C-Suite Network Advisors & Contributing Editors. Visit their popular brand building site at www.consumerbrandbuilders.com.
To make inquiries for keynote speaking, trainings or consulting, please contact sales@thebarefootspirit.com.