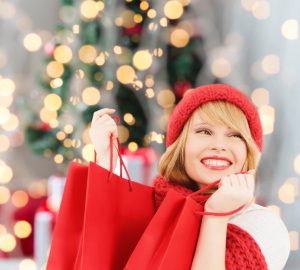 Online shopping for the Holidays is great fun! You avoid the crowds and can usually get your entire gift list knocked out in an hour. But you feel a little empty, like something's missing! You pretty much have to know what you are shopping for in advance, look for the best price, and have it delivered with a type written note.
No matter how sincere you try to make that note sound, just doesn't hold a candle to a hand-written one, personally delivered in a festively wrapped package, topped with a colorful bow. On line shopping is so perfunctory. Sure, you thought of the person and bought the gift with them in mind and even thoughtfully chose the words for the card. But they got it in a plain brown shipper with a commercially prepared note. It's somehow mechanical. It just doesn't feel right.
On the other hand, when you physically go out to the stores, something wonderful happens. You are excited about the effort you are making on behalf of others. You enjoy getting dressed for the occasion and being seen in public. The stores are decorated and there is an air of entertainment and Holiday spirit that adds to the occasion. You through in a great lunch or even some holiday cheer!
And something else happens that's hard to do on line. You are liable to buy something you hadn't planned on. The notion buy, or impulse buy, is something that you have to be there to experience. You weren't shopping for it, but there it is. You discover it. You might think, "That would be perfect for Jim!" It's a pleasant surprise and you are thrilled to make it your gift. We have found that impulse buying is half the fun of physically shopping.
Retailers know they have this old-fashioned advantage over online shopping – and so do producers. It's a perfect opportunity to get a new product out there at a time when there's plenty of traffic and plenty of motivated buyers. Customers get to see it for the first time, touch it physically, appreciate its quality and compare it to other like products. They know what they are buying and they get the instant gratification of taking it home the same day.
Last year 97% of retail sales were sold in bricks and mortar stores. 70% of shoppers polled said they would rather shop in a "real" bricks-and-mortar store. No question, online is the fastest growing segment of the retail market, but retail stores still provide shoppers with that real shopping experience.
Retailers certainly feel the heat from online sales but they are not taking it sitting down. They are stepping up the shopping experience with more decorations, more entertainment, and more events, with additional live and in-person customer service, better inventory control, and more surprising new items just waiting to be discovered by shoppers just like you.
So, if online shopping leaves you feeling a little bit like a purchasing agent and a little empty in the excitement department, why not get dressed up and go shopping? You just might find that perfect gift for that special someone. And you will enjoy doing it! We say go check out the stores this year. Happy Holidays everybody! And happy shopping!
Who We Are
Michael Houlihan and Bonnie Harvey co-authored the New York Times bestselling business book, The Barefoot Spirit: How Hardship, Hustle, and Heart Built America's #1 Wine Brand. The book has been selected as recommended reading in the CEO Library for CEO Forum, the C-Suite Book Club, and numerous university classes on business and entrepreneurship. It chronicles their humble beginnings from the laundry room of a rented Sonoma County farmhouse to the board room of E&J Gallo, who ultimately acquired their brand and engaged them as brand consultants. Barefoot is now the world's largest wine brand.
Beginning with virtually no money and no wine industry experience, they employed innovative ideas to overcome obstacles, create new markets and forge strategic alliances. They pioneered Worthy Cause Marketing and performance-based compensation. They built an internationally bestselling brand and received their industry's "Hot Brand" award for several consecutive years.
They offer their Guiding Principles for Success (GPS) to help entrepreneurs become successful. Their book, The Entrepreneurial Culture: 23 Ways To Engage and Empower Your People, helps corporations maximize the value of their human resources.
Currently they travel the world leading workshops, trainings, & keynoting at business schools, corporations, conferences. They are regular media guests and contributors to international publications and professional journals. They are C-Suite Network Advisors & Contributing Editors. Visit their popular brand building site at www.consumerbrandbuilders.com.
To make inquiries for keynote speaking, trainings or consulting, please contact sales@thebarefootspirit.com.