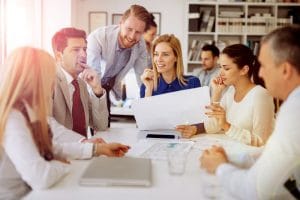 As we start out the new year, you can bet you're going to be involved in a lot of meetings. The question is, "Are those meetings necessary and effective?" Because if they're not, you're just about ready to spend a lot of time, effort, and money taking people away from being productive so they can they update, socialize, and entertain each other at your expense!
Think that's an exaggeration? Just add up the hourly rate of every attendee. Then, multiply it by the length of the meeting. Then add all the costs of preparation and you've got one, very expensive proposition. We know that certain meetings are necessary. Meeting can be useful to get everyone on the same page. Many are unavoidable, especially when you need the buy-in of all the stakeholders involved in a project.
Over the years we've held and attended thousands of meetings. Since we were paying for most of them, we had a sincere interest in keeping them short, effective, and action-oriented. We learned a lot of lessons by watching meetings degenerate and digress. We learned about best practices for meetings from colleagues and our own hard knocks. Here's our short list for how to get the most out of the fewest and shortest meetings possible:
Purpose
When you call a meeting, be sure to lay out the ground rules right from the get-go. This means that you have to clearly identify the goals of the meeting, what you expect to accomplish, the decisions you expect to reach, who will lead the meeting, and most importantly, how long the meeting will take. This purpose and format needs to be communicated in all correspondence and calendar items. It needs to be the first statement made at the meeting.
Agenda
If you call the meeting, be sure to circulate your agenda well in advance. Give a time limit to each agenda item. Be on the lookout for attendees who attempt to introduce items not on the agenda. Be polite and suggest an off-line conversation on their issue and then get back on topic. Remember the reason for the meeting is education, discussion, and decisions. Keep the discussions on track. If someone else in your company calls the meeting, make sure they do the same.
Scribe
Assign someone to take notes. That same person is also the timekeeper. They are authorized to interrupt the meeting to remind the attendees of where they are timewise in the meeting and how much time is left. For a one-hour meeting, for instance, we think it is very effective to announce when there is only 15 minutes to go. This announcement helps the attendees focus on decisions, deadlines and action plans. In other words, it's time to wrap it up! The scribe shortly thereafter circulates the notes, action items, assignees, and deadlines to the attendees.
Calendar
The best meetings are action-focused and that action must take place on or by a certain date. Have a calendar out at the meeting so all can see lead times and deadlines. The best meeting attendees take notes directly on their calendars because they know they have to make an appointment with themselves and block out time to execute their responsibility to the team and the project. Calendars are also a great way to get attendees to refocus on the agenda because you can ask them to set a date to discuss their off-agenda issues between themselves – when the other attendees don't need to be involved.
Action Items
During the last five minutes of a, say, one-hour meeting, ask the scribe to announce the action items, assignees and deadlines. When each assignee hears the action item that they are committed to being read aloud to all the other attendees, they will be more likely to execute those action items on time. Keep track of progress going forward on an online meeting platform that can be used to educate, report on status, and collect input from the attendees.
Another time and cost-saving technique is to simply reduce the number of meetings altogether. Look for culprits that are happening because they always have or because it's the monthly or weekly meeting. Try to have meetings only for the action-oriented purposes described above. It's too expensive to have meetings simply out of habit or policy. Keep your people focused on production and don't let them complain, "Oh No! Not another meeting!"
Who We Are
Michael Houlihan and Bonnie Harvey co-authored the New York Times bestselling business book, The Barefoot Spirit: How Hardship, Hustle, and Heart Built America's #1 Wine Brand. The book has been selected as recommended reading in the CEO Library for CEO Forum, the C-Suite Book Club, and numerous university classes on business and entrepreneurship. It chronicles their humble beginnings from the laundry room of a rented Sonoma County farmhouse to the board room of E&J Gallo, who ultimately acquired their brand and engaged them as brand consultants. Barefoot is now the world's largest wine brand.
Beginning with virtually no money and no wine industry experience, they employed innovative ideas to overcome obstacles, create new markets and forge strategic alliances. They pioneered Worthy Cause Marketing and performance-based compensation. They built an internationally bestselling brand and received their industry's "Hot Brand" award for several consecutive years.
They offer their Guiding Principles for Success (GPS) to help entrepreneurs become successful. Their book, The Entrepreneurial Culture: 23 Ways To Engage and Empower Your People, helps corporations maximize the value of their human resources.
Currently they travel the world leading workshops, trainings, & keynoting at business schools, corporations, conferences. They are regular media guests and contributors to international publications and professional journals. They are C-Suite Network Advisors & Contributing Editors. Visit their popular brand building site at www.consumerbrandbuilders.com.
To make inquiries for keynote speaking, trainings or consulting, please contact sales@thebarefootspirit.com.