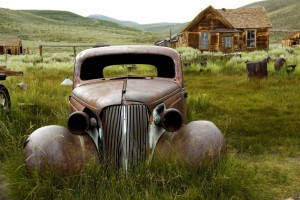 "YOU'RE FIRED!" seems to be Donald Trump's favorite phrase. He makes it sound easy, as if he has a hair trigger and an itchy trigger finger. But for most of us it's not that easy. In fact it's downright difficult – so difficult in fact that we tend to put it off long after we know it's inevitable.
Why? Because we wonder if "the devil we know is better than the one we don't." We worry about the cost of turnover which includes not only the selection process, the training, and the loss of productivity, but also the loss of company knowledge, relationships and even customers. But ultimately, if they gotta go, they gotta go.
So how do we know it's time to fire someone? Here are 7 signs along the road to the dead end:
Asleep at the Wheel. They are in the job, but not really doing the job. They see the job as some kind of busy work but never wake up to the big picture. They want someone to tell them what to do, but not tell them why. They don't want to take responsibility and don't want to be held accountable. In short, they don't own the job.
Can't Get Out of First Gear. They get to the minimum level of performance but won't leave their comfort zone to take on new and challenging requirements of the job. They keep asking for examples but can't extrapolate the lessons learned in one area to a new area. They demand a copy-and-paste example for everything.
Running Out of Gas. The energy, enthusiasm and drive just aren't there. For them, the job is a drudgery that they must do to get paid. They have not asked for, or taken on, any new responsibilities in months. In fact they are trying to get out of the ones they have.
Behind Schedule. They are unable to stay on top of the workload no matter how much of it you reassign to others. They have lots of excuses for missing the deadlines and none of them have to do with their own shortcomings. At best they are testy; at worst, haughty.
Accidents. You start hearing from your clients, coworkers and vendors that this person is causing issues either in communication or cooperation. They consistently blame others for their problems and use victim language to describe the reasons for their failures.
Grinding Gears. You're just plain tired out trying to work with this person. They are an energy drain. They don't tell you where they are on projects – you have to pull it out of them. They argue a lot and try to use debate as a smoke screen to camouflage their inability to produce. In extreme cases they act like they are doing you a favor just to show up for work.
Pushing the Car. You find yourself co-depending and buying into excuses so you don't have to face the reality that they are way past their usefulness to your company. You give them more and more help and even have others doing their job and spoon-feeding them long after the training period.
These are just a few examples of how you know it's time for a trade in – or even better, an upgrade. The longer you put up with the employee who should be working for someone else, the more it hurts everyone's productivity, undermines your credibility with your own people, and the more it keeps you up at night. Time to bite the bullet, learn the lessons, and say "next!"
Who We Are
Michael Houlihan and Bonnie Harvey co-authored the New York Times bestselling business book, The Barefoot Spirit: How Hardship, Hustle, and Heart Built America's #1 Wine Brand. The book has been selected as recommended reading in the CEO Library for CEO Forum, the C-Suite Book Club, and numerous university classes on business and entrepreneurship. It chronicles their humble beginnings from the laundry room of a rented Sonoma County farmhouse to the board room of E&J Gallo, who ultimately acquired their brand and engaged them as brand consultants. Barefoot is now the world's largest wine brand.
Beginning with virtually no money and no wine industry experience, they employed innovative ideas to overcome obstacles, create new markets and forge strategic alliances. They pioneered Worthy Cause Marketing and performance-based compensation. They built an internationally bestselling brand and received their industry's "Hot Brand" award for several consecutive years.
They offer their Guiding Principles for Success (GPS) to help entrepreneurs become successful. Their book, The Entrepreneurial Culture: 23 Ways To Engage and Empower Your People, helps corporations maximize the value of their human resources.
Currently they travel the world leading workshops, trainings, & keynoting at business schools, corporations, conferences. They are regular media guests and contributors to international publications and professional journals. They are C-Suite Network Advisors & Contributing Editors. Visit their popular brand building site at www.consumerbrandbuilders.com.
To make inquiries for keynote speaking, trainings or consulting, please contact sales@thebarefootspirit.com.