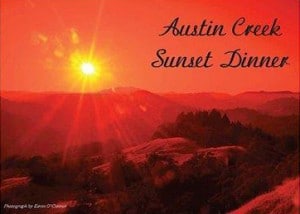 Three years ago, California had a proposition on the ballot to raise funds to rescue the state parks from a fiscal crisis. The idea was simple: $18 added to the annual vehicle registration fee would raise $500 million per year for the state's 48 parks. It was overwhelmingly defeated. The arguments for its defeat ranged from, "The state should run them for less" to, "The vehicle license fee was no way to do it." But the size of the defeat sent an ominous message: the parks are not that important to the majority.
Most of the folks who live near the parks, or use the parks on a regular basis, or whose business is affected by the parks, supported the proposition. Still, we lost.
Regardless of the reasons for the defeat of the Parks Initiative, it became clear that the State could not sustain the maintenance and entitlements associated with the parks management. Many State Parks were put on a closure list because funds were not available to properly maintain them.
It was a hard pill to swallow that California's voters would spend more on lattes in a month than the $18 per auto registration that it would take to keep the parks open for a year. But with the willing participation of the regular users, neighbors, adjacent businesses, and non-profits, the parks slated to close were kept open. How? With donations of time, money, labor and materials.
Two such state parks are in Sonoma County, north of San Francisco. They are the Armstrong Redwoods Park on the Russian River and adjacent Austin Creek State Reserve. These, and several other Russian River and Sonoma Coast State Parks, are being kept open by a true leader in this volunteer effort.  The Stewards of the Coast and Redwoods is a pioneering non-profit with roots going back to 1985, dedicated to supporting these parks. Today they have over 550 volunteers who help manage the Sonoma Coast State Parks, which includes Armstrong Redwoods Park and Austin Creek State Reserve.
Bonnie will celebrate her birthday on August 31st by speaking at a special fundraiser for the Stewards. High on a coastal mountain behind the world-class Armstrong Redwood Grove, 50 guests will enjoy a catered sunset dinner and listen to Native American flute music performed by a direct descendant of Yosemite's Chief Tenaya. She will talk about how Barefoot Wine used Worthy Cause Marketing to support many conservation groups including the Stewards and how today we travel the country encouraging students, start-ups, and large corporations to promote this kind of community involvement. All proceeds will go to the preservation of Austin Creek State Reserve. It's a present she is proud to give on her birthday!
We believe the future of parks is the opposite of "detached entitlement." We believe it is "engaged ownership." How can you help the local non-profits that are keeping your park open? After all, it is yours!
Engaged ownership is the guiding principle behind the People Powered Parks movement. Grass roots organizations like the Stewards of the Coast and Redwoods are providing the essential infrastructure to make volunteerism practical, sustainable, and effective. Let's work together to save our parks and give us all a wonderful birthday present, year after year!
Who We Are
Michael Houlihan and Bonnie Harvey co-authored the New York Times bestselling business book, The Barefoot Spirit: How Hardship, Hustle, and Heart Built America's #1 Wine Brand. The book has been selected as recommended reading in the CEO Library for CEO Forum, the C-Suite Book Club, and numerous university classes on business and entrepreneurship. It chronicles their humble beginnings from the laundry room of a rented Sonoma County farmhouse to the board room of E&J Gallo, who ultimately acquired their brand and engaged them as brand consultants. Barefoot is now the world's largest wine brand.
Beginning with virtually no money and no wine industry experience, they employed innovative ideas to overcome obstacles, create new markets and forge strategic alliances. They pioneered Worthy Cause Marketing and performance-based compensation. They built an internationally bestselling brand and received their industry's "Hot Brand" award for several consecutive years.
They offer their Guiding Principles for Success (GPS) to help entrepreneurs become successful. Their book, The Entrepreneurial Culture: 23 Ways To Engage and Empower Your People, helps corporations maximize the value of their human resources.
Currently they travel the world leading workshops, trainings, & keynoting at business schools, corporations, conferences. They are regular media guests and contributors to international publications and professional journals. They are C-Suite Network Advisors & Contributing Editors. Visit their popular brand building site at www.consumerbrandbuilders.com.
To make inquiries for keynote speaking, trainings or consulting, please contact sales@thebarefootspirit.com.