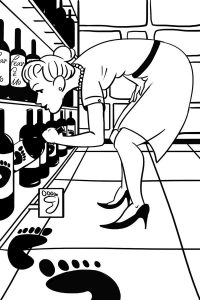 Be a "big fish in a small pond," they say. We would add to that, "Start with a pond you already know," and "make friends with some other big fish in that pond." In other words, choose your battles and your battleground. Make sure you know the terrain. And develop some strategic allies in that battleground.  This is the advice we give our brand building clients today. It worked for us and it can work for you.
It's easy to get confused when you are starting your business. You can come into it with many popularly held misconceptions. We certainly did. Some glitzy and powerful markets like New York City may tempt you with the "If you can make it here you can make it anywhere" philosophy. But that's where all your competition is, slugging it out with huge promotional budgets you don't have.
Another factor to consider is your own unfamiliarity with outside territories. Without anything in common between you and those unfamiliar markets, before you even start, your brand will be playing at an extreme disadvantage.
So, you not only have start out in a smaller market, you have to be familiar with that market, and, we dare say, even like that market! That means you know something about the market even before you go there.
Such is the lesson in Chapter 5 of our business audio theater, The Barefoot Spirit. Hollywood actors play the parts of key characters in telling scenes that make the lessons learned come to life, complete with sound effects, and original musical score. The listener is taken behind the scenes and witnesses the strategies that built the now-famous Barefoot Wine brand.
"Ya Gotta Know the Territory"
Just like the opening song from The Music Man, you have a tremendous advantage when you know the territory. In the opening scene, Michael is chatting it up with a store owner in Santa Barbara, where he went to school. He shares his love for some of the more subtle charms of the California coastal jewel that only a local would know. They bond. The store owner buys. Folks in Santa Barbara think Barefoot is a local brand.
Change the Rules
Ever wonder how the rules change? It's usually as a result of a lot of hard work and lobbing, not to mention legal expenses, where someone in the industry finally convinces the regulators that they will still get their taxes and compliance, but in a more progressive way. That person was Bonnie Harvey with help of her compliance specialist who pioneered a new form of winery license that enabled Barefoot and many others that followed, to secure full winery status without bricks and mortar, and without vineyards! Sometimes, in order to survive, you must change the rules!
Change the Terms
Before they were able to achieve full licensing, they had to use the descriptor, "Cellared and Bottled" on their back label rather than the term, "Produced and Bottled." Its competition was quick to accuse them of simply buying bulk wines and bottling them – implying no control over the quality of the product. The opposite was the fact.
They had to create a new term that implied more control over quality than just "Cellared and Bottled".  They invented the term "Vinted," which heretofore was not in the lexicon. Even though the regulators turned down their application using the word Vinted on two occasions, they kept applying. Finally, they got a different officer. She approved it! It's now commonly used in the wine industry.
Good News – Bad News
In one scene the whole staff is gathered for a video conference with their Florida salesperson. "I've got good news and I've got bad news," the salesperson says. "The good news is that we have been approved for a test in the largest chain store in Florida; the bad news is they put us on the bottom shelf where no one will see us." Somebody said sarcastically, "Well we're Barefoot, so I guess we'll just have to go after the foot traffic!"
After the laughs died down, somebody else said, "Wait a minute, that's not such a bad idea! Why don't we just put decal footprints down on the floor to walk folks to our products?" That person was the receptionist. In most companies that practice the need-to-know philosophy, that idea would have never surfaced. Barefoot practiced just the opposite: know-the-need!
Jujitsu Adversity
There's so many licenses and permits involved in selling a controlled substance like alcohol, Michael and Bonnie were certain to miss one. In one scene, they were pouring their products as requested by the hosts after winning a gold medal, when an alcoholic beverage officers comes up and cites them for breaking the law. They didn't have the right license to pour for the general public. What would it be? A $10,000 fine, or a 30-day license suspension.
They obviously couldn't afford the fine, so they took the suspension. But they learned something that later turned out to be a major key to their success. They offered their buyers a discount if they paid cash for a month's supply delivered before the shutdown. The buyers not only took it, they asked for it again the next month! They learned that the buyers' warehouse people had no room for a shipment that big and demanded that the buyers reduce the price on Barefoot and move it out quickly. They put Barefoot on sale, stacked it on the floor so it got a lot of attention, and that enticed many new customers to try this crazy brand with a foot on it!
Strategic Allies
Who are they? Today, Michael and Bonnie advise their clients to find them in their accounts payable. They're the ones you pay the most money to every month. They're the ones who will "get rich if you get rich!" In their case, it was the glass company because at high-volume, low-priced wine would sell a lot more bottles than the $20 and $30 wines.
Michael and Bonnie engaged them in two ways: First, they met with them often and told them their plans and progress. Second, they called in advance with a payment plan when they could predict that they could not make their payment on time. By demonstrating empathy, they were able to build their credit which reduced their need for capital.
Appreciate the Unappreciated
Sometimes what you need is right under your nose. In the remaining scenes, Bonnie and Michael's long time friendship with the LGBT community paid off. A top salesperson for one of their distributers wasn't being appreciated by his boss, even though he was the best sales manager for Barefoot in their company. When it became apparent that the reason for the internal friction was that this sales manager was gay, Michael and Bonnie saw an opportunity to offer him the National Sales Manager position at Barefoot.
A year later, he was working directly for Michael and Bonnie! And thus began an amazing and innovative campaign that would push Barefoot Wines to become Wine Spectator's coveted "Hot Brand of the Year" for consecutive years. The Barefoot Spirit is dedicated to Randy Arnold, one of the wine industry's first openly gay winery sales rep. Listen in while Randy solves problem after problem with insights and techniques you can use in your own business.
Please enjoy a free chapter on us and see if you don't want to take The Barefoot Spirit audiobook along on your next road trip.
Who We Are
Michael Houlihan and Bonnie Harvey co-authored the New York Times bestselling business book, The Barefoot Spirit: How Hardship, Hustle, and Heart Built America's #1 Wine Brand. The book has been selected as recommended reading in the CEO Library for CEO Forum, the C-Suite Book Club, and numerous university classes on business and entrepreneurship. It chronicles their humble beginnings from the laundry room of a rented Sonoma County farmhouse to the board room of E&J Gallo, who ultimately acquired their brand and engaged them as brand consultants. Barefoot is now the world's largest wine brand.
Beginning with virtually no money and no wine industry experience, they employed innovative ideas to overcome obstacles, create new markets and forge strategic alliances. They pioneered Worthy Cause Marketing and performance-based compensation. They built an internationally bestselling brand and received their industry's "Hot Brand" award for several consecutive years.
They offer their Guiding Principles for Success (GPS) to help entrepreneurs become successful. Their book, The Entrepreneurial Culture: 23 Ways To Engage and Empower Your People, helps corporations maximize the value of their human resources.
Currently they travel the world leading workshops, trainings, & keynoting at business schools, corporations, conferences. They are regular media guests and contributors to international publications and professional journals. They are C-Suite Network Advisors & Contributing Editors. Visit their popular brand building site at www.consumerbrandbuilders.com.
To make inquiries for keynote speaking, trainings or consulting, please contact sales@thebarefootspirit.com.