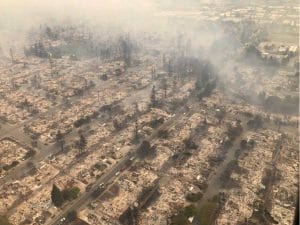 We are waiting for the official word that the wine country firestorms were caused by global warming. The floods in Houston, and the hurricanes and tidal surges that hit Florida and Puerto Rico, have be officially attributed to a warmer ocean – which is linked to climate change.
Something happened this summer in the wine country north of San Francisco that we've never seen before. We had several heat waves that were record in temperature and duration. You don't have to be a climatological scientist to put the pieces together. Northern California had an extremely wet, record winter which pushed up the vegetation to an all-time high. Then successive back to back, 100+ degree record heat waves baked out the moisture and left the volatile fuel.
We are used to fires, but these were fire storms generating their own weather, and they were nearly unstoppable. The town of Santa Rosa was dead in its track and the high wind driven embers blew great distances ahead of the fires, ignited more and more fires. Our firefighters were quickly overwhelmed as entire neighborhoods went up in flames. They had to concentrate on saving lives.
This was an urban fire storm, and the results look like a scene from a war-zone. Thousands of homes were destroyed within a day or two. We've seen the burnt landscapes of forest fires, but nothing could have prepared us for the vision of extensive urban landscapes reduced to ashes. Here is what one neighborhood looks like now https://youtu.be/PHLeMZtmJbs
Then came the ominous predictions of long-term smoke poisoning.  That was chilling!
Soon help came, but it was already too late for many. We saw firefighters from Australia, California, and all over the Western United States. We are grateful for thousands of firefighters and their equipment that moved into the fray. The Sonoma County Airport was closed except for firefighting aircraft, personnel transports, and air-lifted relief missions. That was heartening!
We were fortunate …this time. Our small, west Sonoma County town was spared, probably due to the prevailing winds off the ocean that pushed the fires to the east and away from us. At first, we wondered like so many survivors, why we were saved? But it quickly became apparent as we provided shelter to friends who were evacuated. We could provide assistance …and hope! We also knew that had the situation been reversed, our friends would have done the same for us.
And that's now the general tone around here in the wine country. People are busy raising funds, providing shelter, and volunteering. Lists have been published of businesses that either lost their establishments or whose owners lost their homes. We hope that shoppers will patronize them.
So, was this tragedy avoidable? And, more importantly now, can we prevent future tragedies resulting from extreme weather? Former President Obama said, "This is the last generation that can do something about climate change." So, what are we doing? Our federal government is now pushing to open up preserves in Alaska where the tundra and ice cap is melting to drill more of the very substance that scientists say is causing it.
This is happening at a time when the petroleum-based international automobile industry itself just announced that their future is electric vehicles. This decision was made after the announcement by China, the fastest growing automobile market in the world, that they would be banning gas powered vehicles. Of course, the industry will follow the buyer!
Sure, there's the question of how the electricity will be made. Sure, there is the question of what to do with the spent toxic batteries. But those challenges will be met by new creative entrepreneurs seizing an opportunity generated by public safety and governmental regulations. First, we have to stop warming our atmosphere!
So, if you are wondering how global warming will affect you, don't wait to find out like the folks in Puerto Rico, Houston, Florida or California. We now know! Take action now with a letter, email, or text to your elected representative. Ask them to put the brakes on more oil production, provide subsidies for solar conversions, and offer tax incentives for electric vehicles. Ask them to help us all prepare for more catastrophes with better fire prevention, flood protection, and faster and stronger disaster response.
Our hearts go out to the families who are now suffering from the various effects of, yes, man-made climate change. If you want to donate, this site has been set up by Mike McGuire (our state senator), The Press Democrat (our local newspaper) and Redwood Credit Union (a local business). Please go to www.redwoodcu.org/NorthBayFireRelief or https://www.gofundme.com/sonomacountymusicians a site set up for local musicians who lost everything.
We remain Sonoma County strong. May God bless us all.
Who We Are
Michael Houlihan and Bonnie Harvey co-authored the New York Times bestselling business book, The Barefoot Spirit: How Hardship, Hustle, and Heart Built America's #1 Wine Brand. The book has been selected as recommended reading in the CEO Library for CEO Forum, the C-Suite Book Club, and numerous university classes on business and entrepreneurship. It chronicles their humble beginnings from the laundry room of a rented Sonoma County farmhouse to the board room of E&J Gallo, who ultimately acquired their brand and engaged them as brand consultants. Barefoot is now the world's largest wine brand.
Beginning with virtually no money and no wine industry experience, they employed innovative ideas to overcome obstacles, create new markets and forge strategic alliances. They pioneered Worthy Cause Marketing and performance-based compensation. They built an internationally bestselling brand and received their industry's "Hot Brand" award for several consecutive years.
They offer their Guiding Principles for Success (GPS) to help entrepreneurs become successful. Their book, The Entrepreneurial Culture: 23 Ways To Engage and Empower Your People, helps corporations maximize the value of their human resources.
Currently they travel the world leading workshops, trainings, & keynoting at business schools, corporations, conferences. They are regular media guests and contributors to international publications and professional journals. They are C-Suite Network Advisors & Contributing Editors. Visit their popular brand building site at www.consumerbrandbuilders.com.
To make inquiries for keynote speaking, trainings or consulting, please contact sales@thebarefootspirit.com.