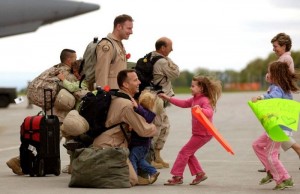 No matter our political opinions, we all benefit from the sacrifices of our military service people. But when was the last time you said thank you? That was on the mind of Dr. Martin Marino, owner of West Virginia's largest dental chain, when he founded Freedom Day USA. His idea was to provide FREE services and goods as a "Thank You" for the sacrifice, service, and freedom that these men and women have provided to us.
The event had its first annual celebration on September the 12th, and was a big success with participation in 47 of the 50 states! Going forward, it will be observed on the second Thursday of September. Hundreds of businesses throughout the country said "Thank You" with haircuts, dental visits, meals, oil changes, car washes, and tanks of gasoline. All were free, with no strings attached – just a sincere expression of gratitude.
Working with the Entrepreneurship Bootcamp for Veterans with Disabilities (EBV) across the country, we can truly appreciate the message and the impact Freedom Day USA will have on our military service people. Acknowledgement and gratitude are the most important things they can receive right now to help them validate their sacrifices on our behalf.
Since conscription (also known as the draft) was abolished forty years ago, we have moved toward a professional all-volunteer military, and consequentially there has been a growing a tendency to view the military as 'just another profession.' Nothing could be further from the truth! During the days of conscription, every male between the ages of 18 and 25 was required by law to register to be inducted into the military. As unpopular as the draft was, it did made every American more empathetic to the plight of our military service people and more appreciative of their sacrifices. It was too close to home.
We now have a whole generation of Americans who are fortunate enough to never have been concerned with involuntarily military service. This is a luxury and should never be taken for granted. It certainly should not make us apathetic. The Selective Service System remains in place today and can be resurrected at any time. Meanwhile we are being protected by men and women who have given up family, life, and limb. They did it so we can safely enjoy the infrastructure, order, and trade that give us our standard of living.
Sometimes we get so busy with our own lives that we take our freedom for granted. When we asked the folks at the EBV, "What is the most important thing we can say to the vets?" we heard over and over, "be sure to thank them." They don't want to feel like they're on the outside, forgotten, or taken for granted. Thank you's are definitely in order, and what better way to say thank you than by setting aside a special day when your business can give our military service people free goods and services?
Dr. Marino's Freedom Day USA is well thought out and timely. It provides a blueprint and an infrastructure for businesses to have the most impact with gifts of goods and services. It offers a directory of participants and makes military service people in your area aware that you care. Shouldn't your business participate in the new national tradition of giving back with appreciation? Think about what you have to lose, and then consider what you have to give. Dr. Marino and all our brave military service people, we salute you!
Who We Are
Michael Houlihan and Bonnie Harvey co-authored the New York Times bestselling business book, The Barefoot Spirit: How Hardship, Hustle, and Heart Built America's #1 Wine Brand. The book has been selected as recommended reading in the CEO Library for CEO Forum, the C-Suite Book Club, and numerous university classes on business and entrepreneurship. It chronicles their humble beginnings from the laundry room of a rented Sonoma County farmhouse to the board room of E&J Gallo, who ultimately acquired their brand and engaged them as brand consultants. Barefoot is now the world's largest wine brand.
Beginning with virtually no money and no wine industry experience, they employed innovative ideas to overcome obstacles, create new markets and forge strategic alliances. They pioneered Worthy Cause Marketing and performance-based compensation. They built an internationally bestselling brand and received their industry's "Hot Brand" award for several consecutive years.
They offer their Guiding Principles for Success (GPS) to help entrepreneurs become successful. Their book, The Entrepreneurial Culture: 23 Ways To Engage and Empower Your People, helps corporations maximize the value of their human resources.
Currently they travel the world leading workshops, trainings, & keynoting at business schools, corporations, conferences. They are regular media guests and contributors to international publications and professional journals. They are C-Suite Network Advisors & Contributing Editors. Visit their popular brand building site at www.consumerbrandbuilders.com.
To make inquiries for keynote speaking, trainings or consulting, please contact sales@thebarefootspirit.com.