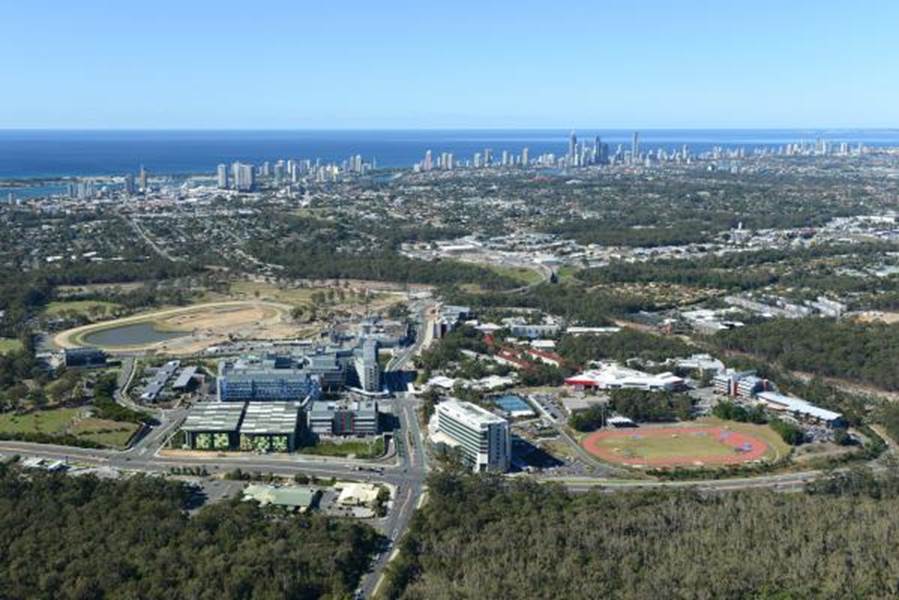 Earlier this month we were the guests of the Student Guild at Griffith Gold Coast University in Queensland, Australia. The University was originally founded by Sir Samuel Walker Griffith, the principal author of the Australian Constitution. He was also the first Chief Justice of the High Court of Australia and served twice as the Premier of Queensland. He would be very proud to know that the progressive institution he established in 1971, offering degrees in Asian studies and environmental science, has expanded to offer a comprehensive and research-oriented curriculum, and is now rated in the top 5% of the world's universities.
When we visited the Gold Coast campus, one of five Griffith campuses in Southern Queensland, we were very impressed. The campus itself was mostly new, state of the art, and much larger than we expected. The architecture and grounds are as progressive as its heritage. The student body is international, and the vibes are exuberant. Everyone we met was truly excited about the future, itching to get out there and make a difference. What a great culture for a big university!
We spoke at one of the regular Student Guild events for grad students. It started with an hour of networking, complete with delicious appetizers and beverages. Then we all went into the new amphitheatrically-designed auditorium for our talk.
What would be best for us to share with these young Australian and international students that they could take with them into their careers? Some were keen on starting their own businesses. Others were studying medical research or other technical sciences and would wind up working for others. But we knew that they all faced challenges in their futures. So we focused on challenges and how to meet them using our Guiding Principles for Success (GPS).
Our #1 principle for success is to put yourself in the other person's shoes. Find out what others want, and help them to get it, and in the process you will get what you want. We gave several examples from our own history starting what is now the world's #1 wine brand.
Another principle we shared is the concept of making mistakes "write," not just "right." We all make mistakes, so what do we do about them? Do we see them as an opportunity to improve our processes or do we try to hide them? If we fix them as fast as we can, move on and pretend like they never happened, the business does not improve. We write them down, and then change our procedures and processes so the mistake will be less likely to reoccur.
We also shared another secret to our success. We didn't follow our passion. We followed our opportunity – passionately! Opportunities present themselves more often than the perfect job or business that suits your passion. But, if you take advantage of an opportunity that presents itself, even if it is not your "passion," you may find, as we did, ways to employ your passion in that opportunity.
We, for instance, were not looking to go into the wine business, but it was the opportunity that was presented to us. Our passion was conservation and human rights. We found a way to use Worthy Cause Marketing (supporting local non-profits that were focused on those conservation and human rights issues) in the hopes that the members of those non-profits would buy our products. It worked very well for everyone!
We salute the Griffith Gold Coast University Student Guild for all they do to create and nurture a culture of positive enthusiasm among the students by providing a fun, educational, recreational, and inspirational university experience. This is a great place to study and learn!
.
Who We Are
Michael Houlihan and Bonnie Harvey co-authored the New York Times bestselling business book, The Barefoot Spirit: How Hardship, Hustle, and Heart Built America's #1 Wine Brand. The book has been selected as recommended reading in the CEO Library for CEO Forum, the C-Suite Book Club, and numerous university classes on business and entrepreneurship. It chronicles their humble beginnings from the laundry room of a rented Sonoma County farmhouse to the board room of E&J Gallo, who ultimately acquired their brand and engaged them as brand consultants. Barefoot is now the world's largest wine brand.
Beginning with virtually no money and no wine industry experience, they employed innovative ideas to overcome obstacles, create new markets and forge strategic alliances. They pioneered Worthy Cause Marketing and performance-based compensation. They built an internationally bestselling brand and received their industry's "Hot Brand" award for several consecutive years.
They offer their Guiding Principles for Success (GPS) to help entrepreneurs become successful. Their book, The Entrepreneurial Culture: 23 Ways To Engage and Empower Your People, helps corporations maximize the value of their human resources.
Currently they travel the world leading workshops, trainings, & keynoting at business schools, corporations, conferences. They are regular media guests and contributors to international publications and professional journals. They are C-Suite Network Advisors & Contributing Editors. Visit their popular brand building site at www.consumerbrandbuilders.com.
To make inquiries for keynote speaking, trainings or consulting, please contact sales@thebarefootspirit.com.