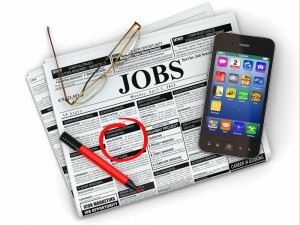 Just getting an interview in today's job market is a big deal for college grads, but landing the right job is a two-way street. But let's go back a few steps and discuss how knowing where to apply increases your chances of getting hired by a company that is a good fit for you.
You may be lucky to get any job, but wait!  It's more than a job; it's the beginning of your career. It may be your first opportunity to show your stuff, but will the company you are interviewing with allow for that? When you choose where to apply wisely, your chances of getting hired are more likely and your promotions will come more easily.
There are several factors you should consider before you apply for a position. The more you know about your perspective employer and what they are looking for, the better.
Applications. Consider a small startup company where you have the potential to make a big difference and be entrusted with increased responsibility. You may also have a much better opportunity to rise in position and salary more quickly as the company grows. So think about what experience, knowledge, and responsibility you will gain and how it will look on your resume to your next employer.
Commitment. Whatever company you choose, you should plan on being there for a minimum of two years. This demonstrates stability on your resume going forward and indicates to your future employer that you will be with them long enough for them to get a return on their investment – in you! Do your homework and don't get stuck with an employer you don't like. Two years can be a long time with the wrong employer, but you must stick it out for the duration lest you look "unstable." Remember, the first thing an employer looks at during the resume vetting process is your job durations.  And the first to be eliminated are the applicants that appear "unstable."
Proximity. Unless you are working virtually or your job requires extensive travel, you will have to commute to your place of employment. If it's too far from your home, you will be more likely to quit for another job if it is closer, even with slightly less pay, thus costing you less commute time and money. Your perspective employer knows this and it may work against you. So, unless you're planning to move closer to the job you are applying for, focus your job search close to home. Employers want to hire employees with less than a thirty-minute commute.
Values. What does your perspective employer's company stand for beyond the goods and services they provide? How do they treat their employees? Go ask a few. How do they treat the environment? Check out the press. How do they treat their customers? Do they have a positive brand image? Why does any of this matter? We have found over time that companies that score higher in these areas have less turnover, get less bad press and have a higher likelihood of staying in business.  Don't be the employee from the bankrupt, or no-longer-in-business company. It reflects on you!
So look for the right fit. Your job should be consistent with your career goals, provide ample opportunity for advancement, be nearby, and resonate with your personal values. Plan on being there for at least two years. Remember, it's a two-way street that has to work for both parties. The more wisely you choose the companies where you apply, the more likely you are to land the right job!
Who We Are
Michael Houlihan and Bonnie Harvey co-authored the New York Times bestselling business book, The Barefoot Spirit: How Hardship, Hustle, and Heart Built America's #1 Wine Brand. The book has been selected as recommended reading in the CEO Library for CEO Forum, the C-Suite Book Club, and numerous university classes on business and entrepreneurship. It chronicles their humble beginnings from the laundry room of a rented Sonoma County farmhouse to the board room of E&J Gallo, who ultimately acquired their brand and engaged them as brand consultants. Barefoot is now the world's largest wine brand.
Beginning with virtually no money and no wine industry experience, they employed innovative ideas to overcome obstacles, create new markets and forge strategic alliances. They pioneered Worthy Cause Marketing and performance-based compensation. They built an internationally bestselling brand and received their industry's "Hot Brand" award for several consecutive years.
They offer their Guiding Principles for Success (GPS) to help entrepreneurs become successful. Their book, The Entrepreneurial Culture: 23 Ways To Engage and Empower Your People, helps corporations maximize the value of their human resources.
Currently they travel the world leading workshops, trainings, & keynoting at business schools, corporations, conferences. They are regular media guests and contributors to international publications and professional journals. They are C-Suite Network Advisors & Contributing Editors. Visit their popular brand building site at www.consumerbrandbuilders.com.
To make inquiries for keynote speaking, trainings or consulting, please contact sales@thebarefootspirit.com.