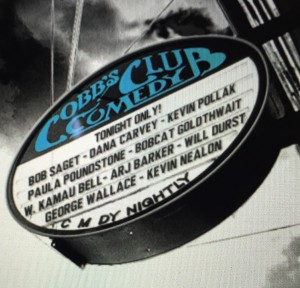 We recently enjoyed watching several movies at Cinequest, an annual film festival that took place over several days in downtown San Jose in the heart of Silicon Valley. Cinequest was voted the "Best Film Festival" in the country by USA today, and after witnessing it in person, we can see why.
All the films we saw were imaginative, leading edge, and poignant insights on many important aspects of life that don't fit the Hollywood mold. And thank goodness. These films need to be seen. Like entrepreneurship itself, they challenge the establishment and give permission to new ways of communicating.
An investment we made 10 years ago in an independent film documentary finally had its World Premiere last week at Cinequest. Just to be selected for an event of this stature was a major milestone for the videographer and team who put the film together.
"Our" film, "The Comedy Club," was the brain child of David Schendel. We were impressed with his first film, "Yank Tanks," a fun, colorful, and eye-opening documentary about how Cuban artisans have kept the old American cars from 1956 and earlier not only running, but in good repair. This was done in spite of an export boycott by the US and the secession of the manufacturers of those auto parts over a half a century ago.  The replacement parts have all been meticulously made by hand by Cuban craftsmen! Even tail lights for 1956 Chevys! Now, 60 years later, Cuba is poised to become a serious American tourist destination, and "Yank Tanks" and the story of those vintage cars still cruising the streets of Havana will be in demand. Finally the time is right!
Schendel's more recent movie, The Comedy Club, traces the history of Cobbs, one of the original comedy clubs that provided a launching pad for such greats as Robin Williams, Bill Maher, Paula Poundstone, Bobcat Goldhwait, Kevin Pollak, Will Durst, Dana Carvey, Bob Saget, Kevin Nealon, Ellen DeGeneres, and many others! This is an entrepreneurial story about the club owner, Tom Sawyer (that's his real name), and how he pioneered stand-up comedy in San Francisco and took the risk that there was a market for it. There are great jokes, interviews and testimonials from many now-famous comedians who showed appreciation for the chance this independent entrepreneur took to give them a big head start.
Now that so many of these comedians have become famous on TV and elsewhere, there is a much greater interest in this film, so all the difficulties resulting in delays are more likely to have worked to the films advantage. So much of a film's success is based on the timing of its release. The public is interested in how their favorite comedians first got a break. Like the new interest in David's "Yank Tanks" film, we think the timing is right for a historical documentary of San Francisco's stand-up comedy scene.
Besides, without an independent entrepreneur like Tom Sawyer taking the risk, we would not have the caliber of comedians we have today. The corporations did finally seize upon, and monopolize, this opportunity, but only after the concept had been proven by Tom Sawyer's startup, Cobbs Comedy Club. And without an independent filmmaker like David Schendel, this piece of the history of American comedy would be lost.
We salute all the independent filmmakers at Cinequest. We particularly liked "Remember Me" with Rita Moreno (West Side Story), "Ma Ma" with Penelope Cruz, and of course, "The Comedy Club" by David Schendel. M&B give them all two toes way up!
Who We Are
Michael Houlihan and Bonnie Harvey co-authored the New York Times bestselling business book, The Barefoot Spirit: How Hardship, Hustle, and Heart Built America's #1 Wine Brand. The book has been selected as recommended reading in the CEO Library for CEO Forum, the C-Suite Book Club, and numerous university classes on business and entrepreneurship. It chronicles their humble beginnings from the laundry room of a rented Sonoma County farmhouse to the board room of E&J Gallo, who ultimately acquired their brand and engaged them as brand consultants. Barefoot is now the world's largest wine brand.
Beginning with virtually no money and no wine industry experience, they employed innovative ideas to overcome obstacles, create new markets and forge strategic alliances. They pioneered Worthy Cause Marketing and performance-based compensation. They built an internationally bestselling brand and received their industry's "Hot Brand" award for several consecutive years.
They offer their Guiding Principles for Success (GPS) to help entrepreneurs become successful. Their book, The Entrepreneurial Culture: 23 Ways To Engage and Empower Your People, helps corporations maximize the value of their human resources.
Currently they travel the world leading workshops, trainings, & keynoting at business schools, corporations, conferences. They are regular media guests and contributors to international publications and professional journals. They are C-Suite Network Advisors & Contributing Editors. Visit their popular brand building site at www.consumerbrandbuilders.com.
To make inquiries for keynote speaking, trainings or consulting, please contact sales@thebarefootspirit.com.