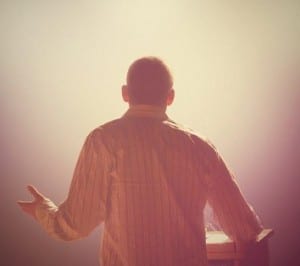 We have been honored to be keynote speakers for a wide variety of clients from conventions to conferences to symposiums. Since we deliver keynotes regularly, we are often asked, "What is a keynote speaker, and what is the best way to find them?"
A keynote speaker in our experience, is a guest speaker who delivers the key "notes" or themes for the event. They must also have the ability to fill the seats by attracting attendees to the event whether they are famous motivational speakers or ordinary corner speakers. Even though event planners look for celebrity speakers, or even famous speakers, they must operate within their budgets.
Most of the events where we speak have several guest speakers but typically only one or two are considered the keynote speakers. Usually it's for the opening or closing key notes. The organizers want the opening speech to not only entertain, educate, and inspire their group, but they want the content to set the tone (i.e. the "note" for the conference). They want the closing speech to sum up the underlying message of the conference and, ideally, leave the attendees with an inspiring message and tools they can use. They know that folks generally remember the first thing they hear and the last thing they hear, so they want to open and close with their key message.
Opening keynotes tend to capture attention and put the audience in the right frame of mind to appreciate and get the most out of the guest speakers that follow. The closing keynotes tend to remind the audience of general theme of the conference and send them home on high "note." But how do you find great keynote speakers?
For years it seems the speakers bureaus had a monopoly on accessing well-known keynote speakers and motivational speakers. To a large extent, they still do. Speakers bureaus appear to be based on several different models and combinations thereof:
1. Agent. This model represents the speakers themselves and operates on a percentage of the speaker's fees. Agents typically promote the speakers that garner the highest fees, more like a speaker's representative.
2. Outsource. These bureaus position themselves as working for the event planners and helping them match the best speakers with the particular topics and needs of the conference. This model can gain the on-going trust of the event planners once they have a track record of consistently hitting the mark. After a while, they can "own" the annual conference.
3. Venue. This model works with or is owned by the venues that offer their conference clients "one-stop" shopping with everything from a facility to catering, from lodging to logistics, and from entertainment to great speakers.
But thanks to social media, the professional speaking business is beginning to change and open up possibilities for independents like us. Word of great candidates can spread through personal and business networks like Twitter and LinkedIn. It's now much easier for organizers to access speakers directly, check out their websites, see their credentials, read their reviews, and view their speaking reels. The biggest competition facing the speaking bureaus these days is word-of-mouth. When someone in the organization sees a great keynote speaker, they bring them directly to the attention of the organizers. There's nothing like first-hand, inside referrals to get new, independent keynote speakers booked!
We are primarily business speakers. We speak together as a gender-balanced business couple. Our message is designed to inspire, motivate, and help businesses succeed. We use our history of building a famous brand, starting with virtually nothing, to demonstrate our "Guiding Principles for Success" (GPS) with fun stories and lessons learned the hard way.
We haven't been represented by a speakers bureau but instead we rely solely on word of mouth, academic and business endorsements, and networking. We spend considerable time discovering the goals of the organizers to see if there is a fit and tailor our talks to their goals. Our greatest reward is getting a note of thanks that says, "You guys really nailed it!"
Who We Are
Michael Houlihan and Bonnie Harvey co-authored the New York Times bestselling business book, The Barefoot Spirit: How Hardship, Hustle, and Heart Built America's #1 Wine Brand. The book has been selected as recommended reading in the CEO Library for CEO Forum, the C-Suite Book Club, and numerous university classes on business and entrepreneurship. It chronicles their humble beginnings from the laundry room of a rented Sonoma County farmhouse to the board room of E&J Gallo, who ultimately acquired their brand and engaged them as brand consultants. Barefoot is now the world's largest wine brand.
Beginning with virtually no money and no wine industry experience, they employed innovative ideas to overcome obstacles, create new markets and forge strategic alliances. They pioneered Worthy Cause Marketing and performance-based compensation. They built an internationally bestselling brand and received their industry's "Hot Brand" award for several consecutive years.
They offer their Guiding Principles for Success (GPS) to help entrepreneurs become successful. Their book, The Entrepreneurial Culture: 23 Ways To Engage and Empower Your People, helps corporations maximize the value of their human resources.
Currently they travel the world leading workshops, trainings, & keynoting at business schools, corporations, conferences. They are regular media guests and contributors to international publications and professional journals. They are C-Suite Network Advisors & Contributing Editors. Visit their popular brand building site at www.consumerbrandbuilders.com.
To make inquiries for keynote speaking, trainings or consulting, please contact sales@thebarefootspirit.com.