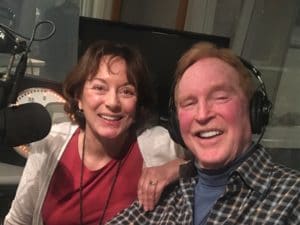 We recently had the pleasure of helping listener-sponsored independent radio station KPFK in LA with a fundraiser drive. And it was great fun! We worked with Anyel Fields and Christine Blosdale to produce an entertaining one-hour program that was broadcasted all over Southern California and on the web. It's also available as a podcast we hope you will enjoy!
It was fun because we had so many fun folks packed into the studio. We used the occasion to provide supporters with free copies of our New York Times bestselling paperback, The Barefoot Spirit, How Hardship, Hustle, and Heart Built America's #1 Wine Brand. We also provided free downloads of our new audiobook, a fully-casted Audie Award Finalist for 2020 Business Audiobook of the Year. And for the bigger donors, we offered an hour of our personal advisory time to help them and their businesses.
We had 5 folks on mics and two more packed into the tiny studio. At 90 years of age, Ed Asner, the venerable Hollywood actor, was there! He wanted to be part of the fundraiser. In the Barefoot Spirit audiobook, he voiced the grumpy supermarket buyer who initially throws us out when we present him with Barefoot Wine, but in his own ruff and snarky way, paves the road for its ultimate success. Of course, Ed made some sarcastic remarks that got us all in a comical mood! Listen to a few scenes !
Matt Weinglass, of Sherwood Productions the Director and Producer of The Barefoot Spirit audiobook was there. Matt described what's involved in Business Audio Theatre from a production standpoint. He also announced the distinction the audiobook has recently garnered by the Audiobook Publisher's Association for being selected as one of five Finalists for an Audie Award in the Business/Personal Development category.
Also there to support KPFK was Alamada Karatihy, the brilliant narrator who set up the listeners for the fully-casted scenes in our audiobook. She did a fabulous job with her bubbly personality and wit!
Christine is a real pro. She has here own podcast and is a regular anchor at KPFK. She rounded up the rabble in the room while delivering insight and inspiration to the listeners. She continually gave her listeners compelling reasons to donate to alternative radio and constantly reminded them that KPFK needed their support to survive. At one point she asked us why we thought KPFK was worth saving.
We thought about it and said, "We felt that the human species did not appear to be ready for the implications and negative consequences of social media. We think it's counterproductive to reward folks with clicks, shares, likes, and time on page while promoting extreme and divisive views to create controversy and traffic. It has become as if traffic itself is the reward for being divisive.
The world is not just one simple-minded way or another. It's not just black or white. There's a lot of grey out there. And it is independent listener-sponsored stations like KPFK who provide a forum for a more sensitive and thoughtful presentation of the issues of our day. It is a platform where you can hear alternative views and gain insights that can reduce polarity, increase understanding, and ultimately create cooperation. KPFK has been a platform for education and intelligent discussion for over 50 years!
We were happy to have been given a chance to help others succeed and help KPFK survive at the same time. We hope that the people of Southern California and communities around the country will realize the value of listener-sponsored radio and contribute to its survival. We do and we are!
Who We Are
Michael Houlihan and Bonnie Harvey co-authored the New York Times bestselling business book, The Barefoot Spirit: How Hardship, Hustle, and Heart Built America's #1 Wine Brand. The book has been selected as recommended reading in the CEO Library for CEO Forum, the C-Suite Book Club, and numerous university classes on business and entrepreneurship. It chronicles their humble beginnings from the laundry room of a rented Sonoma County farmhouse to the board room of E&J Gallo, who ultimately acquired their brand and engaged them as brand consultants. Barefoot is now the world's largest wine brand.
Beginning with virtually no money and no wine industry experience, they employed innovative ideas to overcome obstacles, create new markets and forge strategic alliances. They pioneered Worthy Cause Marketing and performance-based compensation. They built an internationally bestselling brand and received their industry's "Hot Brand" award for several consecutive years.
They offer their Guiding Principles for Success (GPS) to help entrepreneurs become successful. Their book, The Entrepreneurial Culture: 23 Ways To Engage and Empower Your People, helps corporations maximize the value of their human resources.
Currently they travel the world leading workshops, trainings, & keynoting at business schools, corporations, conferences. They are regular media guests and contributors to international publications and professional journals. They are C-Suite Network Advisors & Contributing Editors. Visit their popular brand building site at www.consumerbrandbuilders.com.
To make inquiries for keynote speaking, trainings or consulting, please contact sales@thebarefootspirit.com.