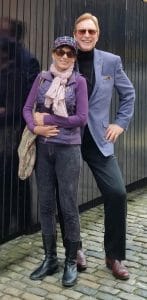 We have been writing weekly posts for The Barefoot Spirit since 2011, ten years. And in that decade we have been sharing our hard-learned business lessons in hopes of saving you the pain we went through.
500 Articles
In the process, we have written over 500 articles that will continue to reside on our website. They cover everything from starting a business to growing a business, and from expanding a business to being acquired. They cover leadership, company culture, and decision making. And they cover how to be resourceful, how to get strategic allies, and how to engage your community and create loyal customers.
Free Education
We had a simultaneous 10-year speaking career and used many of the questions we got from students, entrepreneurs and wantrepreneurs all over the world as the subjects for our articles. Our articles have addressed the main questions most people have about business and business challenges. We invite you to peruse the hundreds of articles on www.thebarefootspirit.comto get a free education from folks who have actually done it.
Street Language
We tried to avoid all the new academic buzz words and latest thought leader terms for concepts that have been around for decades, and instead presented universal guiding principles for success in straight-forward, down-to-earth street language. Probably our greatest compliment came from a student of entrepreneurship who said, "You guys make it sound doable!"
Experience in Demand
And it is doable, and doable faster if you have the experience of those who have done it on your side. Lately, due to massive unemployment caused by the pandemic, and so many folks rethinking their livelihoods, we have seen a big jump in new business and a corresponding increased demand for our advisory services. We, too, are transitioning our efforts, to now concentrate on our clients as we continue to provide the principles, pointers, and insights we have been posting.
No More Newsletters
We will continue to write articles for the business press and appear as guests in the various forms of business media. The Barefoot Spirit website will continue to host our articles, interviews, and business resources. We just won't be sending them out in a weekly newsletters going forward.
Use the Site
As you know, time is our most valuable commodity and we will be devoting ours to our clients. Meanwhile, if you have a question about business, enter it into the search bar on our site and you will be surprised at how many helpful articles pop up!
Thank You!
We want to thank all of those who have taken the time over the years to send us notes of appreciation about how our articles have helped their businesses and their understanding of business altogether. Thank you for your encouragement!
Surf's Up!
We are embarking on a new era of entrepreneurship where the demand for new businesses is outstripping the supply of entrepreneurs. There has never been a better time to go into business especially if you address the issues of health, climate, and safety that seem to be cresting into a giant wave of opportunity for those who are willing to ride it. Surf's UP! Please use our resources to help you stand up and give the world what it needs!
That's All Folks!  Cheers! M&B
Who We Are
Michael Houlihan and Bonnie Harvey co-authored the New York Times bestselling business book, The Barefoot Spirit: How Hardship, Hustle, and Heart Built America's #1 Wine Brand. The book has been selected as recommended reading in the CEO Library for CEO Forum, the C-Suite Book Club, and numerous university classes on business and entrepreneurship. It chronicles their humble beginnings from the laundry room of a rented Sonoma County farmhouse to the board room of E&J Gallo, who ultimately acquired their brand and engaged them as brand consultants. Barefoot is now the world's largest wine brand.
Beginning with virtually no money and no wine industry experience, they employed innovative ideas to overcome obstacles, create new markets and forge strategic alliances. They pioneered Worthy Cause Marketing and performance-based compensation. They built an internationally bestselling brand and received their industry's "Hot Brand" award for several consecutive years.
They offer their Guiding Principles for Success (GPS) to help entrepreneurs become successful. Their book, The Entrepreneurial Culture: 23 Ways To Engage and Empower Your People, helps corporations maximize the value of their human resources.
Currently they travel the world leading workshops, trainings, & keynoting at business schools, corporations, conferences. They are regular media guests and contributors to international publications and professional journals. They are C-Suite Network Advisors & Contributing Editors. Visit their popular brand building site at www.consumerbrandbuilders.com.
To make inquiries for keynote speaking, trainings or consulting, please contact sales@thebarefootspirit.com.