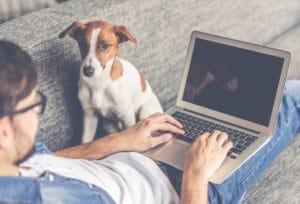 If "Absence makes the heart grow fonder," does confinement cause friction?
We have a dear friend who has been told by his employer to work from home due to the Coronavirus lockdown. He told us, "At last! I have always wanted to work from home!" But having been in a couple relationship with both parties working from home for decades, we had to warn, "Be careful to establish limits to preserve your relationship."
The fact is that your partner may also be working from home now, or may have been a full-time parent, or focused on domestic management, or all of the above. In your past, either you both went your separate ways every day, or your partner has had the home to themselves all day while you commuted to work and came home at day's end. That's an entirely different relationship. You didn't see each other during the day and when you did, it's after 8 or 9 hours apart.
Suddenly there they are! All day! 24 – 7! The implications can be surprising. Going to work is no longer a refuge. Now you see them with their work attitude on. Now you see them in frustrating situations. Now it's so convenient to interrupt with the latest discovery, upset, or domestic chore that really needs to be taken care of right now. In other words, it can be hard to concentrate when you are working from home with others.
The internet is having fun with this dilemma. But it's not funny. It's a serious challenge for many couples. Searches for family law are up on Google. Most couples have never been through this kind of sequestration, which is frustrating and upsetting on its face, and now amplifies any imperfections in your housemate with whom you are confined. Those imperfections become more noticeable and potentially irritating.
One of the question we get often is "How do you guys work together without being at each other's throats?" Our answer is always, "Kids, don't try this at home! It's not for everyone!"
Bonnie has written articles and given talks on working together in the same business that outline boundaries, limits, do's and don'ts that we have discovered over the years. Adherence can help preserve a romantic relationship when you're in business with your significant other.  Her articles have been featured in business magazines and the subject of classes in Family Business studies across the country.
Some of those recommendations also apply to couples working at home for separate employers or in separate businesses. Here's our short list:
Show Compassion
Realize that your significant other may be harboring anxiety that has nothing to do with you, even though they may be acting out. Give them the space, time and support they need to take the pressure off the real problem (being confined and socially restricted). Remember, some personality types need outside structure and routine in their lives. And now that's less apparent, they may feel confused and lose their sense of priority.
Work Separately
Give your significant other their own "office." Make sure there is at least one door between you, so you don't have to listen to their conversations. Ideally, you can go to the bathroom without going through their space. Then leave them alone! Don't take advantage, as tempting as it is, to interrupt them because they are close and convenient. Wait! Set up planned and predictable meeting times, like lunch and breaks, when you can plan on seeing each other during the day.
Take a Walk
Schedule a time each day to take a break and take a walk. Stretching your legs and breathing fresh air is vital to reducing tension. It also a great time to talk to each other outside of your work. If you can, make that a walk in nature. Notice and comment on the natural beauty of the earth. With less traffic, the air is much cleaner now. This is a great way to recharge your batteries and improve your posture before you go into another prolonged online session.
Think Long-term
Realize that your confinement is temporary and for the greater good. We all must do our part to slow the spread of this virus. This will eventually be over. And no matter how long it takes, the fact that it is temporary should be of some comfort. Don't make a hasty decision that will last a lifetime based on a temporary inconvenience. Nobody is perfect, so de-escalate friction with understanding and patience. This too shall pass!
We wish you all good health in mind, body, and spirit! Always remember to keep The Spirit alive!
Who We Are
Michael Houlihan and Bonnie Harvey co-authored the New York Times bestselling business book, The Barefoot Spirit: How Hardship, Hustle, and Heart Built America's #1 Wine Brand. The book has been selected as recommended reading in the CEO Library for CEO Forum, the C-Suite Book Club, and numerous university classes on business and entrepreneurship. It chronicles their humble beginnings from the laundry room of a rented Sonoma County farmhouse to the board room of E&J Gallo, who ultimately acquired their brand and engaged them as brand consultants. Barefoot is now the world's largest wine brand.
Beginning with virtually no money and no wine industry experience, they employed innovative ideas to overcome obstacles, create new markets and forge strategic alliances. They pioneered Worthy Cause Marketing and performance-based compensation. They built an internationally bestselling brand and received their industry's "Hot Brand" award for several consecutive years.
They offer their Guiding Principles for Success (GPS) to help entrepreneurs become successful. Their book, The Entrepreneurial Culture: 23 Ways To Engage and Empower Your People, helps corporations maximize the value of their human resources.
Currently they travel the world leading workshops, trainings, & keynoting at business schools, corporations, conferences. They are regular media guests and contributors to international publications and professional journals. They are C-Suite Network Advisors & Contributing Editors. Visit their popular brand building site at www.consumerbrandbuilders.com.
To make inquiries for keynote speaking, trainings or consulting, please contact sales@thebarefootspirit.com.