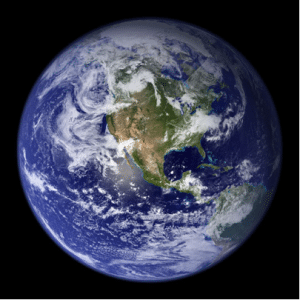 According to some interpreters of the Mayan calendar, the world was supposed to end December 21st 2012. We wonder if they were somehow disappointed when they woke up the next morning and discovered that their plans fell through.
Seems like every ten years there's a new doomsday scenario grabbing the headlines and pandering to our natural survival instincts. Whether it's a calendar, comet, or polar shift, the planet is pretty much instantly destroyed in these popular doomsday scenarios.
This may actually comfort those who seek shelter in the notion that we are all powerless, that there's nothing we can do to save the planet and ourselves. Why bother if we're all going to be taken out by some kind of eminent and irreversible catastrophe anyway? Why work so hard to find solutions for everything from recession to global warming? Why even worry about paying the bills? Now we have a great excuse for not getting on with the business of living, surviving, and improving our world. It is a perfect excuse!
For the rest of us December 22, 2012 was like any other day – another opportunity to make a living, address our challenges, and hopefully, spend time appreciating our friends and family. The prediction did, however, give us pause to reconsider what we are doing to improve our lives and the world around us.
Everyday, the decisions we make, big and small, can help save the planet, and we set an example for others to follow. We already have enough natural catastrophes without adding more. But, rather than some sudden, overwhelming, cataclysmic force that we can't control, the destruction is slow, insidious, and in our own hands. It's how we vote with our money.
Every time we buy single-use plastics, we add to the growing, continent-sized, plastic junk pile floating in our ocean, threatening our very food supply. Every time we fill up with gasoline we vote for extreme weather. Every time we use the sewers, storm drains, or landfills to dispose of household chemicals, antibiotics, and electronics we poison our own drinking water.
We can't simply point our fingers at the government. We all contribute daily to a real end-of-the world scenario with our purchasing decisions – or not. More and more alternatives are becoming available. New sustainable products are starting to make their way onto the shelves, and alternative transportation is becoming more practical and accessible. More places offer healthy choices, and farmers' markets are springing up everywhere.
But since we dodged the "Mayan bullet," and since we are starting a new year soon, perhaps we should renew our efforts to make our everyday purchases and actions more responsible. Why not make a New Year's resolution to vote for the planet you want for yourself and your family. You'll help the economy and do your part toward saving mankind and our environment. Support the entrepreneurs who are developing products that have a smaller carbon footprint. Remember, our purchases are our votes. Happy New Year!
Who We Are
Michael Houlihan and Bonnie Harvey co-authored the New York Times bestselling business book, The Barefoot Spirit: How Hardship, Hustle, and Heart Built America's #1 Wine Brand. The book has been selected as recommended reading in the CEO Library for CEO Forum, the C-Suite Book Club, and numerous university classes on business and entrepreneurship. It chronicles their humble beginnings from the laundry room of a rented Sonoma County farmhouse to the board room of E&J Gallo, who ultimately acquired their brand and engaged them as brand consultants. Barefoot is now the world's largest wine brand.
Beginning with virtually no money and no wine industry experience, they employed innovative ideas to overcome obstacles, create new markets and forge strategic alliances. They pioneered Worthy Cause Marketing and performance-based compensation. They built an internationally bestselling brand and received their industry's "Hot Brand" award for several consecutive years.
They offer their Guiding Principles for Success (GPS) to help entrepreneurs become successful. Their book, The Entrepreneurial Culture: 23 Ways To Engage and Empower Your People, helps corporations maximize the value of their human resources.
Currently they travel the world leading workshops, trainings, & keynoting at business schools, corporations, conferences. They are regular media guests and contributors to international publications and professional journals. They are C-Suite Network Advisors & Contributing Editors. Visit their popular brand building site at www.consumerbrandbuilders.com.
To make inquiries for keynote speaking, trainings or consulting, please contact sales@thebarefootspirit.com.