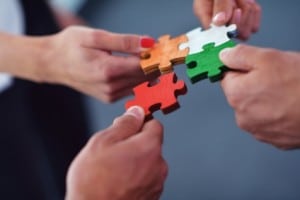 You're ready to join the other 22 million small businesses in the U.S. by starting your own family business. From cupcakes to computer security, family-owned businesses offer a variety of products and services unavailable from large companies. The U.S. Small Business Administration (SBA) reports that 90 percent of all U.S. businesses are family-owned. Consider the following tips when starting out and make this a fun and rewarding adventure for you and your family.
It's All About the Business – And the Family. Businesses and families behave differently to be successful. Put them together and they still have their own needs. One of the biggest challenges, says Entrepreneur.com, is having that balance between the two. Being able to step out of your business role to take care of a family issue, and the other way around, is important to keep harmony. Some advice to keep things moving forward include:
Create physical boundaries for the business and family. Inside those boundaries you only speak about business or family matters. If some family drama flares up in the business area, walk to the family area and discuss it.
Respect each other's roles wherever you are. In the business area, dad may be the accountant but in the family area, he's still dad. Conversely, don't mix roles for your benefit. "I'm your mother and I say that we shouldn't be working with that supplier" doesn't work in the business setting and just creates conflict.
Always be on the lookout when one space is encroaching on the other. Reviewing business plans at the family dinner table and planning Aunt Mary's birthday party while in the office are examples of mixing business and family too much. Keep them separate.
Agree on Roles and Resources Early. Identify the strengths and weaknesses in each family member early and define the roles based on that. You want your business to succeed and at this phase, experimenting won't help. Someone may want to try out the role of social media manager because it sounds interesting. If they don't have the background or don't know what a tweet is, however, they won't contribute much to the company's success. Once the business has a strong foundation with the right players, then there will be opportunity to sample other roles.
Supplement the Skills with Outside Resources. Most family businesses don't have all of the skills they need in the family to cover all roles in the business. Success.com suggests being open to bringing in outside talent for those areas in which you're weak. These could be consultants, virtual assistants, or partner companies to help you out with paperwork. You may have a great new power bar idea but no idea how to distribute it. A logistics company can get you headed in the right direction and even do the work for you. One day you may choose to take this on yourself.
Focus on the Most Important Tasks. Look at the tasks in your business and decide what should be the focus and what can be given out to other services. Designing and developing a quality product or service is your number one goal when starting up. Tasks such as creating a website or doing payroll can be done by someone else. CRM software in the cloud can connect with Intuit invoicing to manage the exchange of cash with your customers.
Get Better Oversight. SBA.gov suggests hiring someone initially to oversee the business and make recommendations as to how to get things running smoothly. Someone with business expertise and knowledge of what makes a family business work can help create the foundation. At some point, someone in the family can take over that role and continue working as the business manager. This may lower your risk of experiencing painful lessons early when mixing business and family.
Who We Are
Michael Houlihan and Bonnie Harvey co-authored the New York Times bestselling business book, The Barefoot Spirit: How Hardship, Hustle, and Heart Built America's #1 Wine Brand. The book has been selected as recommended reading in the CEO Library for CEO Forum, the C-Suite Book Club, and numerous university classes on business and entrepreneurship. It chronicles their humble beginnings from the laundry room of a rented Sonoma County farmhouse to the board room of E&J Gallo, who ultimately acquired their brand and engaged them as brand consultants. Barefoot is now the world's largest wine brand.
Beginning with virtually no money and no wine industry experience, they employed innovative ideas to overcome obstacles, create new markets and forge strategic alliances. They pioneered Worthy Cause Marketing and performance-based compensation. They built an internationally bestselling brand and received their industry's "Hot Brand" award for several consecutive years.
They offer their Guiding Principles for Success (GPS) to help entrepreneurs become successful. Their book, The Entrepreneurial Culture: 23 Ways To Engage and Empower Your People, helps corporations maximize the value of their human resources.
Currently they travel the world leading workshops, trainings, & keynoting at business schools, corporations, conferences. They are regular media guests and contributors to international publications and professional journals. They are C-Suite Network Advisors & Contributing Editors. Visit their popular brand building site at www.consumerbrandbuilders.com.
To make inquiries for keynote speaking, trainings or consulting, please contact sales@thebarefootspirit.com.