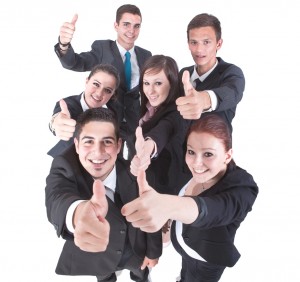 This is the third part in the series about the original Barefoot culture. Culture really sets the tone, boundaries, and expectations the team has toward your company, your mission and your product.
We've saved the best for last because having a common cause and a common challenge forges, more than any other single factor, positive company culture.
When you are growing especially a new a brand, something out of the box that has never been done before, you are going to face stiff resistance from the distribution channels and the retail establishment. You can't blame them because what you are attempting to do is new and unproven. We jujitsued that resistance into the glue that held our team together and gave it a common cause.
The Culture of Common Causes
When Barefoot was trying to get traction in the marketplace, it was an uphill battle. Just to keep the bottles on the shelves was a daily struggle. The Barefooters ( Sales Reps) spent much of their time just replacing vacancies and point of sale materials that had been removed by competitors. Being a small company, Barefoot did not yet have the respect of the distributors or the retailers, and, therefore, did not warrant the attention required to keep the product in stock. Every Barefooter faced the same challenge all over the country.
"How could you put a foot on a wine label?" is what the wine snob detractors were demanding at the time. They thought it was just a passing fad, and a wine not to be taken seriously. The Barefooters were out to show them differently, and they did! Thanks to a great winemaker, Barefoot wines kept winning more medals than any others in the same price category. There's nothing like team victory to bind the team together!
All the sales staff knew that Barefoot was indeed destined to become big, very big, so they worked together, shared war stories and kept each other energized. They felt like Davids, up against the Goliaths of the wine industry.
They also knew that their fellow Barefooters were actively engaging the ultimate market, the general public. They knew that Barefoot had a "secret weapon": worthy cause marketing. They were making the world a better place through wine, and they were proud of it.
These forces forged a real team spirit and life-long friendships between the Barefooters. They all knew that it takes a certain type of person to be a Barefooter. They were happy to be one of the team, and they sincerely enjoyed each other's company and support.
The original Barefoot culture was based on the human desire to have a positive effect on the industry, the community, and the environment, and to be recognized and appreciated for it. It was a philosophy of win-win-win.
Although the example of the original Barefoot culture was that of a consumer product delivered through conventional distribiutions channels, we hope that the lessons we learned will be helpful to you and your business no matter what it is. Good luck and good selling with a positive company culture!
Who We Are
Michael Houlihan and Bonnie Harvey co-authored the New York Times bestselling business book, The Barefoot Spirit: How Hardship, Hustle, and Heart Built America's #1 Wine Brand. The book has been selected as recommended reading in the CEO Library for CEO Forum, the C-Suite Book Club, and numerous university classes on business and entrepreneurship. It chronicles their humble beginnings from the laundry room of a rented Sonoma County farmhouse to the board room of E&J Gallo, who ultimately acquired their brand and engaged them as brand consultants. Barefoot is now the world's largest wine brand.
Beginning with virtually no money and no wine industry experience, they employed innovative ideas to overcome obstacles, create new markets and forge strategic alliances. They pioneered Worthy Cause Marketing and performance-based compensation. They built an internationally bestselling brand and received their industry's "Hot Brand" award for several consecutive years.
They offer their Guiding Principles for Success (GPS) to help entrepreneurs become successful. Their book, The Entrepreneurial Culture: 23 Ways To Engage and Empower Your People, helps corporations maximize the value of their human resources.
Currently they travel the world leading workshops, trainings, & keynoting at business schools, corporations, conferences. They are regular media guests and contributors to international publications and professional journals. They are C-Suite Network Advisors & Contributing Editors. Visit their popular brand building site at www.consumerbrandbuilders.com.
To make inquiries for keynote speaking, trainings or consulting, please contact sales@thebarefootspirit.com.