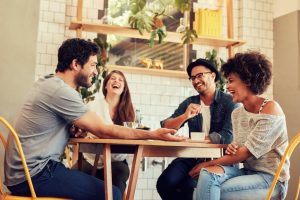 A big part of our "Barefoot Startup" movement is being, well, friendly! You may have the world's greatest app, most awesome hardware, or must-have consumer product, but the colder your attitude, the higher your price of doing business! Instead of crying about how much money you need to get started, the Barefoot Startup asks, "How can you reduce your need for capital?" The Barefoot Startup knows how!
For us, it's hard to watch so many startups fail because they say they "couldn't raise enough cash," when, realistically, they have not yet addressed the core issue. We ask, "Did you really need all that money to start with?" At the Barefoot Startup, we believe that there are many ways to get your idea off the ground and grow your business effectively that do not require cash. One way is by being more resourceful, and yes, friendly. But you need to be genuinely sincere about your friendliness; Just acting friendly can be seen through and easily backfire!
So, what is "friendly" and how does it translate into profitable business relationships?
Here's a clue – think about how you treat your friends. You have their best interests at heart. You demonstrate this with your actions. You would never mislead or manipulate a true friend. Think of your family members. You take a sincere interest in their lives. You know their aspirations and their challenges, and you are there to help and encourage them.
Now think about how you felt when they showed up on moving day to help you pack up your stuff, when they introduced you to that key person who helped you with your problem, or when they just listened to you when you needed a sounding board. Their interest in you and your needs made you want to treat them special, give them the benefit of the doubt, and make allowances for them.
Isn't this what you want from your business associates? Special treatment, the benefit of the doubt, and allowances made for you are all valuable. In business, this can translate into cash. Let's look at the 4 groups of folks most businesses have relationships with and how you can be friendly with them:
Employees are often seen as an expense, and therefore are an untapped resource. And yet, turn-over is the #1 hidden cost of any business. Employees are more likely to stay with you if they believe you have their best interests at heart. Demonstrate this with fair pay, time off, and an interest in them as individuals. They will be more engaged if you show them appreciation for the good work they do. They will go the extra mile if you compensate them, at least partially, on performance.
Vendors have the ability to extend your terms and increase your credit, but will only do so if they trust you. You will build trust by keeping them up to date on your payment status, sharing your plans for growth, and making good on your promises. When you show them your loyalty by purchasing certain items exclusively from them, they may show their appreciation by giving you breaks on warehousing, shipping, and quantity purchases. Vendors are also a wealth of information. So, treat their sales people like gold …it pays!
Investors are more willing to extend financing if you have demonstrated even a small positive cash flow. They want to see that you appreciate their predicament and are willing to take steps to mitigate their risk. When you demonstrate that you are being frugal and resourceful with their money, investors will be more receptive to the idea of investing more and offering you better terms.
Buyers require reassurance before they will carry your products and participate in your promotions. You can gain their confidence by being dependable, providing industry information, and helping them achieve their goals whether strategic, metric, or mercantile. They appreciate your kindness when you give them personalized attention and provide the help they need without being asked. They will often return your favors by opening doors previously closed to you.
When we speak at universities and technical schools, students of entrepreneurship often ask us, "What else should I be taking beside business to help my startup be a success?" We always answer, "The Liberal Arts, also known as the Humanities." History, sociology, psychology, philosophy, literature, communications and critical thinking are great "soft skills" tools that enable you to better appreciate and communicate with the people who can make allowances for their "friend," YOU!
Who We Are
Michael Houlihan and Bonnie Harvey co-authored the New York Times bestselling business book, The Barefoot Spirit: How Hardship, Hustle, and Heart Built America's #1 Wine Brand. The book has been selected as recommended reading in the CEO Library for CEO Forum, the C-Suite Book Club, and numerous university classes on business and entrepreneurship. It chronicles their humble beginnings from the laundry room of a rented Sonoma County farmhouse to the board room of E&J Gallo, who ultimately acquired their brand and engaged them as brand consultants. Barefoot is now the world's largest wine brand.
Beginning with virtually no money and no wine industry experience, they employed innovative ideas to overcome obstacles, create new markets and forge strategic alliances. They pioneered Worthy Cause Marketing and performance-based compensation. They built an internationally bestselling brand and received their industry's "Hot Brand" award for several consecutive years.
They offer their Guiding Principles for Success (GPS) to help entrepreneurs become successful. Their book, The Entrepreneurial Culture: 23 Ways To Engage and Empower Your People, helps corporations maximize the value of their human resources.
Currently they travel the world leading workshops, trainings, & keynoting at business schools, corporations, conferences. They are regular media guests and contributors to international publications and professional journals. They are C-Suite Network Advisors & Contributing Editors. Visit their popular brand building site at www.consumerbrandbuilders.com.
To make inquiries for keynote speaking, trainings or consulting, please contact sales@thebarefootspirit.com.