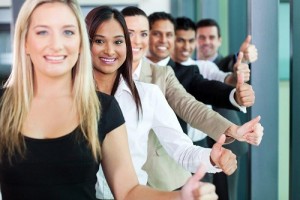 After we sold our business, our acquirer asked us to come to work for them as brand consultants to, as they put it, "keep the Barefoot spirit alive." We liked the term "the Barefoot spirit" so much we named our first book, The Barefoot Spirit, How Hardship, Hustle, and Heart Built America's #1 Wine Brand.
Since then we have spoken at more than 30 universities that teach entrepreneurship throughout the country and internationally. We also have given many keynote addresses for conventions and conferences of all types, where they see us as real-life examples of successful entrepreneurs. They all want to know our secret.
We have branded our guiding principles, many of which we learned the hard way outlined in The Barefoot Spirit, and we encourage our audiences to use this to build a positive company culture within their own organizations.
Last week we were honored to speak at the 2nd C-Suite Network National Conference. Over 400 C-Suite executives gathered at the Ritz Carlton in Marina del Rey to hear the latest disruptive business approaches, best practices, and emerging business philosophies. They heard from real people with real successes about how they did it.
We told them our story and a few of the guiding principles we used to engage and empower our people, disrupt a staid and stogy industry, and make work more fun and inclusive. We started out with our mistakes and misconceptions that took us by surprise and cost us plenty. Then we told them what we learned and how we applied a new and different spirit of entrepreneurship to our staff, vendors, customers and community to build a best-selling product.
The backbone of the Barefoot spirit is the two-division company. The popular thinking is a top-down pyramid structure with the president and CEO on top, followed by the senior vice-presidents, junior vice-presidents, division chiefs, department heads, teams, groups and so on. One of silos in the pyramid contains sales and customer service. We asked, "How can you put the customer on top if you put sales and customer service on the bottom?" We think pyramids are for dead pharaohs.
Our company had only two divisions: sales and sales support. Everyone who was not in sales was in sales support, from the CEO to the receptionist, from marketing to production, from accounting to compliance. All received bonuses based on sales, growth, and profitability.
Our corporate culture was based on permission, acknowledgement and fun. People had permission to contribute because we practiced know-the-need rather than need-to-know. Our best marketing solutions came from our own people. They also had permission to make mistakes as long as they came forward, identified how it happened and improved our procedures. Instead of hiding our mistakes, we celebrated them.  We built our business on the backs of mistakes.
On each individual's anniversary we sent out a memo to all our people that publically validated and appreciated them by acknowledging what they did in the past year to improve sales, growth, and profitability. Now, the rest of our team knew better what their co-worker did, and how they could likewise be acknowledged.
We enjoyed a fun and playful spirit. We made a game out of adversity and what could be more adverse than getting told "no?" So we invented the "no game" where each person kept track of how many "NOs" they got. The average number of "NOs" was 7. You couldn't even begin playing the game until you were over 3, and if you were at 15 you were overdue for a "YES!"
We chose the C-Suite Network Conference to release our second book written especially for corporate leaders who want to infuse the Barefoot spirit in their own companies. The Entrepreneurial Culture, 23 Ways to Engage and Empower Your People is now available at www.thebarefootspirit.com. Enjoy!
Who We Are
Michael Houlihan and Bonnie Harvey co-authored the New York Times bestselling business book, The Barefoot Spirit: How Hardship, Hustle, and Heart Built America's #1 Wine Brand. The book has been selected as recommended reading in the CEO Library for CEO Forum, the C-Suite Book Club, and numerous university classes on business and entrepreneurship. It chronicles their humble beginnings from the laundry room of a rented Sonoma County farmhouse to the board room of E&J Gallo, who ultimately acquired their brand and engaged them as brand consultants. Barefoot is now the world's largest wine brand.
Beginning with virtually no money and no wine industry experience, they employed innovative ideas to overcome obstacles, create new markets and forge strategic alliances. They pioneered Worthy Cause Marketing and performance-based compensation. They built an internationally bestselling brand and received their industry's "Hot Brand" award for several consecutive years.
They offer their Guiding Principles for Success (GPS) to help entrepreneurs become successful. Their book, The Entrepreneurial Culture: 23 Ways To Engage and Empower Your People, helps corporations maximize the value of their human resources.
Currently they travel the world leading workshops, trainings, & keynoting at business schools, corporations, conferences. They are regular media guests and contributors to international publications and professional journals. They are C-Suite Network Advisors & Contributing Editors. Visit their popular brand building site at www.consumerbrandbuilders.com.
To make inquiries for keynote speaking, trainings or consulting, please contact sales@thebarefootspirit.com.