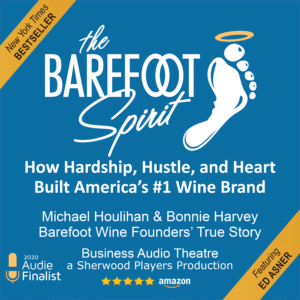 On Monday, February 3rd, 2020, the Audiobook Publishers Association announced the finalists for the Audies Awards competition! Now in their 25th year, the Awards, known as the "Audies," are the "Oscars of the audiobook industry." This year, there were over 1300 applicants, and The Barefoot Spirit audiobook is one of the five finalists in the Business/Personal Growth category!
We could not be more thrilled! …unless we actually win, of course! That we will find out with the rest of the world on Monday evening, March 2nd in New York City at the Annual APA Awards Gala. Yes, we will be attending! So, do we take the chance and write an acceptance speech now, or would that be too presumptuous?
Preemptive and prepared, as always, we decided to have a go at it!
Here's a preview just for you of some remarks we will make if we did win. We already feel like winners by getting this far, seeing as we are truly pioneers in this field of audiobooks with our unique approach of recording a dramatically produced business audiobook. And no, we're not going to get up there and thank our moms, although Bonnie's mother, Mabel, was instrumental to our success and even named the famous "Barefoot Bubbly!" (Thanks, Mom!)
This acknowledgement by the APA validates our experiment of bringing business audiobooks to life through what we call Business Audio Theatre. The Barefoot Spirit audiobook is a new genre of business audiobooks in which business principles are conveyed through story and the story is not just narrated but performed in action-packed scenes by actors voicing the characters, complete with sound effects, interviews and an original musical score.
Our goal was not only to convey the entrepreneurial story of Barefoot Wine, but more importantly, to demonstrate a new and effective way to apply the talents of the entertainment industry to the world of business education. This award lends significant credibility to Business Audio Theatre (a term we coined; BAT for short). With it, we hope to attract other founders who want to forever preserve their legacies for employees, vendors, customers, and the public at large!
We wish to thank Matt Weinglass, director, and Sherwood Players Productions of North Hollywood for their brilliant casting, sound effects, and original musical score! We offer our special recognition to acting legend, Ed Asner. At 90, he voiced the grumpy supermarket buyer who, when first presented with Barefoot wine, refused to take it – but, like the imperfect Buddha, ultimately paved the way for its success. And a special shout out to Alamada Karatihy who held the story together with her bubbly and contagiously exciting narration. Alamada, you nailed it!
Our goal is that The Barefoot Spirit will encourage and inspire many future generations of entrepreneurs to believe in their dreams and exercise the hard work, hustle, and heart it takes to truly succeed in business!
We could go on, but then there's the hook peeking out from behind the side curtain… We are up against 4 other wonderful audiobook finalists in our category. They are all informative and inspiring. We are honored to be among them. Life is worth dreaming about, and dreams are worth living! Here's to living the dream.
Thank you all for all your support! Keep your fingers (and toes) crossed! We are so stoked! Next stop, The Big Apple!
Who We Are
Michael Houlihan and Bonnie Harvey co-authored the New York Times bestselling business book, The Barefoot Spirit: How Hardship, Hustle, and Heart Built America's #1 Wine Brand. The book has been selected as recommended reading in the CEO Library for CEO Forum, the C-Suite Book Club, and numerous university classes on business and entrepreneurship. It chronicles their humble beginnings from the laundry room of a rented Sonoma County farmhouse to the board room of E&J Gallo, who ultimately acquired their brand and engaged them as brand consultants. Barefoot is now the world's largest wine brand.
Beginning with virtually no money and no wine industry experience, they employed innovative ideas to overcome obstacles, create new markets and forge strategic alliances. They pioneered Worthy Cause Marketing and performance-based compensation. They built an internationally bestselling brand and received their industry's "Hot Brand" award for several consecutive years.
They offer their Guiding Principles for Success (GPS) to help entrepreneurs become successful. Their book, The Entrepreneurial Culture: 23 Ways To Engage and Empower Your People, helps corporations maximize the value of their human resources.
Currently they travel the world leading workshops, trainings, & keynoting at business schools, corporations, conferences. They are regular media guests and contributors to international publications and professional journals. They are C-Suite Network Advisors & Contributing Editors. Visit their popular brand building site at www.consumerbrandbuilders.com.
To make inquiries for keynote speaking, trainings or consulting, please contact sales@thebarefootspirit.com.