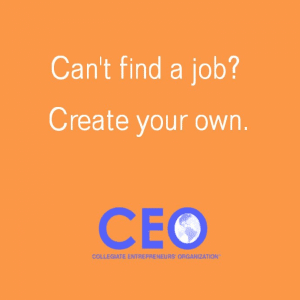 The C-E-O (Collegiate Entrepreneurs' Organization) had their Annual Conference this past October 31 – November 2 in Chicago, and we were thrilled to be a part of it. When we got up to the stage and even before we began our keynote address, we were taken back by the spectacle of nearly 1,200 college students, faculty, and young entrepreneurs from around the world.
This gathering of aspiring collegiate entrepreneurs was representative of the future of the American economy. Ranging in age from 18 to 24, this was Generation Z at its finest! It was a moving experience to realize that among these young people would emerge the next Steve Jobs and similar business rock stars of the future.
Over the three days of the national conference, we heard many inspiring speakers share their experiences on what it takes to make it in business. We were most impressed by seasoned entrepreneur and senior editor of Inc. Magazine, Norman Brodsky. Norman began his keynote speech not from the stage but from the back of the room, true to his out-of-the-box theme. Then, as he walked through the crowd of young people, he asked a series of questions and provided some surprising answers.
At one point he asked, "What is the main job of the CEO?" The young crowd peppered him with an array of answers from "leadership" to "fundraising," from "the buck stops here" to "company vision." After each suggestion, he gave a loud emphatic "NO!" After a period of silence, Norman said, "Culture! The CEO's main job is to build positive company culture – because true success ultimately comes from your people!"
We couldn't agree more, and, as a matter of fact, our success with Barefoot Wine was really the success of our team culture. We gave them permission to be creative and, yes, even to make mistakes. This inspired a culture that was fun and friendly, open and respectful of the contributions of others. With the customer at the top, serviced by our sales people, everybody else in the company understood that they worked in Sales Support. Creating positive company culture is the main job of the CEO. Thank you Norman for the reminder!
We met hundreds of aspiring entrepreneurs from C-E-O chapters in 43 states and several Canadian provinces. They were all there to soak up as much as they could from proven successful business executives. Throughout the conference, we found that the #1 misconception most folks had was they thought the distribution of their product was somehow going to take care of itself, and that the strength of their idea and the demand by the public would be enough to pull their product through the distribution channels.
Once again we had to remind them, "You can't buy it if it ain't there!" And it won't be there unless you see to it yourself. This is especially true at first when you are an unknown. We live in a wonderful country with the most efficient distribution infrastructure in the world. Shopping in stores brimming with choices of all sorts of products gives us the mistaken idea that everything we see is all there is. But there are thousands of products we never see because they simply never made it to the shelf. Sure, you have to have a great product at an affordable price with a cute logo and compelling catch phrase, but distribution management is ultimately the deciding factor.
We hope our experience and the experience of others who spoke will give these young people the insights they need to succeed. We want the new entrepreneurs of Generation Z to be Generation Zero-limits! Go get 'em, Collegiate Entrepreneurs' Organization!
Who We Are
Michael Houlihan and Bonnie Harvey co-authored the New York Times bestselling business book, The Barefoot Spirit: How Hardship, Hustle, and Heart Built America's #1 Wine Brand. The book has been selected as recommended reading in the CEO Library for CEO Forum, the C-Suite Book Club, and numerous university classes on business and entrepreneurship. It chronicles their humble beginnings from the laundry room of a rented Sonoma County farmhouse to the board room of E&J Gallo, who ultimately acquired their brand and engaged them as brand consultants. Barefoot is now the world's largest wine brand.
Beginning with virtually no money and no wine industry experience, they employed innovative ideas to overcome obstacles, create new markets and forge strategic alliances. They pioneered Worthy Cause Marketing and performance-based compensation. They built an internationally bestselling brand and received their industry's "Hot Brand" award for several consecutive years.
They offer their Guiding Principles for Success (GPS) to help entrepreneurs become successful. Their book, The Entrepreneurial Culture: 23 Ways To Engage and Empower Your People, helps corporations maximize the value of their human resources.
Currently they travel the world leading workshops, trainings, & keynoting at business schools, corporations, conferences. They are regular media guests and contributors to international publications and professional journals. They are C-Suite Network Advisors & Contributing Editors. Visit their popular brand building site at www.consumerbrandbuilders.com.
To make inquiries for keynote speaking, trainings or consulting, please contact sales@thebarefootspirit.com.