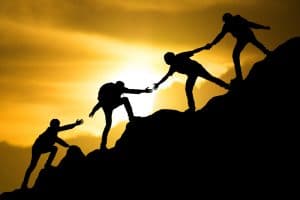 One of the most difficult challenges we face as Americans is to reunite the country after an extended period of acrimony. That divisiveness is threatening our collective security and our economy. While we have been busy blaming each other, our rivals have been taking advantage of us and the virus is running ramped. Obviously, hyperboles on both sides are grossly over-generalized, over-retweeted exaggerations that have us focusing on our differences rather that what we share in common.
Common Ground
It's easy to forget that both sides live in the same country, on the same piece of real estate, and have one of the highest standards of living in the world. We are the envy of the world and there are those who would love to take it away from us… all of us, regardless of what "side" you are on.
Distracted and Mugged!
It's easy to take our standard of living for granted while we argue with each other. No wonder our adversaries want to amplify any divisiveness on our social media! We've been hacked in more ways than one. They have taken advantage of our freedom of speech to "shout fire in a crowded theater!" And what's more important is that they have tapped into our pride, anger, and emotions …while they are mugging us. They really don't care who wins our arguments, they just want us to continue arguing, so we won't notice that both sides are being mugged.
Short Sighted
Controversy sells advertising. Each side picks their media of choice and follows it loyally which is what the media needs to sell ads. The problem is that this approach is short-sighted and self-defeating as it ultimately hurts the very economy that supports the products they are trying to sell!
Watch Out!
So as we approach the New Year, it is to the advantage of both sides to protect our collective self-interests by focusing on what we both have to lose. The county itself, after all, wouldn't be here without a common enemy, a common concern, and a common resolve. Now is the time to refocus on our common priorities: the virus, the hacks, environmental catastrophes, and the disruption of international supply chain. We have common concerns that are more important than our differences. Our adversaries know it. Shouldn't we?
Do's and Don'ts for a Re-United States of America
Do Focus on Our Common Concerns.
Discuss and support the vaccine efforts. (Most Americans, regardless of politics, realize that the vaccine is the ultimate response to the virus.)
Discuss and support the need for heightened cyber security. (Again, most Americans will agree that this is a priority.)
Discuss and support the need for employment, security, and mitigation of climate disasters. (Few will argue about these.)
Don't Insult or Denigrate Your Fellow Countrymen.
Resist the urge to say, "I told you so" if your position appears to have been correct. (Offending their pride will further divide.)
Resist the urge to lay blame. (Focus on taking it from here forward.)
Don't hold a grudge. (Request their help to solve common concerns and common threats.)
First, Put Out the Fire!
We're sure there's a lot more we can all do to work together to unite our country again. But these may be a good place to start. Let's work together to put out the fire in our own house! After all, we will have nothing to argue about if it burns down!
We wish you a very happy, safe, and peaceful New Year and a re-United States of America focused on what we all have in common!
Who We Are
Michael Houlihan and Bonnie Harvey co-authored the New York Times bestselling business book, The Barefoot Spirit: How Hardship, Hustle, and Heart Built America's #1 Wine Brand. The book has been selected as recommended reading in the CEO Library for CEO Forum, the C-Suite Book Club, and numerous university classes on business and entrepreneurship. It chronicles their humble beginnings from the laundry room of a rented Sonoma County farmhouse to the board room of E&J Gallo, who ultimately acquired their brand and engaged them as brand consultants. Barefoot is now the world's largest wine brand.
Beginning with virtually no money and no wine industry experience, they employed innovative ideas to overcome obstacles, create new markets and forge strategic alliances. They pioneered Worthy Cause Marketing and performance-based compensation. They built an internationally bestselling brand and received their industry's "Hot Brand" award for several consecutive years.
They offer their Guiding Principles for Success (GPS) to help entrepreneurs become successful. Their book, The Entrepreneurial Culture: 23 Ways To Engage and Empower Your People, helps corporations maximize the value of their human resources.
Currently they travel the world leading workshops, trainings, & keynoting at business schools, corporations, conferences. They are regular media guests and contributors to international publications and professional journals. They are C-Suite Network Advisors & Contributing Editors. Visit their popular brand building site at www.consumerbrandbuilders.com.
To make inquiries for keynote speaking, trainings or consulting, please contact sales@thebarefootspirit.com.