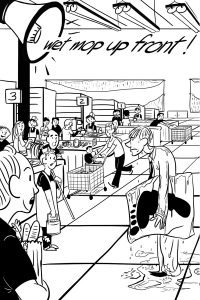 When we wrote The Barefoot Spirit, we didn't want it to be another wine story. You know, sniff, swirl, and sip, say a few words in French and talk about mid-notes. In fact, we didn't really want it to have much to do with wine at all. We wanted it to be an entrepreneurial business adventure, because that's what it was! Wine was just the vehicle that enabled us to learn classic business lessons, most not taught in school.
Our real success had more to do with discovering and ultimately mastering the rules, strategies, and nuances of consumer packaged goods (CPG) distribution and merchandising. So much for "the romance of wine." We could have been selling hammers!
And as in any good adventure story, the proponents must face the unknown and overcome seemingly unsurmountable challenges. They must overcome their own popular misconceptions and get their come-uppin's in the real world. Notwithstanding some serious shockers, revelations, and cliff hangers, we wanted to give our readers some guiding principles for success (GPS) that worked for us and could work for them!
These principles are demonstrated in every scene with assumptions, actions, reactions, and outcomes, not always expected or desired. But in the process of working their way out of jam after jam, they begin to learn and apply these universal lessons. And that's what ultimately leads to their success. That, and a huge amount of just plain hard work and tenacity.
Instead of following their passion into business, they followed their opportunity. But they don't give up on their passion. It's just that opportunity presents itself much more often than a profitable outlet for your passion.
The opportunity: A large unpaid debt owed to their client. The plan: Trade for goods and services. The debt they assumed in exchange for goods and services (bulk wine and bottling services). They suddenly were in an industry they knew nothing about, and they were in debt for a small fortune.
Plan A: Take the wine and bottling services, come up with a label, sell it to a big chain store buyer, take the money, pay off the debt, make a commission, and be down the road looking for the next opportunity. How hard could it be? How long could it take?
The proponents suffered from the popular misconceptions about the marketplace that come from having the shopper's point-of-view. They grossly simplified what was going on behind the scenes (the distribution channel) and totally underestimated what was required of them. (Ignorance is bliss…)
Because they were outside the industry, and "didn't know any better," they asked a lot of questions, and they made friends in "low" places. These were the people who were doing the real work: bottling line managers, warehouse people, truck drivers, forklift operators, store clerks, and buyers. They got practical advice from folks who had seen the results of too many well-intentioned but impractical marketing, design, and packaging decisions. Their lack of industry knowledge was precisely what made Barefoot so disruptive – and successful!
But the road ahead, even with all that practical insight, was fraught with challenges and unexpected work that had to be done by them and them alone. Even if it meant that the Founder/President/CEO had to personally sell a Piggly Wiggly store in South Carolina in a torrential downpour!  Where are the mid-notes and the romance of the wine business now?!
Someone said, "You don't always make the right decisions, but you always make your decisions right!" If, of course, you learn your lessons and keep on truckin'! The Barefoot Spirit is a story about lessons and tenacity. Please enjoy Chapter 1 as our treat!
Who We Are
Michael Houlihan and Bonnie Harvey co-authored the New York Times bestselling business book, The Barefoot Spirit: How Hardship, Hustle, and Heart Built America's #1 Wine Brand. The book has been selected as recommended reading in the CEO Library for CEO Forum, the C-Suite Book Club, and numerous university classes on business and entrepreneurship. It chronicles their humble beginnings from the laundry room of a rented Sonoma County farmhouse to the board room of E&J Gallo, who ultimately acquired their brand and engaged them as brand consultants. Barefoot is now the world's largest wine brand.
Beginning with virtually no money and no wine industry experience, they employed innovative ideas to overcome obstacles, create new markets and forge strategic alliances. They pioneered Worthy Cause Marketing and performance-based compensation. They built an internationally bestselling brand and received their industry's "Hot Brand" award for several consecutive years.
They offer their Guiding Principles for Success (GPS) to help entrepreneurs become successful. Their book, The Entrepreneurial Culture: 23 Ways To Engage and Empower Your People, helps corporations maximize the value of their human resources.
Currently they travel the world leading workshops, trainings, & keynoting at business schools, corporations, conferences. They are regular media guests and contributors to international publications and professional journals. They are C-Suite Network Advisors & Contributing Editors. Visit their popular brand building site at www.consumerbrandbuilders.com.
To make inquiries for keynote speaking, trainings or consulting, please contact sales@thebarefootspirit.com.