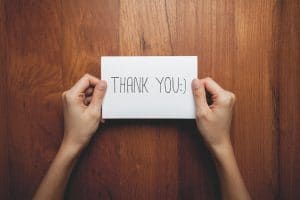 Once again, the Holidays are upon us. Family and friends gather together, and you are showing your gratitude to your employees and customers alike. But wait, aren't we forgetting someone here?
This is a great time to thank your vendors. That's right, your vendors, the folks you depend upon to supply your business. "Shouldn't they be thanking me?" you may ask. Sure, and they will. But by thanking them in detail for something they did that was especially beneficial to your business last year, you reinforce the kind of support, allowances, and excellent customer service that you want next year.
Your vendors know what's going on in the market.
They can save you time and money. They can advise you in advance of what your competition is up to. And they can bring you up to date on the ever changing market dynamics. Did any of your vendors provide you with useful insight this year? Thank them for it now.
Your vendors know exactly how your company can benefit the greatest by using the products and services they have to offer.
They know when their warehouse is sitting on too much inventory and that is when they can give you a sweet deal. They know when their boss needs a few bucks real fast and can offer you a discount. And they might even warehouse for you free of charge if you agree to that large purchase they need to make their numbers. How much can that save you? A word of appreciation from you now can open the door for more personalized attention in the future.
Your vendors can make your life easier with special packaging for a big client, just in time deliveries to protect your reputation, and extended terms to help you grow. Did any of your vendors do anything like this for you this year? Now's a great time to say thank you!
Make Your Business the "Favorite Call" of Vendors
Having been in sales for years, we know how vendors are generally treated because we were vendors to our buyers. Sometimes we'd wait for hours just to see the buyer. We were made to feel like we were lucky just to get in. The general attitude was, "This guy is here to sell me something I don't need." Many couldn't wait to get rid of us. Unfortunately, that is how many buyers treat salespeople.
That's why we treated our vendors like our buyers. We welcomed them and even gave them a cup of coffee and a piece of pie! We knew they would look forward to their "favorite call." And when they did call, they gave us their insights. We got all the latest info on the market, the best buys, the best terms and the most favors. Why? Because we let them know we appreciated them. We respected their ability to understand our business and work with us.
Most vendors are taken for granted or worse, seen as an annoyance. Why not reach out this Holiday Season with a little of that appreciation you lavish on your customers? You may be surprised at the results.
There's two ways to make a profit: make more money and spend less money. Your vendors can help you spend less and give you a view of your industry only vendors who service your industry every day could have. Why not make your business their "favorite call"? A short, "Thank you for your service this year" is a great way to get started!
Who We Are
Michael Houlihan and Bonnie Harvey co-authored the New York Times bestselling business book, The Barefoot Spirit: How Hardship, Hustle, and Heart Built America's #1 Wine Brand. The book has been selected as recommended reading in the CEO Library for CEO Forum, the C-Suite Book Club, and numerous university classes on business and entrepreneurship. It chronicles their humble beginnings from the laundry room of a rented Sonoma County farmhouse to the board room of E&J Gallo, who ultimately acquired their brand and engaged them as brand consultants. Barefoot is now the world's largest wine brand.
Beginning with virtually no money and no wine industry experience, they employed innovative ideas to overcome obstacles, create new markets and forge strategic alliances. They pioneered Worthy Cause Marketing and performance-based compensation. They built an internationally bestselling brand and received their industry's "Hot Brand" award for several consecutive years.
They offer their Guiding Principles for Success (GPS) to help entrepreneurs become successful. Their book, The Entrepreneurial Culture: 23 Ways To Engage and Empower Your People, helps corporations maximize the value of their human resources.
Currently they travel the world leading workshops, trainings, & keynoting at business schools, corporations, conferences. They are regular media guests and contributors to international publications and professional journals. They are C-Suite Network Advisors & Contributing Editors. Visit their popular brand building site at www.consumerbrandbuilders.com.
To make inquiries for keynote speaking, trainings or consulting, please contact sales@thebarefootspirit.com.