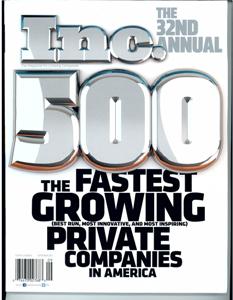 VinoPRO, a consulting client of Houlihan & Jones', was honored this month to be listed in the top half of the Inc. 500 list. To qualify for this coveted honor, award recipients had to show growth of more than 918% since the beginning of 2010. VinoPRO now shares this prestigious achievement with the likes of Intuit, Zappos, Microsoft, Jamba Juice, Timberland, Clif Bar, Oracle and dozens of other notable alumni.
All this growth is coming from a company that looked very different just 3 years ago. It was even called by a different name, "Provino." It was struggling with payables, turnover, and legal challenges. Its main business was brokering wine products. This involved the onerous process of buying wine from a myriad of producers, carefully storing it in an air-conditioned, appropriately licensed warehouse, calling clients who had private wine cellars, making sales over the phone, then packaging the wines and delivering them respecting each state's compliance regulations, billing the clients, collecting the money and then paying the producers, all the while financing the payables.
Of all the business functions required with the broker model, making sales over the phone was what they excelled at. The company was founded by Jeff Stevenson, whose Silicon Valley background enabled him to create proprietary software to master, as Stevenson says, "an ancient form of communication: the telephone!" With the assistance of Houlihan & Jones, VinoPRO reorganized and did ONLY the two things they did best: programming and telephone sales. In this way, VinoPRO perfected a vital service to their clients: real-time in-person relationship selling.
VinoPRO is now the wine industry's premier outbound, out-sourced call center; it represents and provides incremental sales to scores top wineries . Using its strengths, its "personal wine stewards" establish, grow, and maintain individual relationships with hundreds of thousands of high-end wine lovers.
But more than just trumping on its strengths, VinoPRO put into practice the guiding business principles we talk about in our blogs and in our book, "The Barefoot Spirit."
1. Make Mistakes Right. They documented every mistake, saw it as a learning experience, and developed policies and procedures, checklists and sign-off sheets for all business processes. Starting with virtually no written policies, they now have procedural manuals for hiring, training, accounting, troubleshooting and more. They have improved their programs, contracts, and organization, all on the backs of mistakes made right.
2. Pay for Performance. With the positive mindset to "take a smaller slice of a larger pie," they have no cap on commissions. Non-producers can't afford to work for them and performers can't afford to quit. Sure, it was tough going at first to find the right people who could work on commission, but they soon attracted those who preferred it. The resulting increase in sales has greatly exceeded their winery client's expectations.
3. Have Fun! Games and contests abound and they are real and tactile. Sales numbers could be on a big display screen, but not at VinoPRO. Each rep physically posts his or her own sales several times during the day on one communal wall. On another wall, monthly best sellers write their numbers on a placards that are prominently placed in ascending order for all to see. Top sellers get their pick of workstations.
4. Grow Strategic Alliances. Beyond the sales service they provide, VinoPRO is generous and proactive with their considerable programming and software skill sets. They regularly help their winery clients achieve better data collection, order processing, and logistic support. This added value helps everyone work more efficiently.
Applying these guiding business principles, it is no wonder that VinoPRO was voted last week as one the top 20 places to work in the North San Francisco Bay region!
Congratulations to VinoPRO, the latest member of the Inc. 500!
Who We Are
Michael Houlihan and Bonnie Harvey co-authored the New York Times bestselling business book, The Barefoot Spirit: How Hardship, Hustle, and Heart Built America's #1 Wine Brand. The book has been selected as recommended reading in the CEO Library for CEO Forum, the C-Suite Book Club, and numerous university classes on business and entrepreneurship. It chronicles their humble beginnings from the laundry room of a rented Sonoma County farmhouse to the board room of E&J Gallo, who ultimately acquired their brand and engaged them as brand consultants. Barefoot is now the world's largest wine brand.
Beginning with virtually no money and no wine industry experience, they employed innovative ideas to overcome obstacles, create new markets and forge strategic alliances. They pioneered Worthy Cause Marketing and performance-based compensation. They built an internationally bestselling brand and received their industry's "Hot Brand" award for several consecutive years.
They offer their Guiding Principles for Success (GPS) to help entrepreneurs become successful. Their book, The Entrepreneurial Culture: 23 Ways To Engage and Empower Your People, helps corporations maximize the value of their human resources.
Currently they travel the world leading workshops, trainings, & keynoting at business schools, corporations, conferences. They are regular media guests and contributors to international publications and professional journals. They are C-Suite Network Advisors & Contributing Editors. Visit their popular brand building site at www.consumerbrandbuilders.com.
To make inquiries for keynote speaking, trainings or consulting, please contact sales@thebarefootspirit.com.