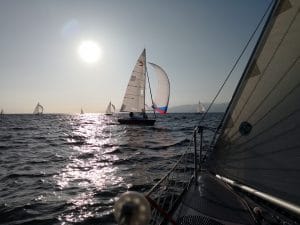 We had a pop-up opportunity to take our friends to the Mountain Play performed outside on the top of Mt. Tamalpais overlooking San Francisco from 2000 feet. It's a truly spectacular outside amphitheater built over 100 years ago out of granite stones in ascending concentric rows. The young players perform the top Broadway musicals with top talent and a full orchestra. It's quite a scene, and something not to miss on your next spring trip to San Francisco!
We have enjoyed complimentary VIP tickets every year, thanks to our dear friend and former Barefoot Wine National Sales Manager, Randy Arnold. Barefoot has been a proud sponsor for many years. When we had Barefoot, we supported hundreds of charitable events across the country through our Worthy Cause Marketing Program. But we were usually unable to attend these events. Randy knew this and has been inviting us to (finally!) enjoy them now that we no longer have the brand.
Sailing and Business
Anyway, this year, Bonnie bought some extra tickets for friends for the opening day, but the performance was rained out! They gave us a rain check. However, our initial invitees couldn't make the new date. So, back to the pop-up opportunity to invite some other friends – but now at the last minute. We immediately thought of one of our favorite Southern California couples, Ryan Foland and Cynthia McKee. Ryan is a well-known communication expert and Cynthia is a dedicated chemist. They both love sailing.
So, it was no surprise when we called them and they were on their sailboat off the coast of Marina Del Rey having just completed a race. Ryan, who likes to think of himself as a pirate, was out there on the bow of his sailboat when he took the call. He was still pretty excited about the race. They were among the top contenders.
When we asked, "So, how did you do?" Ryan said, "You know, winning a race is like winning in business – it's all about being excellent on the details!" We had to laugh because Ryan looks at everything as a lesson. The point is, during the race, the top contenders were neck-and-neck and what really distinguished the winners was disciplined attendance to the basics. No superpowers here. No breakthrough technology, no black box, just the basics. Being excellent on the basics makes you better prepared for the rough waters ahead.
Excellence in the Basics
Startup founders so often fall in love with their solution. They know it has something none of the competition has, and as a result, they can put too much faith in their "black box" to pull them through to the winners' circle. But what really makes the difference is being excellent about the basics. This is the ordinary stuff that is often overlooked: cashflow management, personnel management, and sales and distribution management. In a tight race, these details can make or break you. And they are all tight races with unpredictable challenges!
Listening to Ryan made us realize why we like the Mt. Tam Players so much. Their material is not original, they don't have any real superstars, but what they have is excellence on the basics. The music is incredible, the acting and singing are exciting and well-polished. The volunteers who handle the mundane stuff like parking, ushering, and cleaning up are all top flight. The entire production is orchestrated to give you a seamless, professional experience. Again, it's the "little" stuff that makes them great.
Like Ryan says, "It's all about being excellent on the details!"
Oh, and about that pop-up opportunity to fly up and join us for the Mt Play? They are working out the details!
Who We Are
Michael Houlihan and Bonnie Harvey co-authored the New York Times bestselling business book, The Barefoot Spirit: How Hardship, Hustle, and Heart Built America's #1 Wine Brand. The book has been selected as recommended reading in the CEO Library for CEO Forum, the C-Suite Book Club, and numerous university classes on business and entrepreneurship. It chronicles their humble beginnings from the laundry room of a rented Sonoma County farmhouse to the board room of E&J Gallo, who ultimately acquired their brand and engaged them as brand consultants. Barefoot is now the world's largest wine brand.
Beginning with virtually no money and no wine industry experience, they employed innovative ideas to overcome obstacles, create new markets and forge strategic alliances. They pioneered Worthy Cause Marketing and performance-based compensation. They built an internationally bestselling brand and received their industry's "Hot Brand" award for several consecutive years.
They offer their Guiding Principles for Success (GPS) to help entrepreneurs become successful. Their book, The Entrepreneurial Culture: 23 Ways To Engage and Empower Your People, helps corporations maximize the value of their human resources.
Currently they travel the world leading workshops, trainings, & keynoting at business schools, corporations, conferences. They are regular media guests and contributors to international publications and professional journals. They are C-Suite Network Advisors & Contributing Editors. Visit their popular brand building site at www.consumerbrandbuilders.com.
To make inquiries for keynote speaking, trainings or consulting, please contact sales@thebarefootspirit.com.