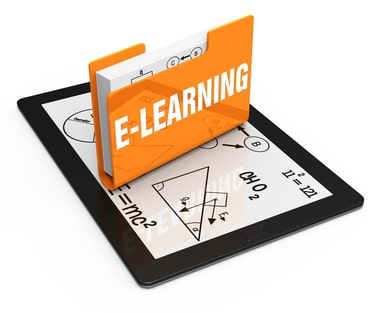 Using visual elements in e-learning circles is fast becoming the standard for case studies, presentations, website design and more. Tools to create infographics, online web seminars and online videos are allowing more visual essence to shine through for training and education in companies, as Flirting With e-Learning notes.
It's vital for educators and business professionals to use images for enhancing retention. Adding visuals to text, video or audio content helps viewers digest complex information more easily, and understand the larger context of the issue. But it's more than just adding a video clip or an image to a document, blog post or presentation. More importantly is the act of providing visual context that doesn't overwhelm a reader, but adds relevant insights instead.
In business and academic circles, visuals are used in delivering complex information within blog posts, online video presentations, slideshows, company graphs, stats and charts. In Web circles, professional bloggers and online leaders, as well as normal web users, share data visuals, annotated images, videos and infographics.
Processing Visuals. The idea of the web becoming more visual in nature is not lost on businesses, educational institutions and other professional groups. People respond to infographics, GIFs with movement and especially visual content of other people. What's crucial are the implications for learning that e-visuals possess.
The Content Marketing Institute suggests that we apply visual learning to an even higher extent. Using multiple types of visuals helps readers get the right kind of content, by creating a way to understand it more clearly. Tools used for this process include: report covers, animations, thought bubbles, flow charts, screen shots, annotated videos and more. Even bulleted lists and numbered data helps to make complex data more visual for readers.
Create E-Visuals. When creating your own kinds of learning modules for business, education or consumer focuses, consider the following tips to make your content resonate.
Ensure the right kind of content is used. You need to show some relevance to the main topic focus when using a visual. Everything that's visual should be geared toward a better understanding of the training, topic or module. All too often, bloggers will try to get too cute and too meta for their readers by sharing an image that is several layers deep of meaning for the topic on hand. If you do this, you run the risk of confusing your audience. Keep the words and visuals flowing together in a simple way.
Make sure the visual's purpose is instructional. Visual elements should be instructional, leading the viewer into knowing what's important and what is meant to be supplementary information. Magazine web sites have done this for years, emphasizing the main stories and using sidebars to tell separate stories that can add to the overall information being presented. By creating similar navigation tools, with different fonts, graphics and boxed off sections, you're leading the viewer into a path of discovery.
Don't overwhelm the reader. Use innovative graphics sparingly. Sizing various images and videos appropriately can better guide the reader to what's important in your content. Avoid overuse of animations, or intense graphics. Readers with fast web connections will digest the info more quickly, but your heavy visual content may create load time issues for those with slow web connections, especially those still using dial-up. Remember, it's not all about the graphics overload. It's more about how the graphics can aid in understanding, communication and comprehension.
If a picture is worth 1,000 words, use the picture that communicates the most important 1,000 words. Seeing is believing.
Who We Are
Michael Houlihan and Bonnie Harvey co-authored the New York Times bestselling business book, The Barefoot Spirit: How Hardship, Hustle, and Heart Built America's #1 Wine Brand. The book has been selected as recommended reading in the CEO Library for CEO Forum, the C-Suite Book Club, and numerous university classes on business and entrepreneurship. It chronicles their humble beginnings from the laundry room of a rented Sonoma County farmhouse to the board room of E&J Gallo, who ultimately acquired their brand and engaged them as brand consultants. Barefoot is now the world's largest wine brand.
Beginning with virtually no money and no wine industry experience, they employed innovative ideas to overcome obstacles, create new markets and forge strategic alliances. They pioneered Worthy Cause Marketing and performance-based compensation. They built an internationally bestselling brand and received their industry's "Hot Brand" award for several consecutive years.
They offer their Guiding Principles for Success (GPS) to help entrepreneurs become successful. Their book, The Entrepreneurial Culture: 23 Ways To Engage and Empower Your People, helps corporations maximize the value of their human resources.
Currently they travel the world leading workshops, trainings, & keynoting at business schools, corporations, conferences. They are regular media guests and contributors to international publications and professional journals. They are C-Suite Network Advisors & Contributing Editors. Visit their popular brand building site at www.consumerbrandbuilders.com.
To make inquiries for keynote speaking, trainings or consulting, please contact sales@thebarefootspirit.com.