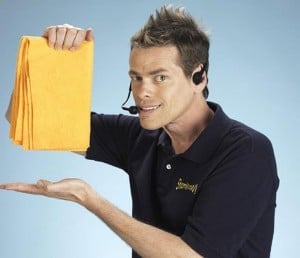 We've spent over two decades in sales, and it's true – nothing happens until the sale is made. We have a friend who described her sales job as "conveying the value proposition of (her) product to (her) buyers."
There are many books written on the subject of sales, sale techniques, and best closing strategies. We've often said the best sales person is the "Assistant Buyer". The key to sales success is simply to sincerely have the buyer's best interest at heart.
When you produce a product that goes through distribution channels, or when you offer a service business to business, the funds your buyer has to buy from you came from the sale of their product or service. If you are selling direct to the consumer, you still have to recognize that they have to work for the income, one way or another, that enables them to buy your product.
Everybody who sells products or services wants to sell more. The ultimate question from your prospect is: "How does your product or service help me sell my product or service?" or "How can you help me make more money?" That's why positioning your sales pitch as enhancing theirs is so effective.
Here are some ways your product or service can help your customer's bottom line:
1. Reduce his overhead cost per unit sold. He has to pay rent, lights, power, insurance, staff, cleaning, etc., whether he sells your product quickly or slowly. If it's a fast seller, his cost per sale is reduced. He improves his ROI on his capital investment, maintenance, advertising, and staffing.
2. Increase his profits with lower acquisition costs and, consequently, higher profit margins on your product. Give him a volume purchase program that enables a lower retail price and increased volume resulting in higher profits per month.
3. Make his retail environment more attractive with seasonal point of sale materials and promotional programs geared to the theme of the given holiday. Make your displays festive decorations to his retail space.
4. Increase his business with local promotions and support for neighborhood causes. Use Worthy Cause Marketing to bring in customers who have a social reason to buy your product. Let the membership of the non-profit you support know where your product is for sale in his neighborhood.
5. Sell him a product or service that makes him more attractive and more competitive to his clients or retail customers. Give him the best price in your category, or an area-wide exclusive for an introductory period.
6. Add value to his total sales package. Is there something you can sell him that makes what he's selling more valuable, adds an extra feature or delivers another benefit – like a guarantee, excellent customer service or loyalty program? Does your product give him "green" bragging rights?
7. Improve his personnel's efficiency by providing training, benefits or tools his staff can use to increase his sales. Help him find and keep good people.
These are just a few examples of how you can help your buyer increase profits and do his job more efficiently. When you focus on what your buyer is trying to do, you can quickly get a clue as to what you can do to help him increase his sales. Adding value to his sales efforts with your product allows him to say to his customers, "But wait, there's more!"
Who We Are
Michael Houlihan and Bonnie Harvey co-authored the New York Times bestselling business book, The Barefoot Spirit: How Hardship, Hustle, and Heart Built America's #1 Wine Brand. The book has been selected as recommended reading in the CEO Library for CEO Forum, the C-Suite Book Club, and numerous university classes on business and entrepreneurship. It chronicles their humble beginnings from the laundry room of a rented Sonoma County farmhouse to the board room of E&J Gallo, who ultimately acquired their brand and engaged them as brand consultants. Barefoot is now the world's largest wine brand.
Beginning with virtually no money and no wine industry experience, they employed innovative ideas to overcome obstacles, create new markets and forge strategic alliances. They pioneered Worthy Cause Marketing and performance-based compensation. They built an internationally bestselling brand and received their industry's "Hot Brand" award for several consecutive years.
They offer their Guiding Principles for Success (GPS) to help entrepreneurs become successful. Their book, The Entrepreneurial Culture: 23 Ways To Engage and Empower Your People, helps corporations maximize the value of their human resources.
Currently they travel the world leading workshops, trainings, & keynoting at business schools, corporations, conferences. They are regular media guests and contributors to international publications and professional journals. They are C-Suite Network Advisors & Contributing Editors. Visit their popular brand building site at www.consumerbrandbuilders.com.
To make inquiries for keynote speaking, trainings or consulting, please contact sales@thebarefootspirit.com.