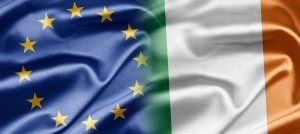 Whatever you think about the UK's decision to leave the EU, American businesses must find a new gateway to Europe. For American's, our 'mother' country has always been our foot in the door to Europe. If you could prove yourself in the UK, the door was open to the EU. Trademarks from the EU were respected in the UK and vice versa. That door may have just been closed. So now what?
Look no further than the only official English-speaking country in the EU, on the Euro, and closer to us: Ireland! Before the recession, Ireland was favored by US business for its low cost, highly skilled workforce, and business-friendly policies. Now it can add, "Gateway to Europe" with its unrestricted flow of goods and people to the mainland.
Interestingly, Northern Ireland, which voted to stay in the EU, will be more likely to stay in rather than barricading off its common borders with The Irish Republic which have become critical to families, trade, tourism, and their overall economy. Staying in the EU may likely mean exiting the UK and joining the Irish Republic. A larger EU member like a united Ireland can't help but be attractive to American business hoping to trade in Europe.
We spoke at the World Conference on Entrepreneurship in Dublin a couple years back and were most impressed with their American-style cultural support for entrepreneurs. The willingness of the government, the business community, and academic institutions to help new ventures succeed is most attractive to new and established businesses alike.
Still pulling themselves out of recession, the Irish know that entrepreneurship is their key to prosperity. As a relatively small country, they know the world is their market… Oh! And did we say they absolutely love Americans?
Talk about winning by default! It reminds us of the way Quebec lost major business to Ontario when they tried to separate from Canada. The UK may have just handed Ireland a big break and a huge opportunity.
Whether we like it or not, we are all connected to a global market where uniform standards and business practices support commerce, and ultimately, our very standard of living. Voting to decouple from that interdependence may seem emotionally attractive at the time, but the days following that decision will educate those voters about what they sacrificed.
Whatever the UK voters thought they were saving by leaving the EU, they have disrupted the flow of trade and ultimately wiped out those "savings" many times over. Oblivious to consequences and uneducated about the benefits of EU membership, they were bowled over by a populist movement that promised huge savings that probably can't be delivered any time in the near future.
Once the press becomes more entertainment than educational, the door is open for populist movements to persuade emotional and naïve voters who simply don't know any better. This is quite a wake-up call for the US and other democracies, should they take notice. Unwarranted, but popular, quick-fix claims can now win the vote and reverse the efficiencies of scale common markets can deliver.
Meanwhile, Ireland has been waiting for a break like Brexit! Keep a close eye on their next moves. What is a great opportunity for Ireland may well be a great opportunity for US business as well.
Who We Are
Michael Houlihan and Bonnie Harvey co-authored the New York Times bestselling business book, The Barefoot Spirit: How Hardship, Hustle, and Heart Built America's #1 Wine Brand. The book has been selected as recommended reading in the CEO Library for CEO Forum, the C-Suite Book Club, and numerous university classes on business and entrepreneurship. It chronicles their humble beginnings from the laundry room of a rented Sonoma County farmhouse to the board room of E&J Gallo, who ultimately acquired their brand and engaged them as brand consultants. Barefoot is now the world's largest wine brand.
Beginning with virtually no money and no wine industry experience, they employed innovative ideas to overcome obstacles, create new markets and forge strategic alliances. They pioneered Worthy Cause Marketing and performance-based compensation. They built an internationally bestselling brand and received their industry's "Hot Brand" award for several consecutive years.
They offer their Guiding Principles for Success (GPS) to help entrepreneurs become successful. Their book, The Entrepreneurial Culture: 23 Ways To Engage and Empower Your People, helps corporations maximize the value of their human resources.
Currently they travel the world leading workshops, trainings, & keynoting at business schools, corporations, conferences. They are regular media guests and contributors to international publications and professional journals. They are C-Suite Network Advisors & Contributing Editors. Visit their popular brand building site at www.consumerbrandbuilders.com.
To make inquiries for keynote speaking, trainings or consulting, please contact sales@thebarefootspirit.com.