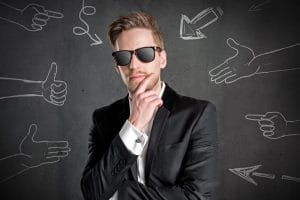 In college, it's not only what they teach that will enable you to be a successful entrepreneur, it's the skillsets you must acquire just to get through college. About this time of year, many students are near completion of their college year and wondering if they should continue. They keep hearing stories about successful entrepreneurs who gave up on formal education early to get the jump on their entrepreneurial pursuits. They wonder about the value of a college degree in the world of entrepreneurship.
But many students discount the more subtle advantages of attending and finishing college. These advantages are not widely heralded as the primary benefits of completing a formal education, but they are the exact skillsets you need to succeed as an entrepreneur. We are talking about the skillsets that are not taught in the classroom, but the skillsets you must develop and utilize just to survive in the classroom.
We are talking about personal discipline, delayed gratification, and good judgement. These behavioral skills are all required to complete your education and they are all required to increase your chances of success in business. Here's some critical business skills you gain by completing your education:
How to Prioritize (Also known as strategic planning)
In school, you must develop the ability to Identify and organize a plan of action that gets the most important and time-sensitive jobs done first. Being able to judge the consequences of your various choices is critical to your scholastic survival.
In business, by focusing on your top priorities you are less likely to get blindsided by a fatal oversight. Recognizing the basics, focusing, and not getting easily distracted, are all essential skills necessary to succeed.
How to Extrapolate (Also known as conceptualization)
In order to pass college exams, you must develop the ability to extract concepts from examples and apply them to new situations. You don't have time to memorize and regurgitate every example. Sooner or later you have to look for, discover, recognize, and apply the reoccurring principles behind those examples.
In business you must learn from your mistakes, and fast! You can't be successful if you are asking, "Like what?" and, "Give me an example," over and over again. Extrapolating the principles from the experiences of others as well as your own, and applying them, will save you precious time and dollars.
How to Juggle (Also known as cashflow management)
In college, you have to pay for books and tuition, food and housing, transportation and social life. You are likely undercapitalized and may have a job to support yourself. You have all these bills to pay, plus you have to spread your precious time between all these demands.
In business you will need those juggling skills. Especially starting up, you will be faced with colossal time and money shortages. You will have to juggle your bills with your income, and your time with your commitments.
How to Learn (Also known as analysis and documentation)
In order to pass multiple classes each semester, you must listen for, and not just to, what is being said. You must listen actively, ask questions often, and take notes. You must develop a hypothesis about what is being taught. You simply don't have the time to take down everything that is said. Outlining helps you learn, retain, and access the important parts of what is being taught.
In business, you must remain objective, take notes, outline, and develop policies and procedures. Because you learned how to learn in college, you are more likely to be a quick study, sift through mountains of information quickly, and understand and apply the essence of what you are learning. You will be more likely to learn from your mistakes. You will be able to create, change, and improve the documents that will make those mistakes less likely to reoccur.
How to Honor Your Commitments (Also known as integrity)
When you see your education through to your degree, you are experiencing the fruits of your labor. You are validating the long nights and personal sacrifices. You completed your goal. You honored your commitment. You did not give up.
In business, your reputation, payment terms and credit limits are on the line! Vendors, lenders, banks and buyers are holding you accountable to do what you say you're going to do. Seeing project's through, no matter what the obstacles, is the basis of credibility.  Success always takes longer and costs more than you thought. It will require tenacity, patience, and commitment.
Bottom Line: Stay in school and learn what they're teaching that is not in the curriculum. You'll be glad you did when you get out there in the world of business!
Who We Are
Michael Houlihan and Bonnie Harvey co-authored the New York Times bestselling business book, The Barefoot Spirit: How Hardship, Hustle, and Heart Built America's #1 Wine Brand. The book has been selected as recommended reading in the CEO Library for CEO Forum, the C-Suite Book Club, and numerous university classes on business and entrepreneurship. It chronicles their humble beginnings from the laundry room of a rented Sonoma County farmhouse to the board room of E&J Gallo, who ultimately acquired their brand and engaged them as brand consultants. Barefoot is now the world's largest wine brand.
Beginning with virtually no money and no wine industry experience, they employed innovative ideas to overcome obstacles, create new markets and forge strategic alliances. They pioneered Worthy Cause Marketing and performance-based compensation. They built an internationally bestselling brand and received their industry's "Hot Brand" award for several consecutive years.
They offer their Guiding Principles for Success (GPS) to help entrepreneurs become successful. Their book, The Entrepreneurial Culture: 23 Ways To Engage and Empower Your People, helps corporations maximize the value of their human resources.
Currently they travel the world leading workshops, trainings, & keynoting at business schools, corporations, conferences. They are regular media guests and contributors to international publications and professional journals. They are C-Suite Network Advisors & Contributing Editors. Visit their popular brand building site at www.consumerbrandbuilders.com.
To make inquiries for keynote speaking, trainings or consulting, please contact sales@thebarefootspirit.com.