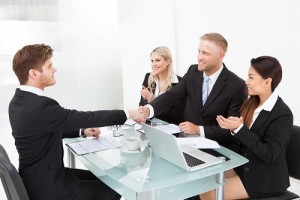 Today there is a loud buzz about the entrepreneurial spirit, the entrepreneurial culture, and even the entrepreneurial DNA. Corporations realize that in order to stay relevant, engage and empower their people, and create a positive and innovative culture they must learn to spot entrepreneurial DNA in their job candidates. This topic is so interesting and involved that we have divided it into two parts.
We have a friend who runs the school of entrepreneurship at a major university. She says that, surprisingly, large corporations are now very interested her grads. Why? The answer is because entrepreneurial grads are more self-reliant and creative compared to grads who do not possess these business acuities. Most importantly, they have their eyes on the money and they understand that the money comes from the customer. You have to remember that entrepreneurship students are not pursuing a degree in entrepreneurship to show it to an employer. In fact they often have no intention of taking a job, but they sincerely want to learn what they need to know to be successful in their own enterprise. They are, by their choice of study, self-reliant.
But if you want to hire someone with entrepreneurial DNA, what do you look for?
Here's the short list:
1. Performance Pay. Ask them if they want to get paid on attendance (salary), or are they willing to bet a portion their compensation on their own performance. Entrepreneurs don't have any income unless they are constantly satisfying their customers. Seek out someone who knows they can add significant value to your bottom line. Look for self-confidence and self-reliance. Entrepreneurs are always looking for ways to increase income, profits and growth. They bet their income on themselves because they know their performance will mitigate the risks they are taking and abundantly reward them. So, make sure your company has some kind of profit sharing plan if you want to entice someone with entrepreneurial DNA to work for you.
2. Body Language. Watch how they move. Ask them to get a file from the next office. Do they lumber out aimlessly, take too long, shuffle back slowly, flop down in their chair, and lean on their elbows? Is their posture like a question mark? Or do they move with hustle, determination and purpose? When people sit erect and lean slightly forward, that indicates their engagement and interest. Entrepreneurs exude confidence and it shows in their posture and their body language. They have prepared themselves by learning about your company, and display confidence when they are interviewed and scrutinized by strangers like you. These "tells" are important to recognize because they are physical evidence of your candidate's attitude and self-esteem.
3. Mistakes. Ask them to describe the biggest mistake they ever made professionally, and more importantly, what they did about it. Listen for whether they fixed it fast and quickly went on with their project, or ultimately blamed others and were "victimized." Note if they took responsibility. Successful entrepreneurs know that blame is disempowering, while doing what can be done to prevent reoccurrence is staying in control. Learn if they analyzed what happened and modified signs, labels, contracts, job descriptions, policies, or procedures to prevent it from happening again. Entrepreneurs can't afford to make the same mistake twice. They build their successes on the backs of their mistakes.
Next time we will discuss how you can spot candidates who exhibit resourcefulness, preparedness, teamwork and organization, all essential ingredients of the entrepreneurial DNA.
Who We Are
Michael Houlihan and Bonnie Harvey co-authored the New York Times bestselling business book, The Barefoot Spirit: How Hardship, Hustle, and Heart Built America's #1 Wine Brand. The book has been selected as recommended reading in the CEO Library for CEO Forum, the C-Suite Book Club, and numerous university classes on business and entrepreneurship. It chronicles their humble beginnings from the laundry room of a rented Sonoma County farmhouse to the board room of E&J Gallo, who ultimately acquired their brand and engaged them as brand consultants. Barefoot is now the world's largest wine brand.
Beginning with virtually no money and no wine industry experience, they employed innovative ideas to overcome obstacles, create new markets and forge strategic alliances. They pioneered Worthy Cause Marketing and performance-based compensation. They built an internationally bestselling brand and received their industry's "Hot Brand" award for several consecutive years.
They offer their Guiding Principles for Success (GPS) to help entrepreneurs become successful. Their book, The Entrepreneurial Culture: 23 Ways To Engage and Empower Your People, helps corporations maximize the value of their human resources.
Currently they travel the world leading workshops, trainings, & keynoting at business schools, corporations, conferences. They are regular media guests and contributors to international publications and professional journals. They are C-Suite Network Advisors & Contributing Editors. Visit their popular brand building site at www.consumerbrandbuilders.com.
To make inquiries for keynote speaking, trainings or consulting, please contact sales@thebarefootspirit.com.