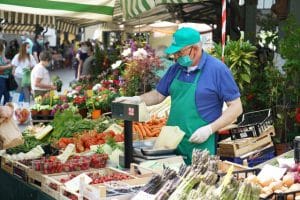 There is no doubt that the virus has exposed big cracks in our supply chains and distribution systems. Consolidation and efficiency of scale that result in low prices and higher standards of living require the compression of human beings, whether in a city, in office buildings, in transportation, or in factories.
Now that people are social distancing, our standard of living is being challenged. Where do we get our food and how is that market changing? The answer may be right around the corner!
Eat Local …Again!
For one thing, there has been a big resurgence in Farmers Markets. They sell predominately locally raised foods with minimum shipping and handling. Plus the marketplace itself is OUTSIDE, now considered to be a much safer place to shop than in an enclosed space that traps exhaled droplets.
Back to the Country!
It's interesting to witness the increasing flight from the cities. The folks fortunate enough to have country properties are living there, often on a full-time basis. Lower income folks, especially those who have lost their city jobs, are also moving. They are fleeing to the country when possible, often to the home of their parents or family, where the cost of living is less and access to a healthy food supply is more available. The same is true for students whose college classrooms are closed.
The massive shift to the home-based workplace has made it possible for many city dwellers to work from anywhere. Now we don't need to live in a city to earn an income. Why put up with the high rent, congestion, competition, increased health concerns and increasing supply chain disruptions?
Back to Victory Gardens and Barter
The run on vegetable starts and seeds has been phenomenal. Just try to buy some online. The supplies are getting shorter and the waits are getting longer. We are fortunate enough to live in the country and our neighbors regularly trade eggs for greens, greens for squash and potatoes, squash and potatoes for fruit, and so on. But, still that comes down to who got the seeds before they ran out. I know we will be saving our seeds this year for next year's garden.
Back to Decentralization
During the days of massive consolidation (as recent as last January), centralized meat processing underpriced local processors by so much that many had to close. Imagine growing livestock locally and then having to ship it hundreds of miles to get it processed, then delivered back to the same local market for sale. Seems rather energy dependent and onerous. Now there's a demand to bring back local meat processing closer to the local source and the local market.
We are seeing a major increase in cottage industries, businesses where the creation of products and services is home-based, rather than factory-based.  Whether it's the production of masks, hand sanitizers, beverages, or prepared foods, these local producers rely on their community to prefer and buy their products.
The World Next Door
Hospitality and recreational businesses are beginning to focus on a more local market. Urban folks would rather drive than fly to their next weekend holiday or vacation. That means their destination is within 200 miles of their city. The airport process is becoming more time consuming, the fares are increasing, and the flights are fewer. Plus, many feel travel is safer in their own cars. This will ultimately help the local hospitality and recreation industries which are suffering so much right now.
Learning from The Great Depression  
All this change to local focus is not new. It happened before in the 1930's. People were unemployed and supply chains broke down. People did what they had to do to survive: They got back to business with a local focus!
Stay local. Buy local. Support your neighbors and friends. Good luck everybody. We wish you the best getting through this!  And once we experience the many benefits of supporting local businesses, we may just want to continue doing so!7 Ways to Get Back to Business with Local Focus
Who We Are
Michael Houlihan and Bonnie Harvey co-authored the New York Times bestselling business book, The Barefoot Spirit: How Hardship, Hustle, and Heart Built America's #1 Wine Brand. The book has been selected as recommended reading in the CEO Library for CEO Forum, the C-Suite Book Club, and numerous university classes on business and entrepreneurship. It chronicles their humble beginnings from the laundry room of a rented Sonoma County farmhouse to the board room of E&J Gallo, who ultimately acquired their brand and engaged them as brand consultants. Barefoot is now the world's largest wine brand.
Beginning with virtually no money and no wine industry experience, they employed innovative ideas to overcome obstacles, create new markets and forge strategic alliances. They pioneered Worthy Cause Marketing and performance-based compensation. They built an internationally bestselling brand and received their industry's "Hot Brand" award for several consecutive years.
They offer their Guiding Principles for Success (GPS) to help entrepreneurs become successful. Their book, The Entrepreneurial Culture: 23 Ways To Engage and Empower Your People, helps corporations maximize the value of their human resources.
Currently they travel the world leading workshops, trainings, & keynoting at business schools, corporations, conferences. They are regular media guests and contributors to international publications and professional journals. They are C-Suite Network Advisors & Contributing Editors. Visit their popular brand building site at www.consumerbrandbuilders.com.
To make inquiries for keynote speaking, trainings or consulting, please contact sales@thebarefootspirit.com.