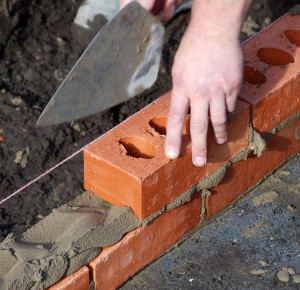 When you build a house, the foundation must be laid strong and straight. If it's not, the framers try to make up for it. When they can't, the drywall guys try to make up for it. When they can't, the painters try to make up for it. When they can't, you're going to have to live with it. So rather than cause problems all the way up your structure, lay your foundations straight and true.
It's been said that it's not the journey of 1000 leagues that wears down the mighty soldier, but the tiny pebble in his shoe. Here are some philosophical considerations that can help lay the foundations for your business and make the journey less wearing:
1. Have you put yourself in your customer's shoes? Does your product add value to your customer's life? Is it dependably available? Are you willing to do what is necessary to provide exceptional customer service? How will you gain feedback and keep your product relevant?
2. Have you put yourself in your distributor's shoes? Do you know why he would carry your product? Are you willing to help him sell it? Do you understand the processes involved? Do you know why his retail customers buy your product? It might not be for the reasons you think.
3. Have you put yourself in your own people's shoes? What are their goals, expectations, and aspirations? What kind of training and direction do they need? Are you willing to write down policies and procedures? What kind of culture will you provide? Will they be compensated to perform?
4. Have you put yourself in your creditors' shoes? Are you willing to provide honest communication even when you can't perform? Are you concerned about their payables? Will your integrity give them a reason to increase your credit and terms? Would you lend money to yourself?
5. Are you willing to take a smaller slice of a larger pie? Are you willing to share in the increased profits with those who make it possible? Are you going to reduce the cost of turnover by providing financial opportunities to stay with your company?
6. Do you know how to make mistakes right? Will people be fired because they made a mistake? Will your staff hide mistakes as a result? Or will you reward those that solve potentially reoccurring mistakes by identifying how they were made and suggesting new documentation?
7. Do you understand that sales provide all the income for your business and pay all your salaries? Will you organize you company, pay structure, and culture accordingly? Will the customer be on top, then the sales and customer service people, then everyone else?
The answers to these questions will determine the philosophical foundation of your business. Everything else that follows is influenced and shaped by those answers. Make sure you have answered them honestly before you begin to structure your business. The journey is hard and long enough without a pebble in your shoe.
Who We Are
Michael Houlihan and Bonnie Harvey co-authored the New York Times bestselling business book, The Barefoot Spirit: How Hardship, Hustle, and Heart Built America's #1 Wine Brand. The book has been selected as recommended reading in the CEO Library for CEO Forum, the C-Suite Book Club, and numerous university classes on business and entrepreneurship. It chronicles their humble beginnings from the laundry room of a rented Sonoma County farmhouse to the board room of E&J Gallo, who ultimately acquired their brand and engaged them as brand consultants. Barefoot is now the world's largest wine brand.
Beginning with virtually no money and no wine industry experience, they employed innovative ideas to overcome obstacles, create new markets and forge strategic alliances. They pioneered Worthy Cause Marketing and performance-based compensation. They built an internationally bestselling brand and received their industry's "Hot Brand" award for several consecutive years.
They offer their Guiding Principles for Success (GPS) to help entrepreneurs become successful. Their book, The Entrepreneurial Culture: 23 Ways To Engage and Empower Your People, helps corporations maximize the value of their human resources.
Currently they travel the world leading workshops, trainings, & keynoting at business schools, corporations, conferences. They are regular media guests and contributors to international publications and professional journals. They are C-Suite Network Advisors & Contributing Editors. Visit their popular brand building site at www.consumerbrandbuilders.com.
To make inquiries for keynote speaking, trainings or consulting, please contact sales@thebarefootspirit.com.