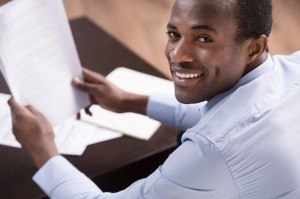 The more your boss trusts you, the faster you become indispensable. They want to rely on you to do your job right, and that means relatively free of errors. Sure, there are bosses that want to micromanage everything you do. Those bosses are actually preventing their people from ever becoming self-reliant. We are not talking about those kinds of bosses.
Too many folks come out of the academic environment where there "work" is constantly graded and corrected. Their teachers are the "safety net." But now that you have landed that job, you have to make a conscious effort to operate without constant hand-holding. Here are some questions you should be asking to become indispensable in your job:
1.Why am I doing this? Understand the reasons behind every aspect of your job. Don't just do it because that's what you have to do to get paid. When you truly get why your job is essential to the customer experience and why that experience results in all the money that the company makes (including your compensation), you will have the clarity of purpose necessary to become dependable. If you don't understand this critical relationship ask questions until you do.
2. What am I doing? Don't just look at the cookie cutter aspects of your job. Understand the big picture including the timing restraints, the scope of the responsibility, and the routines you must adhere to in order to keep things from getting by you. If you do it once and it requires constant updating, don't let your boss have to constantly remind you to update it on a regular basis. You're boss wants to know that you understand the total responsibility and own it.
3. Is my work correct? When your boss has to check your work all the time, they can get the idea that you can't be depended upon. Read your own work before you send it in. Look for errors and omissions. We know it's difficult and no one is perfect. We have found tons of mistakes in our own work when we read it over a few times. Did you cover all the bases? Is it thorough? Did you read the entire request? Are you proud of your work?
4. What needs to be done on a regular basis? Are there items that need to be updated routinely? When you first find out about them, make a checklist right then. Maybe you need a calendar reminder. Some items may need updating as they come in rather than on a calendar basis. If your boss has to remind you of an overlooked part of your job, start a checklist right then. By developing the discipline to know what these items are and recognize them as part of your job, you will become more indispensable to your company.
5. Can you improve the process? Once you understand the job and have been doing it for a while, you will be more likely to see short cuts and other efficiencies that make the job easier and more reliable. The next time you want to blame somebody else for a screw up, ask yourself what you can do in your own backyard to make the situation least likely to reoccur. Suggest and offer new written procedures, checklists and sign-off sheets. Your boss and the whole company will appreciate it.
Most bosses don't have the time to micromanage you. They want to depend on your work to be thorough and correct. They want to rely on you to take ownership of your job and be responsible for dependable, quality performance. Once that happens, you are more likely to gain responsibility, promotion, security and raises.
Who We Are
Michael Houlihan and Bonnie Harvey co-authored the New York Times bestselling business book, The Barefoot Spirit: How Hardship, Hustle, and Heart Built America's #1 Wine Brand. The book has been selected as recommended reading in the CEO Library for CEO Forum, the C-Suite Book Club, and numerous university classes on business and entrepreneurship. It chronicles their humble beginnings from the laundry room of a rented Sonoma County farmhouse to the board room of E&J Gallo, who ultimately acquired their brand and engaged them as brand consultants. Barefoot is now the world's largest wine brand.
Beginning with virtually no money and no wine industry experience, they employed innovative ideas to overcome obstacles, create new markets and forge strategic alliances. They pioneered Worthy Cause Marketing and performance-based compensation. They built an internationally bestselling brand and received their industry's "Hot Brand" award for several consecutive years.
They offer their Guiding Principles for Success (GPS) to help entrepreneurs become successful. Their book, The Entrepreneurial Culture: 23 Ways To Engage and Empower Your People, helps corporations maximize the value of their human resources.
Currently they travel the world leading workshops, trainings, & keynoting at business schools, corporations, conferences. They are regular media guests and contributors to international publications and professional journals. They are C-Suite Network Advisors & Contributing Editors. Visit their popular brand building site at www.consumerbrandbuilders.com.
To make inquiries for keynote speaking, trainings or consulting, please contact sales@thebarefootspirit.com.