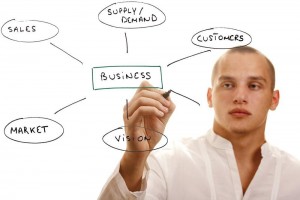 The prospects for self-employment have never been brighter. Information is at your fingertips. Rents, labor, and interest rates are at an all-time low. Big corporations, stifled by their own structures, outmoded compensation plans and legal constrictions, are hungry to acquire new and innovative ideas from the outside.
The prospects are great and the opportunity is now, but can entrepreneurship actually be taught? Certainly, the skills and tools that, from our experience, are absolutely necessary to be a successful entrepreneur can be taught. More and more business colleges across the nation that are creating schools and centers of entrepreneurship agree.
This fall thousands of students of entrepreneurship return to school to work on their degrees in this relatively new course of study. But who will they impress with a degree in entrepreneurship? They have just earned a degree in self-employment! This is a truly different kind of student, not the kind who wants a degree because it's a job requirement. They plan to build themselves their own job! They are studying entrepreneurship because they want to be successful in their own businesses.
When we started Barefoot Cellars, we didn't have the benefit of the entrepreneurial education now being offered across the country. It would have made our journey smoother and shorter. Not long after we sold Barefoot, the Great Recession hit. We had never lived through anything like it. We watched businesses fold, money dry up, and people lose their homes.
It was heartbreaking to see what was happening to our country. Many of the middle management jobs that provided entry-level positions for business grads had vanished. Outsourcing and automation took their toll on the workforce.
We wanted to do something about it, but we felt powerless. Then we did what we always do in a crisis: we took inventory! When we looked closely at what we had to offer and what was going on around us, we discovered we possessed some powerful assets we could share. We had a successful entrepreneurial experience. We were living in a country that had to rebuild itself the same way it did after the Great Depression, the World War, and the bursting of the Dot-com bubble – through entrepreneurship. Self-employment suddenly began to look like the best chance of employment.
It was then that we decided to stop procrastinating and write our book.
But, what could we offer that was yet to be taught in schools? We decided on the set of guiding principles that we learned during our 20 years building our brand. These are the business philosophies and standards that saved us so many times. We conveyed those concepts in fun stories about a popular national brand familiar to most people. We wrote The Barefoot Spirit to inspire, encourage, and empower a whole new generation of entrepreneurs.
Our intention was to write a book that would be required reading in the new schools of entrepreneurship as a modern case study of a start-from-nothing American success story. It is filled with all the bumps, mistakes, and missteps that happen in the real world. We are happy that many schools are adopting The Barefoot Spirit as a guide and an entertaining lesson in what to expect after you graduate and go out there and really do it. We like to think it fills in the gaps between learning how to write a business plan, a budget, or an application for a business loan, and what else it takes to be successfully self-employed. We wanted to give them tools they can use.
After many decades out of school, we're going back to school again, only this time it is as thought leaders in entrepreneurship. We will be speaking to thousands of students this fall in Florida, Georgia, Texas, Illinois, and Indiana. We are proud to be making a difference in the lives of these courageous young people who hold our country's future in their hands.
Who We Are
Michael Houlihan and Bonnie Harvey co-authored the New York Times bestselling business book, The Barefoot Spirit: How Hardship, Hustle, and Heart Built America's #1 Wine Brand. The book has been selected as recommended reading in the CEO Library for CEO Forum, the C-Suite Book Club, and numerous university classes on business and entrepreneurship. It chronicles their humble beginnings from the laundry room of a rented Sonoma County farmhouse to the board room of E&J Gallo, who ultimately acquired their brand and engaged them as brand consultants. Barefoot is now the world's largest wine brand.
Beginning with virtually no money and no wine industry experience, they employed innovative ideas to overcome obstacles, create new markets and forge strategic alliances. They pioneered Worthy Cause Marketing and performance-based compensation. They built an internationally bestselling brand and received their industry's "Hot Brand" award for several consecutive years.
They offer their Guiding Principles for Success (GPS) to help entrepreneurs become successful. Their book, The Entrepreneurial Culture: 23 Ways To Engage and Empower Your People, helps corporations maximize the value of their human resources.
Currently they travel the world leading workshops, trainings, & keynoting at business schools, corporations, conferences. They are regular media guests and contributors to international publications and professional journals. They are C-Suite Network Advisors & Contributing Editors. Visit their popular brand building site at www.consumerbrandbuilders.com.
To make inquiries for keynote speaking, trainings or consulting, please contact sales@thebarefootspirit.com.