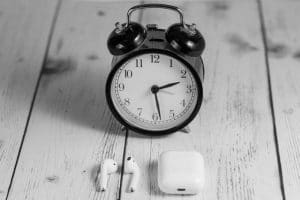 Probably the most common question we get from candidates interested in having us produce a Business Audio Theatre for them is, "How long will it be?" and it's corollary, "How long will it take to produce?" followed by, "How much will it cost?" All these question are related to and depend on duration. So let's address the first question, "How long is it?"
To better engage the listener, Business Audio Theatre is performed, not just narrated. It is a 3-D radio drama reminiscent of the 1940's, before television, where producers engaged their listeners' imagination to tell a convincing and memorable story.  The result is more like a movie only without the physical sets and videography.
The length of a Business Audio Theatre (BAT) production has everything to do with what you want it to accomplish. Designed as a learning tool to engage employees by relating the founder's and company's principles, we help the founder clarify what those principles are, and what stories can be told to achieve the objective of relaying those principles. At Business Audio Theatre, we have an award-winning journalist who will help founders lay out those objectives and develop stories to achieve them. In fact, that is the first step in the process of the audio playwriting.
During that initial interview, the goals of the founder will be discussed in the format of a BAT production. Some of the questions we ask are:
Who will be the recipients of your BAT? New hires, current employees, your customers, lenders, business partners or investors, suppliers, end-users of your product or service? It may be one or all of these, or it may be something entirely different, such as to preserve a family legacy.
Do you want to simply convey the story of your business?
Is your goal to go beyond the history of your business and demonstrate actions and outcomes that exemplify a type of behavior, thinking, or spirit that you want to imbue into your new and existing people?
Do you want the listeners to recall those scenes and use those principles to guide their actions within your company, like their relations with vendors, fellow employees and outsourced services and customers?
How do you foresee this BAT being used?
Like a book, duration is based on the number of words. A standard business book today runs about 200 – 300 pages with approximately 300 words per page or 60,000 to 90,000 words. If simply narrated, that would result in 5-6 hours. But in the case of Business Audio Theatre, the founder's goals may be met in a 1, 2, or 3 hour production, or in a series of 3-5 BAT productions, each with a different theme or principle. No pre-written book is necessary. Our journalist will write the stories that depict the principles of the founder.
In our Business Audio Theatre production, The Barefoot Spirit, our goal was to both tell the story and also demonstrate the spirit of our unique company culture, revealed in action-packed scenes . In order to accomplish that, and in respect for folk's short attention span, we performed 5-10 mini scenes, each 2-4 minutes long, and put them in 10 segment or chapters. Each chapter is 25 – 45 minutes, making our total production 7 hours. We also added a 2-minute podcast-style interview at the end of each chapter with the real founders where they reflected on the events acted out in the chapter.
There is an obvious balance between the attention span of people and the time it takes to get the message across in an entertaining and engaging way. That's why we broke ours up into mini-scenes but kept the segments, or chapters, to 30-45 minutes, a reasonable time for a commute, jog, or task.
That's the framework and consideration for planning purposes during the initial interview.
So, how long? Let us help you answer that question at www.businessaudiotheatre.com and our new BAT LinkedIn page.
Who We Are
Michael Houlihan and Bonnie Harvey co-authored the New York Times bestselling business book, The Barefoot Spirit: How Hardship, Hustle, and Heart Built America's #1 Wine Brand. The book has been selected as recommended reading in the CEO Library for CEO Forum, the C-Suite Book Club, and numerous university classes on business and entrepreneurship. It chronicles their humble beginnings from the laundry room of a rented Sonoma County farmhouse to the board room of E&J Gallo, who ultimately acquired their brand and engaged them as brand consultants. Barefoot is now the world's largest wine brand.
Beginning with virtually no money and no wine industry experience, they employed innovative ideas to overcome obstacles, create new markets and forge strategic alliances. They pioneered Worthy Cause Marketing and performance-based compensation. They built an internationally bestselling brand and received their industry's "Hot Brand" award for several consecutive years.
They offer their Guiding Principles for Success (GPS) to help entrepreneurs become successful. Their book, The Entrepreneurial Culture: 23 Ways To Engage and Empower Your People, helps corporations maximize the value of their human resources.
Currently they travel the world leading workshops, trainings, & keynoting at business schools, corporations, conferences. They are regular media guests and contributors to international publications and professional journals. They are C-Suite Network Advisors & Contributing Editors. Visit their popular brand building site at www.consumerbrandbuilders.com.
To make inquiries for keynote speaking, trainings or consulting, please contact sales@thebarefootspirit.com.