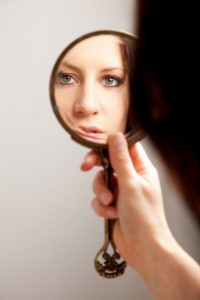 The critical decisions we make in business are guided by our attitudes toward our employees, our creditors, our vendors' representatives, and our customers. How we treat these people is based on our perceptions, opinions, and attitudes.
In this series, we have endeavored to demonstrate how our guiding principles affect our success. By putting ourselves in the other person's shoes, we get an objective view of our own business practices. The ultimate standard by which most business decisions should be measured is, "How would you like it?"
Seems simple, but it's not. So here is the last question:
4. Would You Buy From Yourself? (This includes the correlated question, "Would you buy your own product or service?") Would you buy from a company that treated you like a pain in the neck if you had a problem with their product, or would you prefer to buy from a company that thanked you for bringing your concerns to their attention? Would you buy a product that previously tricked you with false claims, fancy packaging, and an amazing price? Or would you be loyal to a product that demonstrated time-tested value? Would you continue to buy a product that had "cheapened" over time, or would you shop for an alternative? Would you rather buy from a company that saw your purchase as clicks on a page, or one that gave you personalized attention before and after your purchase?
When we built the Barefoot Wine brand, we were often pressured by producers, packagers, middlemen and retailers to reduce our price – even if it meant reducing our quality. This implied that price was the main reason our customers bought our products. We were advised to use less expensive supplies, cheaper packaging, and mass standardization. They told us it would make their jobs easier. We resisted their well-meaning attempts to reduce costs and labor. We believed they did not take into account the value proposition to our customers. We believe that brand loyalty is based on the same concerns that we as consumers have about the products we buy. Here is what concerns us:
Over Delivery. We look for products and services that provide good value for the price, either in quality, quantity, or both. When products meet or exceed our expectations, we are more likely to remain loyal and recommend to friends and family. When those brands take a stand on issues important to us and our community, we have a further incentive to remain loyal.
Perception of Quality. A product's packaging, pricing, and reputation all send us signals about its value. If it lives up to those "brand promises" of quality, we are validated in our decision to buy. Until the price goes up, the quality goes down, or the packaging becomes more corporate or generic, we remain loyal. Consistent quality and value is king.
Third Party Endorsements. We all need the continued validation that we are making the right decision to be loyal to a brand.  Awards, accolades and endorsements are what we look for. Continued recognition for quality and value demonstrates reliability, and keeps us coming back.
Excellent Customer Service. How we are treated when things go wrong is more important  than how we are treated when things go right. It's when we see a company's true colors and decide whether or not to continue buying their products. Reputation is based on excellent customer service.
It's just good business to put ourselves in the other guy's shoes. Our guiding principles are the standards by which we make our decisions. Sell the product you would buy. Build the brand you would be loyal to.      
Who We Are
Michael Houlihan and Bonnie Harvey co-authored the New York Times bestselling business book, The Barefoot Spirit: How Hardship, Hustle, and Heart Built America's #1 Wine Brand. The book has been selected as recommended reading in the CEO Library for CEO Forum, the C-Suite Book Club, and numerous university classes on business and entrepreneurship. It chronicles their humble beginnings from the laundry room of a rented Sonoma County farmhouse to the board room of E&J Gallo, who ultimately acquired their brand and engaged them as brand consultants. Barefoot is now the world's largest wine brand.
Beginning with virtually no money and no wine industry experience, they employed innovative ideas to overcome obstacles, create new markets and forge strategic alliances. They pioneered Worthy Cause Marketing and performance-based compensation. They built an internationally bestselling brand and received their industry's "Hot Brand" award for several consecutive years.
They offer their Guiding Principles for Success (GPS) to help entrepreneurs become successful. Their book, The Entrepreneurial Culture: 23 Ways To Engage and Empower Your People, helps corporations maximize the value of their human resources.
Currently they travel the world leading workshops, trainings, & keynoting at business schools, corporations, conferences. They are regular media guests and contributors to international publications and professional journals. They are C-Suite Network Advisors & Contributing Editors. Visit their popular brand building site at www.consumerbrandbuilders.com.
To make inquiries for keynote speaking, trainings or consulting, please contact sales@thebarefootspirit.com.