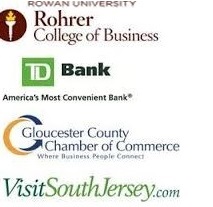 Throughout the country, local businesses continue to provide the majority of employment and economic opportunity. Organized into local chambers of commerce, they seek to work together to maximize relationships between their members, provide environments conducive to healthy business, and attract new commercial enterprises that add benefit to existing businesses. These local chambers also provide information on the latest local developments, alerts about scams and burglaries, and announcements about upcoming events that will impact their members.
We recently spoke to the members of the Gloucester County Chamber of Commerce in Southern New Jersey. Together with Rowan University, they put on what they called a soirée . The evening started with a meet and greet where we discovered that the Gloucester County Chamber had a long history of support for the University and especially for their entrepreneurial initiatives. They had, In fact, underwritten the evening's program that involved wine tastings from local wineries, plentiful appetizers and a sumptuous meal hosted by one of their members, a top caterer in his own beautiful lakeside venue. As their guest speakers, we spoke about how we supported our community, and vice versa, to tie in our past to their future.
When Barefoot started, we were broke and didn't know where to turn for financing. We didn't own any property, so the bank was pretty much out. We had to rely on our suppliers and our buyers to help us achieve positive cash flow. They had a financial stake in our success because our growth and the greater availability of our products would result in more purchases of their goods and services by us. They were all there for us at our local chambers!
Today we encourage students of entrepreneurship to join their local chamber when they start their businesses to get an idea of the far reaching resources available in their own communities. These folks are natural strategic allies and they are already networked. Through their considerable contacts they can put aspiring entrepreneurs in touch with the right people. Local businesses are more likely to understand the ups and downs of a new business and are more willing to be flexible to help make them be successful.
Our local chamber knew us and our goals. They wanted to contribute to our success. We even used barter with local businesses in the early days to get graphics, bookkeeping, legal, and compliance services performed. As Barefoot grew, we continued to use local merchants for our increasing need for supplies and services. We purchased grapes, wine and even recycled glass locally. Eventually we got a local bank to take a chance and give us a line of credit. All of our professional services were locally sourced.
Working with our local chamber paid off for us, and them.  And that's the whole idea of a chamber, working together so everyone benefits, and that inures to our residential communities as well, providing top notch goods and services, places of employment, economic stability and a higher standard of living.
The Gloucester County Chamber of Commerce Is a shining example of how local businesses can have regional and even national impact. Their support for the new wine industry (yes, wineries in New Jersey!) will have a domino effect on small businesses as tourists from Philadelphia, just 30 miles away, discover a new reason to visit Gloucester County. Their support for Rowan University and its entrepreneurial teachings will pay off with local start-ups that hold the promise of becoming the seeds for the future economy of Gloucester County. Bravo!
Who We Are
Michael Houlihan and Bonnie Harvey co-authored the New York Times bestselling business book, The Barefoot Spirit: How Hardship, Hustle, and Heart Built America's #1 Wine Brand. The book has been selected as recommended reading in the CEO Library for CEO Forum, the C-Suite Book Club, and numerous university classes on business and entrepreneurship. It chronicles their humble beginnings from the laundry room of a rented Sonoma County farmhouse to the board room of E&J Gallo, who ultimately acquired their brand and engaged them as brand consultants. Barefoot is now the world's largest wine brand.
Beginning with virtually no money and no wine industry experience, they employed innovative ideas to overcome obstacles, create new markets and forge strategic alliances. They pioneered Worthy Cause Marketing and performance-based compensation. They built an internationally bestselling brand and received their industry's "Hot Brand" award for several consecutive years.
They offer their Guiding Principles for Success (GPS) to help entrepreneurs become successful. Their book, The Entrepreneurial Culture: 23 Ways To Engage and Empower Your People, helps corporations maximize the value of their human resources.
Currently they travel the world leading workshops, trainings, & keynoting at business schools, corporations, conferences. They are regular media guests and contributors to international publications and professional journals. They are C-Suite Network Advisors & Contributing Editors. Visit their popular brand building site at www.consumerbrandbuilders.com.
To make inquiries for keynote speaking, trainings or consulting, please contact sales@thebarefootspirit.com.