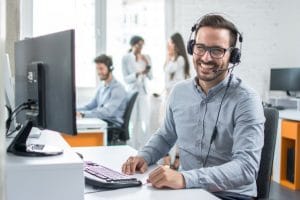 In most large companies, the customer service department is strictly for complaint resolution. Companies usually relegate customer service to the bottom of the corporate structure pyramid because they're seen as some kind of a clerical call center. They're the ones who answer the 800 number complaints and comments. And they're the ones who are expected to solve customer problems "down" at their level.
In the top-down structure of the classic pyramid company, production and marketing have a higher status than sales and customer service. Products are pushed down to the salespeople to sell. And if any complaints try to come back up, you guessed it, they are kept down by the customer service people.
Some companies actually rate their customer service people by how few complaints escalate up to management. We think this limited view of the customer service is not only unfair, but it's unprofitable, wasteful, and ultimately unwise.
Why? Because this view of customer service ignores the fact that, except for your salespeople, your customer service people are the only ones in your company who talk directly to your customer every day. They know what your customers like …and hate about your company's products. They know about your competition. They hear daily suggestions about how to improve your products. They know when and where your products are out of stock. And they are the ones who can turn your complainers into advocates.
In fact, we don't call it "Customer Service." We call it "Customer Intel."
The Two-Division Company
A popular keynote we present for large companies that want to engage and empower their people with the entrepreneurial spirit is "The Two Division Company." The two divisions are Sales (which includes Customer Service) and Sales Support  (everybody else from the CEO to the receptionist).
Customer Service – Resolve Issues, Win Back Customers & Get Feedback
A customer can only give you two things: their money and their feedback. The feedback is extremely valuable. That's because it is the information you need to keep your goods and services relevant, stay on top of your distribution system, and stay ahead of your competition. In other words, it's the information you need to stay in business!
Unlike the focus groups and market studies that the marketing people spend thousands on, the information your customer service people get is unfettered, unbiased, and timely. And it comes from folks who care enough about your company to call and complain. Many are brand advocates seeking resolution for their favorite brand, the brand they've told their friends and neighbors to buy. Now that brand let them down. If they can get resolution they won't feel obligated to go back and tell everyone they know about the problems they ran into. Instead, they will celebrate the problems and the solutions as validation for their continued advocacy.
Once their problem has been resolved, they can provide vital information you need like: Where did they buy it? Was it in stock? How long have they been a customer? Have they been satisfied with it in the past? What suggestions do they have to improve your products, marketing, and service? Will they recommend your brand to others?
Formal Lines of Communication Focusing on Sales & the Customer
If you don't have it already, we recommend that you at least establish formal lines of communication between sales and customer service on the one hand, and production, marketing, and management, on the other. By focusing on sales and the customer, instead of divisions of labor, specialization, and chains of command, some of those complaints and suggestions can find their way back up into the company structure where they belong to keep your products relevant and competitive.
Why not start today by renaming your customer service department, "Customer Intel" and benefit from what they hear from your customers? They can do much, much more than complaint resolution.
Who We Are
Michael Houlihan and Bonnie Harvey co-authored the New York Times bestselling business book, The Barefoot Spirit: How Hardship, Hustle, and Heart Built America's #1 Wine Brand. The book has been selected as recommended reading in the CEO Library for CEO Forum, the C-Suite Book Club, and numerous university classes on business and entrepreneurship. It chronicles their humble beginnings from the laundry room of a rented Sonoma County farmhouse to the board room of E&J Gallo, who ultimately acquired their brand and engaged them as brand consultants. Barefoot is now the world's largest wine brand.
Beginning with virtually no money and no wine industry experience, they employed innovative ideas to overcome obstacles, create new markets and forge strategic alliances. They pioneered Worthy Cause Marketing and performance-based compensation. They built an internationally bestselling brand and received their industry's "Hot Brand" award for several consecutive years.
They offer their Guiding Principles for Success (GPS) to help entrepreneurs become successful. Their book, The Entrepreneurial Culture: 23 Ways To Engage and Empower Your People, helps corporations maximize the value of their human resources.
Currently they travel the world leading workshops, trainings, & keynoting at business schools, corporations, conferences. They are regular media guests and contributors to international publications and professional journals. They are C-Suite Network Advisors & Contributing Editors. Visit their popular brand building site at www.consumerbrandbuilders.com.
To make inquiries for keynote speaking, trainings or consulting, please contact sales@thebarefootspirit.com.