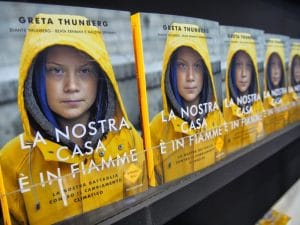 16 year-old-climate activist, Greta Thunberg, in her address to the 2019 UN Climate action Summit in New York this week was clear. "You are failing us," she said. "But the young people are starting to understand your betrayal. The eyes of all future generations are upon you. And if you choose to fail us, I say: We will never forgive you. We will not let you get away with this. Right here, right now is where we draw the line. The world is waking up. And change is coming, whether you like it or not."
If you're wondering what she is alluding to, it's simple. Governments and businesses that directly or inadvertently contribute to the climate crisis will suffer the consequences. Not only will the future generations hold them responsible, but, if you can extrapolate from Greta's own behavior, they won't buy from those who contribute to the climate crisis! Since she started to speak out when she was 14, she has carefully made purchasing choices that support businesses and products that are sustainable. She is sending a message to her generation, the real future of your company's sales, to think about how they are spending their money!
Business makes the world go 'round. Or so they say. They also say, "The customer is always right." We are in the business of teaching and promoting the business principles that made our brand extremely successful. And we continue to write our articles and offer our advice to help others succeed faster. We want Greta and her generation to succeed – AND FAST!
The central theme we continue to espouse is simply to put yourself in the other person's shoes. Sounds like the Golden Rule. Sounds simple. But where it becomes complicated is in the execution, in the practical application, and in the context of your future customers and the ultimate sustainability of your business itself.
Why support businesses that are "betraying young people?" Why support officials who are complicit with the systematic destruction of the ecosystem, food supply, and habitability of the planet? 16-year-olds will be voting in two years and they are buying this year! Why let your company be blackballed by the next generation of potential customers? It's very short sighted and ultimately self-destructive. In a word, it's just plain bad business.
According to AC Nielsen, companies that actively tout sustainability are already beginning to outsell those that do not. This is not a fad, a kick, or a trend. It's a permanent shift! If your company is not getting on this bandwagon now, it's liable to get run over by it.
Greta is already a social network force to be reckoned with. Her youth climate strikes are becoming louder, global, and more common. Young people know what's going on and how they will have to pay for the previous generation's spending habits.
Back in the 1960's, young American males were subject to the draft to fight a war for which they had no say. They weren't old enough to  vote and they weren't old enough to drink. But an empowered "establishment" thought they were old enough to fight, whether they wanted to or not. The idea of being forced into a life-threatening situation just because you are not old enough or powerful enough to be taken seriously caused our generation to never really forgive the one that came before us – the one that allowed an ongoing, no-win war that was physically hurting our generation. In fact, the draft was a major driver in our generation's view of its predecessor.
Today, we are the predecessors. The next generation is being mobilized by the same forces of self-preservation and frustration. They will hold us responsible for the world we leave them.
What is your company's answer to Greta and her generation? These new customers demand change. Are you going to give those customers what they want or allow another, more progressive company, to take your customers away?
When you put yourself in the shoes of the 16-year-olds whose lives will be preoccupied with just surviving the climate crises, and when you feel their frustration over climate inaction, what products and services do you think they will buy? How do you think they will vote? We have a saying in business, "The customer is always right!" Maybe it's time to listen to what your new customers are saying.  Listen to Greta's full address.
Who We Are
Michael Houlihan and Bonnie Harvey co-authored the New York Times bestselling business book, The Barefoot Spirit: How Hardship, Hustle, and Heart Built America's #1 Wine Brand. The book has been selected as recommended reading in the CEO Library for CEO Forum, the C-Suite Book Club, and numerous university classes on business and entrepreneurship. It chronicles their humble beginnings from the laundry room of a rented Sonoma County farmhouse to the board room of E&J Gallo, who ultimately acquired their brand and engaged them as brand consultants. Barefoot is now the world's largest wine brand.
Beginning with virtually no money and no wine industry experience, they employed innovative ideas to overcome obstacles, create new markets and forge strategic alliances. They pioneered Worthy Cause Marketing and performance-based compensation. They built an internationally bestselling brand and received their industry's "Hot Brand" award for several consecutive years.
They offer their Guiding Principles for Success (GPS) to help entrepreneurs become successful. Their book, The Entrepreneurial Culture: 23 Ways To Engage and Empower Your People, helps corporations maximize the value of their human resources.
Currently they travel the world leading workshops, trainings, & keynoting at business schools, corporations, conferences. They are regular media guests and contributors to international publications and professional journals. They are C-Suite Network Advisors & Contributing Editors. Visit their popular brand building site at www.consumerbrandbuilders.com.
To make inquiries for keynote speaking, trainings or consulting, please contact sales@thebarefootspirit.com.