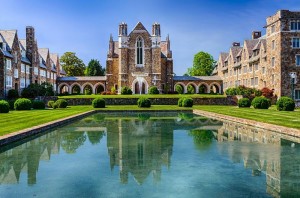 Schools and courses in entrepreneurship are popping up all over the country. Each school has a slightly different approach to teaching this relatively new class study. Some schools have a few specific courses, while others have full curriculums devoted to entrepreneurship.
This results in a wide variety of approaches about how to teach entrepreneurship. Some schools stress the structure and function of building a business and borrow extensively from their business school curriculums, while others are very hands-on and even give academic credit to students engaging in start-ups. Entrepreneurship is so new that there is no consensus on exactly what should be taught.
With the exception of a few schools like Babson that has been teaching entrepreneurship since 1979 and devotes 100% of their classes to it, most schools offer entrepreneurship along with their main, more established majors.
Many universities know they must have entrepreneurship on their curriculum, but what is it exactly? What are the essential courses necessary to create successful graduates? And who will teach it? Have they been entrepreneurs themselves, and were they successful? How is the success of their method of teaching entrepreneurship measured? Is it number of new businesses launched? Or the number of businesses still operating in two years? And how is the success of the graduating students measured? Is it the amount of funding their start-ups garner, the amount of jobs they create, or is it the speed with which they achieve self-sustaining cash flow? These questions have advocates on all sides, and it's still the Wild West out there when it comes to entrepreneurship education.
Since the first part of 2013, we have been traveling and speaking at colleges, universities and centers of entrepreneurship. We have participated with entrepreneurship education organizations where professors of entrepreneurship debate best practices for teaching this course of study. In the process, we have been exposed to many different approaches.
One of the Guiding Principles for Success we promote is to ask questions. We think it's the best way to truly understand what your customers, employees, suppliers, and financiers really want. We encourage aspiring entrepreneurs to find out who their customers are at every level, identify their needs, and ask for constant feedback to provide relevant products and services. Why should it be any different for schools who teach it?
We were recently honored to be the guest speakers at Mississippi State University where we had a truly new and unique experience. From the board of advisers to the students, from the faculty to the Entrepreneurs Club, we were asked basically the same question, "What do you think we could do better to prepare students for the real world? Since you've been through it yourself and seen over 20 schools of entrepreneurship, what can you tell us about what others are doing, and how do you think we can improve our program?"
We hadn't realized before that our experience of not only building Barefoot but, more importantly to them, visiting as many schools as we have gave us a unique overview.
We are not experts and what we know is based solely on our own experiences – building a successful consumer products brand, and talking with students and professors. We respected those who asked the question, and gave them several ideas about form and function that you can read in more detail on our Brand Building site, www.thebrandauthority.net 

But one thing we did stress is the importance of the Liberal Arts and Sales Training, also known as the "Soft Skills," because when you are an entrepreneur you are ipso facto a sales person. You must sell your own people, your buyers, their customers, your vendors and your financiers. It's a firm foundation in the Liberal Arts that will give students a better understanding of different cultures and better communication skills, a necessity for sales. And after all, sales cures all ills!
Who We Are
Michael Houlihan and Bonnie Harvey co-authored the New York Times bestselling business book, The Barefoot Spirit: How Hardship, Hustle, and Heart Built America's #1 Wine Brand. The book has been selected as recommended reading in the CEO Library for CEO Forum, the C-Suite Book Club, and numerous university classes on business and entrepreneurship. It chronicles their humble beginnings from the laundry room of a rented Sonoma County farmhouse to the board room of E&J Gallo, who ultimately acquired their brand and engaged them as brand consultants. Barefoot is now the world's largest wine brand.
Beginning with virtually no money and no wine industry experience, they employed innovative ideas to overcome obstacles, create new markets and forge strategic alliances. They pioneered Worthy Cause Marketing and performance-based compensation. They built an internationally bestselling brand and received their industry's "Hot Brand" award for several consecutive years.
They offer their Guiding Principles for Success (GPS) to help entrepreneurs become successful. Their book, The Entrepreneurial Culture: 23 Ways To Engage and Empower Your People, helps corporations maximize the value of their human resources.
Currently they travel the world leading workshops, trainings, & keynoting at business schools, corporations, conferences. They are regular media guests and contributors to international publications and professional journals. They are C-Suite Network Advisors & Contributing Editors. Visit their popular brand building site at www.consumerbrandbuilders.com.
To make inquiries for keynote speaking, trainings or consulting, please contact sales@thebarefootspirit.com.