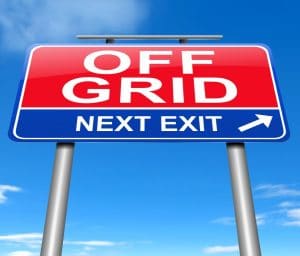 We have personally seen the effects of climate change with warmer oceans, more evaporation, heavier rains, higher temperatures, increased grass and brush growth, longer, hotter, and more frequent heat waves, toasting effect, increased dry fuel, heavy winds, downed power lines, wildfires, urban firestorms, unhealthy air quality, loss of life, loss of  housing, loss of business, loss of forests, loss of infrastructure, higher taxes, higher utility rates, higher insurance premiums. OUCH!
The idea of a centralized power and distribution infrastructure sounded like a great idea a hundred years ago. Lots of cheap power and the cost of the infrastructure was spread out over time. In the '50s and '60s, the power companies were even telling you to use more power. It was cheap so why not?
But by the '90s the conventional power generation and the aging infrastructure were starting to need some big bucks. But since the now monopolistic power company was the only game in town, they were in a position to just raise the rates. By the 2000's they were telling us to cut back, and well we should because the costs kept going up.
The Elephant in The Room
As the system expanded, they decide to go with overhead high tension lines through forests because we were told, "undergrounding is too expensive." Ironically, the overhead lines were responsible for phenomenally expensive liability. They were blown down and caused fires. So, now is the cost of undergrounding still "too expensive?"
Meanwhile, the regulators allow the power companies to increase their rates to stay in business saying they were "too big to fail" – sound familiar? We even read recently that the power company agreed to pay the municipal jurisdictions for their costs during the fires. But where is that money coming from?
The bottom line is that when an infrastructure-based service company becomes big enough, they can simply raise rates. The regulatory agencies are going to allow it.
Silver Lining
The good news in all this is the movement to simply go off the grid. Our local Sutter Hospital just completed covering their parking lot with elevated solar panels. According to Shaun Ralston, hospital spokesman,
"The impetus is really sustainability and self-reliance, so that we don't have to rely on PG&E."
He goes on to point out"There's a desire to be off the grid because we don't want to deal with the vulnerability."
This is certainly food for thought for any business (or home). The Sutter solar can produce enough power to service the needs of 500 patients.
Meanwhile, back to the fires and the wires. Not only is the power company going to charge their customers for their own short-sightedness in developing a dangerous overhead infrastructure, but now they are cutting off the power during periods of high fire danger. Hospitals have to run 24/7. They can no longer afford to be tethered to a system that is unreliable.
Also, don't we need power to pump water from wells to put out the fires? And what about electrically operated doors and gates that can block our escape? What about folks on life support? Power shut offs are just plain dangerous, but now that the vulnerable infrastructure is built and we are relying on it, shutoffs are the lesser of two evils.
Ultimately, true freedom is some form of on-site power production, or at least micro-grids with local generation. The sooner we get there the better.
Rethinking Corporate Power Infrastructure
Climate change and terrorism are making us all rethink our dependence on corporate infrastructures. We simply can't afford to support their mistakes any longer. And interestingly, we can all now afford some kind of alternative home power generation. The cost of solar is at an all-time low and with the subsequent and progressive increases in power costs, it will pay for itself even faster.
Fuel cells running on biogas, advances in wind power, and new and better batteries are all knocking at your door. Maybe it's time to pull the plug!
Gold was discovered at Sutter's Mill in old California. Maybe the new gold has been discovered at Sutter Hospital. Most of us have cut the cord to cable TV and land-line telephones. Is the power cord next?
Who We Are
Michael Houlihan and Bonnie Harvey co-authored the New York Times bestselling business book, The Barefoot Spirit: How Hardship, Hustle, and Heart Built America's #1 Wine Brand. The book has been selected as recommended reading in the CEO Library for CEO Forum, the C-Suite Book Club, and numerous university classes on business and entrepreneurship. It chronicles their humble beginnings from the laundry room of a rented Sonoma County farmhouse to the board room of E&J Gallo, who ultimately acquired their brand and engaged them as brand consultants. Barefoot is now the world's largest wine brand.
Beginning with virtually no money and no wine industry experience, they employed innovative ideas to overcome obstacles, create new markets and forge strategic alliances. They pioneered Worthy Cause Marketing and performance-based compensation. They built an internationally bestselling brand and received their industry's "Hot Brand" award for several consecutive years.
They offer their Guiding Principles for Success (GPS) to help entrepreneurs become successful. Their book, The Entrepreneurial Culture: 23 Ways To Engage and Empower Your People, helps corporations maximize the value of their human resources.
Currently they travel the world leading workshops, trainings, & keynoting at business schools, corporations, conferences. They are regular media guests and contributors to international publications and professional journals. They are C-Suite Network Advisors & Contributing Editors. Visit their popular brand building site at www.consumerbrandbuilders.com.
To make inquiries for keynote speaking, trainings or consulting, please contact sales@thebarefootspirit.com.