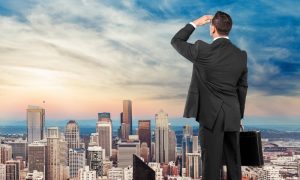 Last Sunday Michael was the guest of Yitzchok Saflas on his Mind Your Business radio show on 77 WABC in New York. Yitzchoks' show is a great place to hear the business minds of our time. And Michael was honored to be chosen to be among such great company. The show is also currently number five in the top 10 Nielsen ratings. Michael's interview is also available online at http://www.mybradio.com/michael-houlihan/.
The show covered the answers to the most common questions asked when building a startup: "How to go from ideation to monetization," and Michael's personal favorite, "How to decipher your true cost of sales."
How to decipher your true cost of sales
Most startups understand their cost of goods, also known simply as COGS. This is what it costs to assemble, build, or manufacture the product you are selling.  The budget will have a line item for COGS.
Other expenses such as advertising, taxes, shipping, and returns are simply lumped together into the general budget or even "overhead." From our perspective, this is the biggest single mistake that startups make and it leads to a cascade of misconceptions that can put them out of business.
The cost of doing business is different in different territories. The selling costs, including taxes, shipping, promotions, representation, and distribution management, just to name a few, can vary widely from market to market. A fatal mistake we see startups making on a regular basis is underestimating the cost of sales in each market, not the cost of goods, but the cost of sales!
Our Barefoot Wine experience (or inexperience)
When we started Barefoot Wine, we knew there'd be some advertising, promotion, and merchandising costs. But we weren't ready for the costs of airfare, car rentals, hotels, meals, samples, taxes, freight, not to mention salary and expenses for a representative in the territory. We found out about all these costs the hard way.
Fast sellers do not necessarily get reordered
Our product was a fast seller, so it sold out. That was the good news. The bad news was it didn't get reordered after it sold out. It sold out and remained out of stock because we didn't have a representative in each territory looking out for our products. We were shocked!
"Ya mean to say that even if retailers and distributors have a hot new product that is selling fast they won't automatically reorder it?" we complained. The answer was demonstrated by their behavior. It could just run out and not be reordered. We had to pay to have a representative in every major territory. This was a big cost of sales. We wish we had known this going in. It wasn't enough just to get into the big stores, now we had to pay big bucks just to stay in.
Don't Forget Taxes and Shipping & Handling Costs
We had one big chain store in the Midwest that said they wanted to put our product on special for $5.99 in five different states. We were thrilled! We thought it would be a slam dunk. But as Bonnie says, "It was just a slam!" It turned out that in order to achieve the $5.99 sale price in two of the five states, we had to lose money on every sale. The taxes in those states were much higher, so was the shipping and handling. Instead of making a killing, we just got killed – by the cost of sales.
Michael's Advice to Startups
One of the last questions that Yitzchok asked Michael was, "What advice would you give new startups today?" Michael's answer was, "Start in a small place. Learn from your mistakes locally where you won't fatally hurt your brand. Learn the cost of sales. Hire a cost accountant to analyze those costs ahead of time for each expansion scenario. Then, 'All ahead slow' with your eyes wide open and your notepad at the ready. You might find out it's cheaper to do business in South Carolina than it is in New York!"
Who We Are
Michael Houlihan and Bonnie Harvey co-authored the New York Times bestselling business book, The Barefoot Spirit: How Hardship, Hustle, and Heart Built America's #1 Wine Brand. The book has been selected as recommended reading in the CEO Library for CEO Forum, the C-Suite Book Club, and numerous university classes on business and entrepreneurship. It chronicles their humble beginnings from the laundry room of a rented Sonoma County farmhouse to the board room of E&J Gallo, who ultimately acquired their brand and engaged them as brand consultants. Barefoot is now the world's largest wine brand.
Beginning with virtually no money and no wine industry experience, they employed innovative ideas to overcome obstacles, create new markets and forge strategic alliances. They pioneered Worthy Cause Marketing and performance-based compensation. They built an internationally bestselling brand and received their industry's "Hot Brand" award for several consecutive years.
They offer their Guiding Principles for Success (GPS) to help entrepreneurs become successful. Their book, The Entrepreneurial Culture: 23 Ways To Engage and Empower Your People, helps corporations maximize the value of their human resources.
Currently they travel the world leading workshops, trainings, & keynoting at business schools, corporations, conferences. They are regular media guests and contributors to international publications and professional journals. They are C-Suite Network Advisors & Contributing Editors. Visit their popular brand building site at www.consumerbrandbuilders.com.
To make inquiries for keynote speaking, trainings or consulting, please contact sales@thebarefootspirit.com.