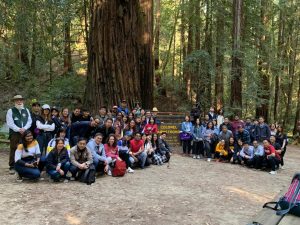 What if, instead of sitting in a classroom, listening to a lecture, and watching a slide deck, you could go outside into a beautiful natural environment and enjoy an interactive learning experience?
Instead of being lectured to, you could enjoy a skit performed live with the actors playing parts demonstrating the business principles throughout story. How would you like that?
Every year we are blessed with a visit from the Master of Science Technopreneurship and Innovation MBA program at Nanyang Technological University in Singapore. After touring Silicon Valley, we invite them to the Sonoma County Wine Country for some fun in nature, along with a unique learning experience.
Tour. Wine. Learn.
This year included a nature tour, wine country picnic in the coastal redwoods, and some tools they can use in their new careers. The day concluded with a wine tasting (Barefoot wines, of course!) and a stroll through the Armstrong Redwoods State Park.
The lessons we shared were about How Soft Skills Earn Hard Cash. These critical skills are so often overlooked in the pursuit of technical excellence.
Short Skits in Lieu of the Usual Lecture
But this year there was one notable exception. Instead of a lecture with Q&A, we did something entirely different. We worked out and performed 6 short skits.
There were 3 acts, with 2 scenes in each, which focused on a real business challenge. Each of the 3 acts demonstrated one of the 3 key business relationships (Employees, Vendors, and Buyers). And each one of the scenes in each act demonstrated two opposite ways of handling the challenge, one lacking soft skills and the other embracing soft skills.
The students saw the stories acted out with the subsequent consequences of the different approaches to the same challenges.
To make it fun, we created two fictitious skateboard companies, one, "Cheap Skate," and the other, "Above Board." They couldn't be more different in their approach to employees, vendors, and buyers.
We even had props we used to make it more fun including caps printed with Cheap Skate and Above Board, telephone bells, and, of course, skateboards!
The CEO of Cheap Skate operated from a foundation of fear and limited wealth. He was short-sighted and narrow-minded which resulted in him losing his best salesperson, losing his credit, and getting discontinued from Skate Board Depot.
The CEO of Above Board practiced empathy, inclusiveness, and showed concern for the goals of others. He attracted the best people, avoided turnover, got extended credit, and the Skate Board Depot buyer promoted his products.
After each scene, the students discussed what had just happened and why. Because they were allowed to witness the action and come to their own conclusions, we believe they will be more likely to remember and use the lessons. Oh, and we were the actors!
Thank you, students of Nanyang Technological University!
We want to express our gratitude to the students of Nanyang for allowing us to experiment with this new experiential learning format. It was a learning experience for us as well.
We hope the students of Nanyang will always benefit from employing soft skills that will reduce their costs, increase their credit, and promote their products.
Here's to always staying Above Board in the way we treat others in business and in life!
Who We Are
Michael Houlihan and Bonnie Harvey co-authored the New York Times bestselling business book, The Barefoot Spirit: How Hardship, Hustle, and Heart Built America's #1 Wine Brand. The book has been selected as recommended reading in the CEO Library for CEO Forum, the C-Suite Book Club, and numerous university classes on business and entrepreneurship. It chronicles their humble beginnings from the laundry room of a rented Sonoma County farmhouse to the board room of E&J Gallo, who ultimately acquired their brand and engaged them as brand consultants. Barefoot is now the world's largest wine brand.
Beginning with virtually no money and no wine industry experience, they employed innovative ideas to overcome obstacles, create new markets and forge strategic alliances. They pioneered Worthy Cause Marketing and performance-based compensation. They built an internationally bestselling brand and received their industry's "Hot Brand" award for several consecutive years.
They offer their Guiding Principles for Success (GPS) to help entrepreneurs become successful. Their book, The Entrepreneurial Culture: 23 Ways To Engage and Empower Your People, helps corporations maximize the value of their human resources.
Currently they travel the world leading workshops, trainings, & keynoting at business schools, corporations, conferences. They are regular media guests and contributors to international publications and professional journals. They are C-Suite Network Advisors & Contributing Editors. Visit their popular brand building site at www.consumerbrandbuilders.com.
To make inquiries for keynote speaking, trainings or consulting, please contact sales@thebarefootspirit.com.