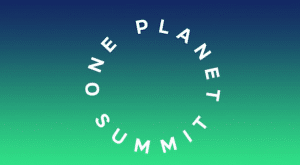 Want to start a new business? Don't know what it will be? Take a big hint from the 2nd Anniversary meeting of the signatories to the Paris Climate Accord. Just about any business that addresses, slows down or mitigates the effects of climate change is in demand.
The attendees have put their money where their mouth is with over $1B in investments to help industries and countries abandon oil and coal.
Big guns like Richard Branson, Bill Gates and other top energy and investment fund leaders unveiled a plethora of projects designed to fund efforts to lessen the effects of climate change.
The World Bank announced that it would cease financing oil and gas projects in two years.
The "America's Pledge" coalition to honor the 2015 Paris climate goals now represents half of the U.S. economy.
Eight U.S. states will be developing electric vehicles. The Gates Foundation has created a hurricane relief investment fund for the Caribbean and another to help farmers to develop low-carbon technology and adapt to climate change.
The projects aim to speed up the end of the combustion engine to reduce the emissions that contribute to global warming.
In other words, as President Macron of France says, big businesses and successful economies of the future will be producing and utilizing renewable energy. If you were looking for a mega-trend to capitalize on, or an expanding market with no apparent end in sight, this is it!
Why not do your business on "main street" and go with the flow? Just imaging the opportunities that are presenting themselves in these otherwise detrimental circumstances:
Fire. We're going to get burned! Much better fire protection, fire-resistant building materials, and fire-fighting equipment are in demand. How about better warning systems, temporary housing, and integrated disaster status information systems? And we are going to need better forestry practices, underground transmission lines, and better fire retardants.
Water. We're going get thirsty! We need more and better clean drinking water delivery, destalinization, collection and storage systems. How about technology that saves water to be used for cleaning, manufacturing, and crops? Add water purification and water-free sewage systems.
Power. We have to get off the grid! This includes alternative and local generation devices, breakthrough battery technology, independence from wires for power transfer and communications, long-range electric and other zero emission vehicles.
Air. We're choking! We need carbon sequestering technology. It will be in demand as carbon tax begins to become the norm as the world gets more serious about this situation. Replanting of the forests and rewarding for the preservation of trees are definitely on the agenda. Carbon scrubbers and alternative power plants for industry will be in demand as they begin to pay the true cost of production and compete with producers who are carbon neutral.
Food. We're going hungry! We need to improve production and nutrition while reducing water and petrochemical use. Demand for food produced closer to consumers is increasing. New types of aqua culture and advance in protein production will take the lead as traditional farming and cattle grazing becomes unsustainable.
Flood. We're going under! We need to move out of harm's way, float, submerge, or literally stem the tide. We have entire cities that will have to be saved or abandoned. We're talking dikes, piers, and elevation techniques. We need hurricane resistant buildings, disaster relief, and independent power, sanitation, and communication systems. And don't forget first aid, evacuation, and mobile hospital technologies.
So, these are just a few opportunities envisioned due to the effects of climate change that are already upon us. They may have once seemed futuristic, but now our lives literally depend on them. Your new business can contribute to this megatrend. We hope this short list inspires some folks to choose a business that provides even a partial solution to these needs. The world as we know it is relying on your new technology to survive. And so is its population. Now, go get 'em!
Who We Are
Michael Houlihan and Bonnie Harvey co-authored the New York Times bestselling business book, The Barefoot Spirit: How Hardship, Hustle, and Heart Built America's #1 Wine Brand. The book has been selected as recommended reading in the CEO Library for CEO Forum, the C-Suite Book Club, and numerous university classes on business and entrepreneurship. It chronicles their humble beginnings from the laundry room of a rented Sonoma County farmhouse to the board room of E&J Gallo, who ultimately acquired their brand and engaged them as brand consultants. Barefoot is now the world's largest wine brand.
Beginning with virtually no money and no wine industry experience, they employed innovative ideas to overcome obstacles, create new markets and forge strategic alliances. They pioneered Worthy Cause Marketing and performance-based compensation. They built an internationally bestselling brand and received their industry's "Hot Brand" award for several consecutive years.
They offer their Guiding Principles for Success (GPS) to help entrepreneurs become successful. Their book, The Entrepreneurial Culture: 23 Ways To Engage and Empower Your People, helps corporations maximize the value of their human resources.
Currently they travel the world leading workshops, trainings, & keynoting at business schools, corporations, conferences. They are regular media guests and contributors to international publications and professional journals. They are C-Suite Network Advisors & Contributing Editors. Visit their popular brand building site at www.consumerbrandbuilders.com.
To make inquiries for keynote speaking, trainings or consulting, please contact sales@thebarefootspirit.com.