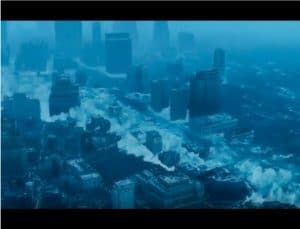 In January, the City of New York joined eight other local governments in the United States in filling a landmark lawsuit holding the major oil companies accountable for climate change related damages. In the May/June 2018 edition of Sierra Magazine, the editor, Jason Mark, lays out the history and the reasoning behind holding whom he calls the "Carbon Barons" responsible.
Alluding to the behavior of big tobacco to mislead the public, New York Mayor Bill de Blasio said, "For decades, Big Oil ravaged the environment, and Big Oil copied Big Tobacco. They used a classic cynical playbook. They denied and denied and denied that their product was lethal. Meanwhile, they spent a lot of time hooking society on that lethal product… It's time for them to start paying for the damage they've done."
The New York City lawsuit is based upon the fundamental principle that a corporation that makes a product causing severe harm when used exactly as intended should shoulder the costs of abating that harm.
How can you determine any one company's contribution to climate change harms? Richard Heede found in his 2013 peer-reviewed paper published in the Journal of Climate Change that "the 20 largest investor-owned Carbon Barons have, over the past 150 years, extracted enough fossil fuels to produce up to 30% of global emissions. The five companies named in the suit resulted in 181 gigatons of carbon dioxide emitted into the atmosphere during the previous century and a half. That's 12.5% of all human greenhouse gases." Further research by Heede concludes that the collective business practices of "90 fossil fuel corporations have driven nearly 2/3 of the observed increases in global surface temperatures."
Who knew what and when? According to the suit, the leaders of these companies have been aware their products were emitting dangerous greenhouse gases for nearly 40 years. In 2015, The Los Angeles Times cited Exxon scientists warning their own company that the use of fossil fuels "should not be encouraged because of the risk they poised" back in 1977. They also cited a director in Exxon's research unit warning that the CO2 emissions modeled in the company's 50-year planning documents "will produce effects which will indeed be catastrophic at least for a substantial fraction of the Earth's population."
But aren't we, as consumers, equally culpable since we are the ones who purchase and burn the stuff? According to Jason Mark, we could certainly make a statement by skipping that vacation or walking to work. But the Carbon Barons alone had the ability to intervene when they learned their products could have catastrophic consequences. They alone possessed the scientific awareness, economic might, and political influence to have avoided climate chaos – and they chose not to.
The lawsuits come down to the argument that the Carbon Barons knew about the dangers of fossil fuel combustion for decades yet failed to disclose them and even spent money to confuse the general public. Doesn't this sound like the Tobacco industry's tactics?
The U.S. Government Accountability Office released a report stating that more than $350 billion have already been spent in response to climate-change-related extreme weather events, and "these costs will likely increase over time." Meanwhile, in 2014, Exxon Mobil posted a record profit of $32.5 billion.
We have been lifetime supporters of conservation and the environment. We believe that the producers of the fossil fuel energy we have become dependent upon should pay reparations for the damages caused by fossil fuel related climate change. Once the entire cost of burning fossil fuels becomes apparent, the alternatives will become much more financially attractive. Thank you, Jason and The Sierra Club, for your in-depth and insightful article. Read his entire article here.
Who We Are
Michael Houlihan and Bonnie Harvey co-authored the New York Times bestselling business book, The Barefoot Spirit: How Hardship, Hustle, and Heart Built America's #1 Wine Brand. The book has been selected as recommended reading in the CEO Library for CEO Forum, the C-Suite Book Club, and numerous university classes on business and entrepreneurship. It chronicles their humble beginnings from the laundry room of a rented Sonoma County farmhouse to the board room of E&J Gallo, who ultimately acquired their brand and engaged them as brand consultants. Barefoot is now the world's largest wine brand.
Beginning with virtually no money and no wine industry experience, they employed innovative ideas to overcome obstacles, create new markets and forge strategic alliances. They pioneered Worthy Cause Marketing and performance-based compensation. They built an internationally bestselling brand and received their industry's "Hot Brand" award for several consecutive years.
They offer their Guiding Principles for Success (GPS) to help entrepreneurs become successful. Their book, The Entrepreneurial Culture: 23 Ways To Engage and Empower Your People, helps corporations maximize the value of their human resources.
Currently they travel the world leading workshops, trainings, & keynoting at business schools, corporations, conferences. They are regular media guests and contributors to international publications and professional journals. They are C-Suite Network Advisors & Contributing Editors. Visit their popular brand building site at www.consumerbrandbuilders.com.
To make inquiries for keynote speaking, trainings or consulting, please contact sales@thebarefootspirit.com.