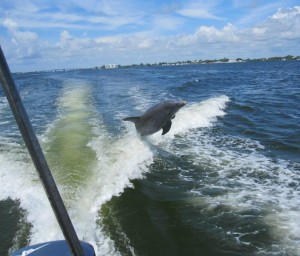 Recently we were the guests of Diana Donlon in Englewood, Florida. She interviewed us in September on her popular Entrepreneurship radio show in Southwest Florida.
When she found out that we were active in conservation, as she was, she graciously invited us to visit her on our next trip there. Little did she know that we were already scheduled to be there the very next month for a speaking tour of 5 schools of entrepreneurship.
So, this September she gave us a wonderful tour of the Barrier Islands in her boat. As we traveled down the inter-coastal waterway, dolphins surfed our wake while hundreds of birds fished from the shores and dove from the skies.
Aside from being a successful entrepreneur and radio personality, Diana is quite a naturalist and an entertaining tour guide. She took us to one of the island parks she was involved in preserving and maintaining. The sign there says "Welcome to the Real Florida." Only accessible by boat, the park is a real jewel, but it wasn't always like that. In fact, like the rest of Florida's waterside properties, it was in danger of being developed.
In 1989, The Barrier Island Park Society was created as a citizen support organization. Several of the Barrier Islands have been saved due to the work of these dedicated donors and volunteers.
The society has renovated, operated and maintained a historic lighthouse museum, chapel, and native hut; and they have provided needed vehicles and other equipment for the Barrier Islands State Parks they support. And, they do a terrific job of education and community outreach. We found native species thriving, invasive species removed, pristine breaches and, yes – the "real Florida."
As we travel throughout the country, we delight in discovering more examples of what we call "People-Powered Parks." Rather than the attitude of "detached entitlement" where "it's somebody else's job," and "I pay my taxes. I deserve access to these park lands," organizations like The Barrier Islands Society in Florida are taking a much more realistic and sustainable approach. They know that the government can't handle the cost of maintenance and that can lead to closure unless the users step in. They have taken the path of "engaged ownership." With ownership comes responsibility, and with responsibility comes action – action to remove and prevent litter, and action to donate time, money, and resources to keep the parks open.
The parks benefit us all, but none more than those who use them for recreation, have businesses dependent upon them, or realize that their proximity and health adds measurable value to their lives, their properties, and their communities. Those are the people who have taken up the People-Powered Parks approach to keeping the parks open and maintained in spite of the budget crisis or the apathy of too many of our citizens.
The recent State Park closures as well as the National Park closures during the Shutdown have demonstrated how important parks are to our economy. Several states, private citizens, and even big corporations have offered to pay to keep the National Parks open. The chain of our economy is only as strong as its weakest link. So even if you don't use or live or work next to the parks, it makes dollars and cents for us all to be involved.
The Barrier Islands Park Society and other pioneers of People-Powered Parks are showing us the pride and responsibility of engaged ownership. No more taking the parks for granted with a detached entitlement attitude. How are you helping to keep the parks that you use open?
Who We Are
Michael Houlihan and Bonnie Harvey co-authored the New York Times bestselling business book, The Barefoot Spirit: How Hardship, Hustle, and Heart Built America's #1 Wine Brand. The book has been selected as recommended reading in the CEO Library for CEO Forum, the C-Suite Book Club, and numerous university classes on business and entrepreneurship. It chronicles their humble beginnings from the laundry room of a rented Sonoma County farmhouse to the board room of E&J Gallo, who ultimately acquired their brand and engaged them as brand consultants. Barefoot is now the world's largest wine brand.
Beginning with virtually no money and no wine industry experience, they employed innovative ideas to overcome obstacles, create new markets and forge strategic alliances. They pioneered Worthy Cause Marketing and performance-based compensation. They built an internationally bestselling brand and received their industry's "Hot Brand" award for several consecutive years.
They offer their Guiding Principles for Success (GPS) to help entrepreneurs become successful. Their book, The Entrepreneurial Culture: 23 Ways To Engage and Empower Your People, helps corporations maximize the value of their human resources.
Currently they travel the world leading workshops, trainings, & keynoting at business schools, corporations, conferences. They are regular media guests and contributors to international publications and professional journals. They are C-Suite Network Advisors & Contributing Editors. Visit their popular brand building site at www.consumerbrandbuilders.com.
To make inquiries for keynote speaking, trainings or consulting, please contact sales@thebarefootspirit.com.