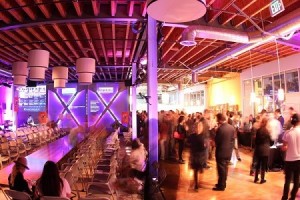 Last week President Obama made a stop at Cross Campus' innovative collaborative space. It is a start-up hub that brings together entrepreneurs, start-up teams, freelancers, venture capitalists, and creative professionals. More and more of these hubs are popping up all over the country. We have spoken at the Syracuse Tech Garden in Upstate New York, will be speaking next week at Florida Atlantic University's newly opened Tech Runway in Boca Raton.
As the President pointed out, many of the millennials (born between 1980 and 2005) entered the workforce during the recession when corporate entry level jobs all but disappeared. This has compelled that generation to take a more optimistic view of self-employment, entrepreneurship and self- reliance. "And all of that can support millions of new jobs. So in some ways entrepreneurship is in the DNA of this generation," he said.
We couldn't agree more. Not only is "the gender pay gap lower than any other generation," as he pointed out, but the number of female students of entrepreneurship we are seeing is truly remarkable – over 50%! What we like about the millennial students of entrepreneurship is they are truly interested in learning what skills they need to be successful. They soak up advice from experienced entrepreneurs like a sponge. They are ready to do what it takes to be successful. They don't rely on the corporations for security like our generation did.
The President said the millennials are "…the nation's largest generation, representing one-third of the population." They are not just the largest, but they harbor the largest number of students of entrepreneurship. He said they are a driving force in rebuilding the nation's economy, and one that will change the face of the business world, adding, "That's going to change how we do things." With reference to the "lost generation" label foisted on the millennials by some cynics, he countered, "I don't buy that because when I travel around the country I see the kind of energy and hope and determination that so many of you are displaying here."
We see it too. There are few folks who have spoken to 25 of the universities across the nation who teach entrepreneurship in the past year, but we are honored to be in that few. The state-of-the- art snapshot we see portends a bright future for the economy, mostly due to the entrepreneurial spirit of the millennials. Nobody is dozing off in class. Most are taking copious notes and asking great questions. They love to hear real success stories with all the mistakes and misconceptions admitted to by those who have been there, done that.
Just the way these millennial entrepreneurs work collaboratively with established entrepreneurs, academics and funders makes their whole approach much more likely to succeed. They want to know the best practices. They want to know how others solved the challenges they faced. They are very interested in all forms of cause marketing and positive company culture. They get it! Coming from a transparent generation, they know that doing good is good for business. And we are honored to help them achieve their goals.
Thank you Mr. President, for the encouragement, recognition and public support our future leaders need and deserve. Now, how about backing up the rhetoric with something tangible, something to further encourage millennial entrepreneurs, such as forgiving their student loans if they stay in business for 3 years and create 3 new jobs? Just a thought…
Who We Are
Michael Houlihan and Bonnie Harvey co-authored the New York Times bestselling business book, The Barefoot Spirit: How Hardship, Hustle, and Heart Built America's #1 Wine Brand. The book has been selected as recommended reading in the CEO Library for CEO Forum, the C-Suite Book Club, and numerous university classes on business and entrepreneurship. It chronicles their humble beginnings from the laundry room of a rented Sonoma County farmhouse to the board room of E&J Gallo, who ultimately acquired their brand and engaged them as brand consultants. Barefoot is now the world's largest wine brand.
Beginning with virtually no money and no wine industry experience, they employed innovative ideas to overcome obstacles, create new markets and forge strategic alliances. They pioneered Worthy Cause Marketing and performance-based compensation. They built an internationally bestselling brand and received their industry's "Hot Brand" award for several consecutive years.
They offer their Guiding Principles for Success (GPS) to help entrepreneurs become successful. Their book, The Entrepreneurial Culture: 23 Ways To Engage and Empower Your People, helps corporations maximize the value of their human resources.
Currently they travel the world leading workshops, trainings, & keynoting at business schools, corporations, conferences. They are regular media guests and contributors to international publications and professional journals. They are C-Suite Network Advisors & Contributing Editors. Visit their popular brand building site at www.consumerbrandbuilders.com.
To make inquiries for keynote speaking, trainings or consulting, please contact sales@thebarefootspirit.com.